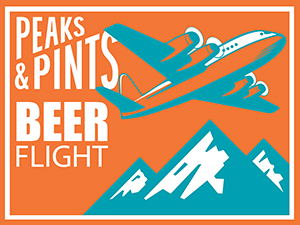 There's something so sweet about sweet. The cavemen knew it; they were willing to risk limbs and whatever other body parts weren't covered in hair in order to grab honey from beehives. Over many, many thousands of years, the preferred form of sweet evolved from honey to all kinds of confections, including craft beer. Today, Peaks & Pints presents a to-go flight of beer that tastes like Almond Joy candy bars — a flight we're calling Peaks and Pints Pilot Program: Almond Joy and Mounds On the Fly. Almond Joy, and its counterpart, Mounds, are cult favorites — candy bars with small but rabid followings. You're either a coconut person or you aren't. And if you are, you really are. Almond Joy is clearly the superior item of the two, because who doesn't like almonds? But "Sometimes you feel like a nut; sometimes you don't."
Peaks and Pints Pilot Program: Almond Joy and Mounds On the Fly
Icicle Darker Persuasion
8.5% ABV, 22 IBU
Icicle Brewing's Darker Persuasion is the bigger, badder brother of their German chocolate cake pastry stout, Dark Persuasion. Darker Persuasion is brewed with rich coconut, vanilla and cacao nibs. Dark roasted specialty malts enhance the chocolate character and make this Mounds stout decadent and extremely drinkable.
Great Divide Macaroon Yeti
9.5% ABV
Great Divide Brewing takes their OG Yeti imperial stout — with a massive, roasty, chocolate, coffee malt flavor that eventually gives way to rich toffee and burnt caramel notes — and adds almonds, coconut, and lactose to enhance the sweetness of this indulgent treat, while the traditional Yeti roastiness and chocolate fades slightly into the background. Oh joy!
Sig Almond Joy Division
12.8% ABV
Utilizing almonds, coconut, and liquid chocolate Sig Brewing has recreated their favorite candy bar in beer form. After being boiled for nearly 24 hours to create a body that is thicker than almost any motor oil, Sig conditioned this behemoth on all of their known pleasures: coconut, almonds and chocolate. Starting sweet but ending with a robust dark chocolate cloy, the coconut doesn't overpower this imperial pastry stout. Plus — who doesn't love Manchester rock band Joy Division who went on to become New Order.
Skookum Scary Joy
11% ABV
Skookum Brewery brewed a Mounds bourbon barrel-aged oatmeal brown ale with coconut and vanilla, Scary Joy. Aged in Willet bourbon barrels for 15 months, Scary Joy is then drug through mounds of raw and toasted coconut and finished on whole vanilla beans. Expect big barrel flavors, low heat, and mouthfuls of Mounds.
Equilibrium Almond Pop, Batch 2
11% ABV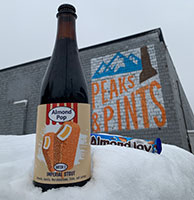 Equilibrium Brewing takes their base stout and adds a massive number of slivered almonds, which were toasted in house at Equilibrium Bonfire. To round out the flavors, they then added marshmallows, Madagascar vanilla, cake Mix, and lactose. Toasted almond ice-cream pop and candy birthday cake flavor coats the tongue for a nutty, meets sweet, meets creamy, meets decadence.
LINK: Peaks & Pints cooler inventory
---