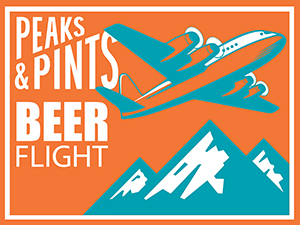 An extraordinary beer is always the right combination of essential elements. It's beautiful, poured with care into the proper vessel for its style. It should be aromatic enough to encourage a swift, thirsty transfer of its potential goodness from nose to mouth. It should have a pleasant mouthfeel. And, of course, it must taste delicious. Peaks & Pints has poured many extraordinary beers over our five-year history, including the beer on tap during our 5th Anniversary Party tonight. But if you ask Peaks co-owner and beer buyer Pappi Swarner what beers he'll crack open around his backyard fireplace with friends late tonight, he'll probably pour the five beers listed below. Join him, in spirit, around your own comfort and enjoy Peaks and Pints Pilot Program: 5th Anniversary On the Fly.
Peaks and Pints Pilot Program: 5th Anniversary On The Fly
Brasserie Dupont Saison Dupont
6.5% ABV, 30 IBU
Saison may sound French in name, but the style originated in Wallonia, the French-speaking part of Belgium. Traditionally, saisons were brewed at the end of the winter season to last through the warmer months before refrigeration was common. Thus, the beer had to be sturdy enough to last for months but light enough that it could remain thirst-quenching and refreshing in the summer. They're now brewed year-round in tiny, artisanal breweries whose buildings reflect their origins as farmhouses — hence the saison's alias, farmhouse ale. Saisons are complex brews; most are fruity in aroma and flavor, contain lots of spice and earthy yeast tones, and are moderately tart. They also tend to be semi-dry with many only having touch of sweetness. If saisons were developed to be consumed by hard-working farmers, Peaks and Pints thinks we may need to become a hard-working farmer. Brasserie Dupont's Saison Dupont seems, at first glance, to be a simple saison. The complexities, however, are nearly endless. There is an inherent sweetness that is counter-balanced by an earthy taste. Refreshing and subtly complex, Saison Dupont also refuses to disappoint with 6.5-percent alcohol.
pFriem Family Brewers Pilsner
4.9% ABV, 35 IBU
Seattle native Josh Pfriem began homebrewing while at Western Washington University in his early 20s then moved to Utah as a ski bum. He worked at Utah Brewers Cooperative for a few years before moving back to his old college town of Bellingham to brew at Chuckanut Brewery, where he helped win the Great American Beer Festival Small Brewpub of the Year in 2009. He moved to Hood River, Oregon to work at Full Sail but left in December 2011 to open pFriem Family Brewing — across the highway from Full Sail along the banks of the Columbia River — in August 2012. The brewery prides itself on its strong family focus and community involvement, as well as its ingredients — while many craft brewery websites list the notable spices and hops used in their brews, none we've encountered boast the encyclopedic cataloging of every ingredient the way pFriem does. pFriem's Pilsner is seeded No. 1, which isn't shocking considering it hits the nose with fresh grass, spring flowers, with a touch of lemon zest before landing on the tongue with zesty spiciness and a touch of honey before finishing crisp, snappy, and refreshing.
Abbaye Notre-Dame de Saint-Remy Trappistes Rochefort 10
11.3% ABV
The Abbaye Notre-Dame de Saint-Remy monks McGyvered their quadrupel. To elevate the alcohol by volume they steeped the candi-sugared wort in metal baskets. Furthermore, two malts were used in the brewing process: pils and caramel malt, as well as wheat starch, two varieties of hops and Rochefort's own yeast. The result is a robust dose of alcohol, much like port. Rochefort 10 hits the nose with roast wheat, figs, cherries, nuts, and dark chocolate. On the tongue, expect caramel, chocolate, ripe fruits, and herbal touches of hops.
Prairie Bomb!
13% ABV, 65 IBU
Prairie Artisan Ales' Bomb! is an imperial stout aged on Nordaggio's espresso beans, chocolate, vanilla beans, and ancho chile peppers. It hits the nose with cocoa, vanilla, coffee, chili peppers, and roast. Taste is sweet, chocolate, vanilla, warming chili, coffee initially subtle but comes through much more as it warms, roast malts, and at 13 percent the alcohol is well integrated. It's dangerously easy to drink.
Avery The Maharaja
10% ABV, 102 IBU
Avery Brewing's The Maharaja is derived from the sanskrit words mahat, meaning "great," and rajan, meaning "king." Much like its namesake, this imperial IPA is regal, intense, and mighty. With hops and malts as his servants, he rules both with a heavy hand. The Maharaja flaunts his authority over a deranged amount of hops (Columbus, Centennial, Chinook, Simcoe, and Amarillo): tangy, vibrant and pungent along with an insane amount of malted barley — fashioning a dark amber hue and exquisite malt essence. It's sweet. It's Citrusy. It's boozy. It's wonderful.
LINK: Peaks & Pints cooler inventory
---
Category:
Beer Line Blog
,
Craft Beer
,
Critical Drinking
,
Events and Festivals
,
In The Cooler
,
Peaks and Pints Pilot Program
,
Peaks and Pints Staff Picks
,
Proctor District
,
Shop
,
South Sound
,
Specials