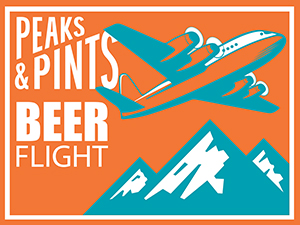 Astoria's Fort George Brewery has brewed 3-Way IPA since 2013, featuring two different craft brewery collaborators every year. This year, Structures Brewing and Level Beer shared ideas and techniques with Chris Nemlowill of Fort George Brewery, and after a couple beta batches, presto(!) — the final 2020 Fort George 3-Way IPA. Peaks and Pints has tapped 3-Way, as well as draft from Structures and Level today. In conjunction, Peaks and Pints presents an all-day, to-go flight of the three, 3-Way breweries, a flight we call Peaks and Pints Pilot Program: 3-Way On the Fly.
Peaks and Pints Pilot Program: 3-Way On the Fly
Fort George Cavatica Stout
8.8% ABV, 30 IBU
Fort George Brewery at the mouth of the Columbia River in Astoria, Oregon excels at dark craft beers, such as its Cavatica Stout. The Latin root of Cavatica is cave, crevice, abyss or a dark place. Just like a stout should be. Fort George brewers dump in black barley and Munich malt to get a molasseslike heft. Cavatica's extra ethanol will blend smoothly into your glass. A big head of sandy foam and the resolute sweetness of raisins, cocoa and candied walnuts impress. Cascade hops provide a balancing slice of orange that is distinctly Oregon.
Level Fatality
11.5% ABV
In search of a spacious property to commission some brews of his own, Geoff Phillips, owner of Bailey's Taproom in downtown Portland, converted a former produce market in East Portland's Argay neighborhood into the Level Beer Co. Phillips hired two talented brewers — Jason Barbee of Ex Novo and Shane Watterson of Laurelwood — and began cranking out delicious beer from a 20-barrel production brewery with a cozy taproom and a massive covered patio. Fatality is a big, dark, decadent imperial stout aged in bourbon barrels with notes of toasted marshmallow and vanilla.
Structures Junior
4% ABV, 40 IBU
James Alexander and Ryan Miller took time away from their East Coast brewery jobs to hang in a remote cabin nestled in the Green Mountain National Forest. When they emerged Structures Brewing idea was a thing. They slowly made their way toward Bellingham through various brewery jobs across the country. Bellingham fit their easy-going lifestyle and need for community. In late 2015, Structures had structure and several beers on tap. Structures received the 3-Way IPA collaboration phone call this year from Fort George Brewery for a reason — they make stellar beer, including Junior pale ale brewed with Amarillo and Simcoe. Expect a light, dry, floral, lemony, and a little herbal hop flavor.
Structures Fuzz (Citra & Amarillo)
6.2% ABV
Structures Brewing had fun meshing old recipes together and came up with their flagship IPA Fuzz in December 2016. Originally brewed with oats and hopped intensely with Amarillo and El Dorado hops, this version substitutes El Dorado with Citra hops for a fuzzy, crushable, highly-rated juice bomb with a tropical finish.
Level Hop-odermic
9% ABV
"I'm not a doctor, but hops are antimicrobial. Supposing you brought hops inside the body through the skin or in some other way… and I think you said you're going to test that too. Sounds interesting," states Level Beer Hop-odermic hype, obviously poking fun of our president. This imperial IPA pours a bright golden color while the Mosaic and Nelson Sauvin hops give this beer a ton of tropical fruit notes.
Fort George Vortex IPA
7.7% ABV, 97 IBU
Caught in a tornado in the Midwest while hauling their original brew system cross country from Virginia, it made sense from Fort George Brewery to whip up Vortex IPA. With a hearty 7.7% ABV unfiltered, unpasteurized organic malt spine that makes way for Simcoe, Amarillo, and Centennial hops this IPA is medium bodied with a resinous mouthfeel, grapefruit more than pine and finishes with lingering hop bitterness. This beer is straight up delicious.
---