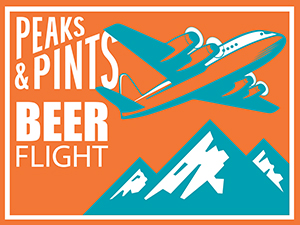 The undeniably great triple IPAs on the market attain cultish status not by simply supercharging their IBUs and alcohol contents, but by harnessing an artful assortment of hops, and propping them up with a suitable quantity of the proper malts. The triple IPA, as its name implies, is a palate-smashing beast of an ale designed for those times when a double IPA simply won't cut it. The triple IPA isn't a judged style, at least not yet, but it's massively hoppy beer of at least 10 percent ABV with outrageous amounts of dry hops, hop flavor, malt flavor, alcohol and bitterness. Still not sold? We feature four examples in today's to-go beer flight, Peaks and Pints Pilot Program: 10%+ IPAs On The Fly.
Peaks and Pints Pilot Program: 10%+ IPAs On The Fly
Nightmare Mancuerda
10.2% ABV
Named after a 16th century torture procedure where cords are pulled against a victim until they cut through the skin, muscles and directly to the bone, Nightmare Brewing 10.2-percent Mancuerda IPA is brewed with a foundation of Eraclea Pilsner malt grown and double dry hopped with Comet, Galaxy, and Polaris for soft sweet pineapple mint, fresh cut onion grass, and mandarin zest aromatics. On the tongue, expect white nectarine, sweet cantaloupe, star fruit and underlying eucalyptus with a juicy grapefruit flesh finish.
Ninkasi Megalodom
10% ABV, 70 IBU
Megalodon, meaning "big tooth," is an extinct species of shark that lived approximately 23 to 3.6 million years ago, during the Early Miocene to the Pliocene. It was formerly thought to be a member of the family Lamnidae, and a close relative of the great white shark. Megalodom, protector of Atlantis, fights off unwelcome visitors from invading her lost city. Ninkasi Brewing leaned more toward Meg, Queen of the Doms, when they brewed this bold, yet balanced, citrusy IPA with a slightly sweet, smooth finish.
Stone Ruined Again Triple IPA
10.8% ABV
In 2002, Stone Brewing introduced the 100-plus IBU Stone Ruination IPA as the first year-round West Coast double IPA on the planet. Then in 2012, in commemoration of its 10th anniversary, Stone introduced a new beer that would grow to be known as Stone RuinTen Triple IPA. This past spring, Stone did it again, or rather Ruined Again, a triple IPA brewed with the same ingredients as in their classic Stone Ruination IPA, but bumped up the malt to achieve its elevated 10.8 percent ABV. And, of course, they jacked up the hops as well. Not just in the boil, but they doubled the dry-hop amount, using a 50/50 blend of Centennial and Citra, for smack dab in your face lupulin punch.
Dogfish Head 120 Minute IPA
18% ABV, 120 IBU
Dogfish Head's 120 Minute IPA is pure craft gluttony in a bottle. Layers of syrupy, grassy, dank on dank on dank, resin hops get boiled for two hours, using Amarillo, Simcoe and Warrior hops continuously in the brewing and fermenting process  —  this beast ain't about fresh, it's about hop power. Taste starts bittersweet with piney hops and orange peel but then the booze kicks in and burns the throat. Despite this, there's a nice, smooth finish that follows the initial hoppy burn.
---