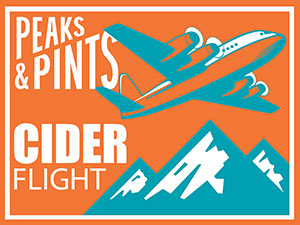 Founded in August 2020 by CEO Caitlin Braam, Yonder Cider makes savory, subtly sweet and high ABV ciders in Wenatchee with a taproom in Seattle's Ballard neighborhood, which is shared with Bale Breaker Brewing from the Yakima Valley. Crafted using a blend of bittersweet cider apples and juicy dessert apples, Yonder ciders are hardly simple, and never straightforward, but you can always count on them being interesting. "Cidermaking is a playground of the pretty and the ugly, the bitter and the sweet: It's never a one-note song when done well, says Braam. "Our apples reflect the striking, complex terroir of Washington's apple country — from juicy dessert fruit to biting, spirited cider varieties. Simply put, apples contain contradictions. And it's when we follow their every wild and quiet possibility, and seek out juxtapositions of flavor, that we find our most delicious end result." Since we suggest a to-go cider flight every Monday, and it has been a week since we tapped our new house cider for 2022-23, Yonder's House of Yonder dry cider, we though it's an appropriate time to suggest a to-go flight of Yonder Cider. Stop by Peaks & Pints today and grab Peaks and Pints Monday Cider Flight: Yonder Cider.
Peaks and Pints Monday Cider Flight: Yonder Cider
Yonder House of Yonder
6.7% ABV
The story of Peaks & Pints' house cider, House of Yonder, lies fully with Yonder Cider and the apples grown in Wenatchee and the surrounding rugged, sun-drenched, windblown valley. Yonder Cider Queen Caitlin Braam held court with her Hand of the Queen, Monique Tribble, Lord David Alton of Sales, and Pappi Swarner of Peaks & Pints, which sits over the Cascade Mountains in the northern region of the City of Destiny. Tribble dribbled possible House of Yonder blends into chalices. Vilberie, Maria Mendre, and tiny red fleshed apples became the Holy Grail with the addition of Yonder's proprietary culinary blend. The court sipped non-carbonated variations of the dry cider for sugar point perfection. "We sweeten with added fruit, juice or inverted cane sugar," added Tribble. "We ferment everything totally dry without adding water back," added Queen Caitlin. Peaks & Pints bends the knee before Queen Caitlin and her Hand, Monique Tribble, for creating a house dry cider that will rule Tacoma until Nov. 1, 2023.
Yonder Coulee
6.5% ABV
When the scents and colors of Mexico become pure flavor, it means you're drinking Agua Fresca from Oaxaca. This popular Mexican drink can be made with a variety of ingredients such as fresh fruit, coconut, horchata, and chili liqueur mixed with mezcal. Inspired by the mezcal cocktails of Oaxaca, Yonder's Coulee brings notes of juicy tropical fruit and bright citrus with hints of coconut, subtle spice, and a light tannin finish.
Yonder Palisades
6.5% ABV
Palisades cider is a blend Fuji, Honeycrisp, Roxbury Russet, Dabinett, various red fleshed apples and Pacific Northwest blackberries, all of which is supported by an herbal hint of sage. The semi-sweet cider pours a clear ruby red with heavy carbonation. Moderate to strong berry hits the nose, followed by strong tart berry flavor with a hint of sage in the finish.
Yonder Cashmere
6.9% ABV
Yonder's winter seasonal Cashmere is inspired by one of Yonder founder Caitlin Braam's favorite cocktails, the Negroni. Made with tart cranberry, ⁠dark cherry and a hint of bitter orange, Cashmere hits the nose with orange peel and berry, pairing beautifully with notes from one of her favorite cider apples, Ashmead's Kernel. ⁠
Yonder Perry
6.9% ABV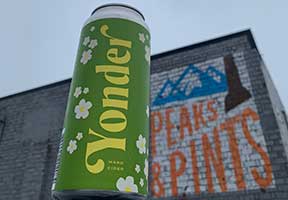 Traditional perry is not the same as pear cider, which is often apple cider that has pear flavoring added to it and may be what comes to mind for most people when they hear about perry. A true perry is made from pears alone and has a light, refreshing sweetness. Perry pears are smaller than culinary or dessert pears. As with apple cider, the fruit is picked, crushed, and pressed to extract juice, which is then fermented. However, unlike apples, all pears contain a sugar alcohol called sorbitol that yeasts cannot metabolize. A completely fermented perry, therefore, has a residual sweetness missing from a dry apple cider. Yonder's Perry is made with a mix of traditional perry pears and D'Anjou pears. This light and flavorful perry grabbed a Platinum medal from Sip Magazine's Best of the Northwest.
LINK: Peaks & Pints cooler inventory
---