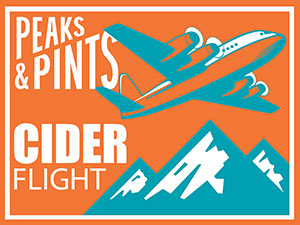 Nearly everyone loves to eat a good strawberry. When strawberries are in season, there is almost nothing as satisfying as walking out into the garden and harvesting a colander full of these sweet, fragrant, and beautiful fruits. But damn you strawberries! You're only fresh during June and July in Washington state. Then, they become ticking time bombs. Within a day you have withered; in three days you are moldy. Still, your flavor lives on from the freezer, or in hard cider. The fresh taste of strawberries, soft and deep red, backed by mouth-watering sweetness and previous alcohol. Today, Peaks and Pints presents a to-go flight of strawberry cider — a flight we call Peaks and Pints Monday Cider Flight: Strawberry.
Peaks and Pints Monday Cider Flight: Strawberry
Incline Strawberry
6.5% ABV
Since 2015, the Zehner family has made delicious, crushable cider, many from a dry-hopped apple base to pull out citrus aromas. Their Tacoma-based Incline Cider use 100 percent fresh pressed apples, no added sugar, no carbonated water, and the result are ciders that are balanced, not too sweet and super flavorful. Their newest seasonal cider, Strawberry, pours beautifully pink with juicy and bright notes of ripe strawberries without being too sweet.
Swift Strawberry Cider
6.5% ABV
Swift Cider, an urban craft cidery based in Portland, Oregon, is the reincarnation of Outcider, which was originally founded in spring 2012. Founding owner and head small-batch cidermaker Aidan Currie continued to dedicate his life to small batches made with fresh-pressed apples, local ingredients, slow-and-cold fermentation, and wild yeasts. His Strawberry cider is slightly tart, dry, and smooth — not too sweet and refreshing.
Tieton Hazy Strawberry
6.9% ABV
Unfiltered, cloudy-looking ciders are much like the hazy-style IPAs that have been taking the beverage scene by storm. When the step of the cidermaking process that filters these sediments out is yielded, it results in the clouded appearance of an unfiltered cider, fuller mouthfeel, and a richer flavor. Tieton Cider Works naturally unfilters this strawberry cider with a ruby blush color. Sweet strawberry blends with fresh pressed tart cider for a balanced summer sipper.
Yonder Phinneywood
6.9% ABV
Yonder Cider CEO Caitlin Braam enjoys cocktails. She'll hand over a cocktail recipe to her head cidermaker, Monique Tribble, to transform the ingredients into a savory cider. A collaboration with Ken's Market in Seattle, this strawberry basil lemonade cocktail-like cider hits the tongue with bright lemon and a hint of strawberry with subtle notes of basil.
LINK: Peaks & Pints cooler inventory
---