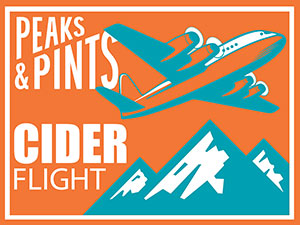 Consider the stovepipe. First, the sales of craft beer and cider stovepipes, or 19.2-ounce cans, nationwide has more than doubled over the last three years to $177 million, according to IRI data. That's up from about $66 million in 2018. The 19.2 format was the second-largest growth package in the U.S. last year behind 12-packs of hard seltzer, data show. Second, the stovepipe is a popular size at entertainment venues such as stadiums and concert venues, as well as convenient stores, where macro breweries typically sell 24-ounce cans. The large can size open ups a few additional avenues of business for the breweries and cideries. The 19.2s can has the same diameter as a 12-ounce or 16-ounce can. A 24-ounce can has a wider diameter. To fill a 24-ounce can on a canning line, breweries and cideries need to completely shut down the line and change the 12-ounce or 16-ounce settings to a wider birth. The additional parts, plus the time of having your canning line shut down, is expensive and time consuming. Enter the stovepipe can, which creates additional points of distribution without the high-cost burden. Last, beyond the obvious sales opportunity, craft breweries and cideries also see the move to stovepipes as an ideal way to introduce more consumers to the brand without asking them to commit to a six- or 12-pack. Also, 19.2-ounce cans are attractive to on-premise establishments that might be a little shy about bringing new or untested brands. Plus, it's a fun size. Since it's Monday and Peaks & Pints has stovepipes on the brain, we suggest taking home cider stovepipes as our Monday cider flight. Stop by our craft lodge in Tacoma's proctor District and grab Peaks and Pints Monday Cider Flight: Stovepipes.
Peaks and Pints Monday Cider Flight: Stovepipes
Incline Beare's Original Haze
5% ABV
Since 2015, the Zehner family has made delicious, crushable cider, many from a dry-hopped apple base to pull out citrus aromas. Their Tacoma-based Incline Cider use 100 percent fresh pressed apples, no added sugar, no carbonated water, and the result are ciders that are balanced, not too sweet and super flavorful. Their Beare's Original Haze is "inspired by a family name that promotes quality, boldness, and originality in both the cider we craft and the people behind it." It's fermented with Pacific Northwest apples, showcasing the prized honeycrisp crisp, for a light, hazy, refreshing, and full of flavor cider with notes of citrus and a subtle sweetness.
Tieton Blueberry Cider
6.9% ABV
Tieton Cider Works has been growing apples in the Yakima Valley for three generations. Craig Campbell's grandfather planted apple trees in the 1920s, but it was until 2008 when he and his wife, Sharon, began growing cider apples on their Harmony Orchards in Tieton, Washington. They launched Tieton Cider Works in 2009, with the intent to maintain their practices of being good stewards of the land. The Campbells pick blueberries from Washington's rich volcanic soils for their Blueberry Cider. Crisp sweet blueberries upfront balanced with tangy cider apples makes for a thirst-quenching beverage.
Schilling Mountain Mule
6.99% ABV
The first of Schilling Hard Cider's cocktail series, Mountain Mule features a blend of zesty lime and spicy ginger, crafted with fresh-pressed apple cider. With locally sourced ginger, Schilling collaborated with cocktail experts at Portland syrups to create a flavor similar to a Moscow Mule. A small amount of Japanese chili is used to elevate the bite of ginger.
LINK: Peaks & Pints cooler inventory
---