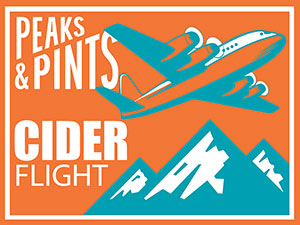 On the northeast corner of the Olympic Peninsula is an extension of land called the Quimper Peninsula, named after Manuel Quimper, a Spanish Peruvian explorer, cartographer, naval officer, and colonial official. In 1790, Quimper and seven Spanish naval officers were dispatched to the Pacific Northwest to help Spanish commander Esteban José Martinez secure British explorer John Meares' Princesa Real vessel and his fur trading post on Nootka Sound. Quimper was the mapmaker of the fleet, made the first chart of, what is now, the Strait of Juan de Fuca, and in the exercise named a peninsula after himself. The narrow peninsula became the home of Port Townsend, Chimacum, Glen Cove and Fort Worden, just to name a few highlights. Today, the Olympic Peninsula is home to some of the best cideries in Washington state. Peaks and Pints Monday Cider Flight: Olympic Peninsula highlights two: Finnriver Farm & Cidery and Alpenfire Cider.
Peaks and Pints Monday Cider Flight: Olympic Peninsula
Alpenfire Pirate's Plank Bone Dry Cider
6.9% ABV
Steve and Nancy Bishop took a class at WSU from an English cider master, and ordered 900 French and English cider trees, which started their journey into commercial cider making and the founding of Alphenfire Cider (previously named Wildfire Cider). Located in Port Townsend, the Bishops, including their son and sales wait to show people around their orchard again, where they grow three French and five English cider apple varieties as well as many heritage and dessert apples. Made with primary native yeast ferment, Champagne yeast finish, stainless maturation, and 4 months neutral oak maturing, then bottle conditioned, Alpenfire's bone dry cider's name is a nod to the rich maritime history of Port Townsend. This Old World bitter sharp cider is a blend of early season, organically grown, estate Kingston Black, Yarlington Mill and Foxwhelp apples for fruity apple pie notes in the aroma with a bit of puckering acidity peaking through at the finish. Expect a tart and earthy taste.
Finnriver Saffron Cream
6.5% ABV
Andrew Byers, a botanist, wordsmith and Le Cordon Bleu chef turned cidermaker, has been managing microbial populations at Finnriver Farm & Cidery for almost five years; before that he helped produce estate-grown sparkling cider in cider orchards of upstate New York.  He brings an academic emphasis in fungal ecology and systems thinking/design to the forefront of home cider production, as well as a deep knowledge of tree fruit. Bring your dictionary on Byers-led tours of the farm. His Saffron Cream is made with a selected blend of organic Washington apples, Golden Farms saffron, wild fennel seed, organic star anise, and lactose sugar, and then finished on French oak. The absinthe-inspired Saffron Cream is heavy on the anise profile with saffron to bring depth, and lactose for a creamy but clean finish.
Finnriver Sidra
6.5% ABV
Finnriver made a Spanish style cider fermented with open headspace in the tank allowing exposure to oxygen, which promotes the wild vinegar bacteria that provide the pungent acetic nose these ciders are famous for. This cider carries acidity from tart culinary apples and a finishing astringency from a touch of oak. Fermented with oak and lightly sweetened with organic cane sugar. This cider begins with aromas of unripened olives up front, offers slightly briny notes on the mid palate and then finishes with gentle nuances of bitter oak and pine needles. Cloudy in the bottle and the keg, the Spanish generally take their cider un-carbonated and at room temperature; Finnriver bends a little and gives this a gentle bubble while allowing the lees to persist and deepen the nutty bitterness.
Alpenfire Spark!
8.9% ABV
Alpenfire creates Spark, a sparkling cider with an unique blend of organic heirloom apples. Varietals grown in Sequim, Washington, such as Melrose and Winter Banana make up 80 percent of the blend while Alpenfire's estate Brown Snouts, Foxwhelp and Vilberie apples round out the last percent and help give this cider a nice astringent finish.
---