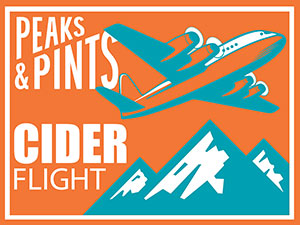 In 2018, avid outdoor enthusiasts Abraham Ebert and Brad Wilske opened Lost Giants Cider Company in Bellingham, Washington. They named their cidery for the stately trees that once graced the forests surrounding Bellingham. The two discovered a shared passion for all things fermented while working in the local craft brewing industry. Ebert's extensive background in fermentation science, brewing and production is now being leveraged to produce ciders that showcase the abundant agriculture of Washington state. Since it's Monday, the day of the week Peaks & Pints suggests a to-go flight of ciders, we offer Lost Giants Cider as our first cider flight of 2023. Stop by our craft cider and beer lodge for Peaks and Pints Monday Cider Flight: Lost Giants.
Peaks and Pints Monday Cider Flight: Lost Giants
Lost Giants Blood Orange
6.4% ABV
Lost Giants blended blood oranges with a base combination of Washington Pink Lady, Gala, Fuji, and Granny Smith apples to create a cider that is more floral and tarter than your average cider. Along with their lovely red color, blood oranges tend to have a noticeable and delicious raspberry edge to their flavor. This one is sure to check some boxes for the tart and dry cider lover.
Lost Giants Pineapple
6.8% ABV
With an abundance of sugars, acids, flavor and aromas, pineapple works well to blend with Lost Giants dry cider blend to add a touch of tropical flavor and aroma to compliment the natural apple characteristics. They added one pound of Costa Rica pineapple to every gallon of cider made with fresh, Washington apples to give the cider a subtle pineapple flavor and aroma without sacrificing the delicate flavors of the apples.
Lost Giants Elderberry
7.3% ABV
Their Elderberry Cider is ruby red, semi-dry cider made with regional elderberries and a blend of traditional dessert and cider apples. The tartness of the elderberry is balanced with sweet Washington apples giving us a subtle sharpness, delicate mouthfeel, and a semi-dry finish. Aroma brings out fresh elderberries upfront, with light apple acidity. On the tongue, expect fresh elderberry character upfront, with tart fruit skins, and crisp apple acidity. It's nicely balanced, with a good expression on the berries.
LINK: Peaks & Pints cooler inventory
---