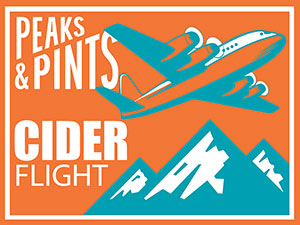 And so it was that Former Regular Mary Jane came down from atop the mountain and said unto us: "Verily, Peaks & Pints, I really haven't the taste for beer anymore, so I'll have an apple cider — make that a six-pack." Or words to that effect. Former Regular Mary Jane has wrapped up a very nearly plague-free internship and returned to Tacoma for some holiday R&R (we later discovered she meant Roxbury Russet — her favorite cider apple). Judging by her Instagram feed, exactly how she stayed very nearly plague-free is God's own private mystery, but here we are. At any rate, that's how we found ourselves transforming our weekly Monday cider flight into a holiday-themed cider flight. Northwest cider makers have embraced these colder months by releasing ciders packed with cranberries, spices, and a big heaping of holiday cheer. Peaks and Pints Monday Cider Flight: Holiday is for you, Former Regular Mary Jane.
Peaks and Pints Monday Cider Flight: Holiday
Yonder Palisades
6.5% ABV
Did someone say Roxbury Russet?! Founded by CEO Caitlin Braam, Head Cidermaker Tim Larsen and Creative Director Maddy Porter, Yonder Cider's taproom is a stone's throw from Seattle's Green Lake and a drive from the orchards and pressing facility in Wenatchee. Their Palisades cider is a blend Fuji, Honeycrisp, Roxbury Russet, Dabinett, various red fleshed apples and Pacific Northwest blackberries, all of which is supported by an herbal hint of sage.
Finnriver Cranberry Rosehip
6.5% ABV
Cranberry sauce is an essential part of every holiday meal for one simple reason — it cuts through the heaviness of all the other dishes. It's light, it's bright, and it's actually pretty darn healthy. Finnriver Farm & Cidery's version is a small batch seasonal cider fermented to dry and then blended with the juice of transitional and organic cranberries from the Washington coast's Starvation Alley Farm. Head Cidermaker Andrew Byers then adds an infusion of wild rosehips gathered from woods and hedges around the Olympic Peninsula. Sweetened with unrefined organic cane sugar for added depth and balance, this holiday cider is lightly carbonated.
Seattle Cider Punch Bowl
6.5% ABV
Seattle Cider's winter seasonal Punch Bowl blends ginger, lime, and cranberries together with a smooth cider finish. A portion of proceeds support their friends at regional book banks Food Lifeline, Second Harvest, Food Depository, and Oregon food Bank. These nonprofits work incredibly hard to mitigate food insecurity issues within their local communities.
One Tree Snow Globe
6.6% ABV
Who doesn't love glitter? It's nearly impossible to get out of your cleavage after a night on the town, but it's festive as hell. And now thanks to edible glitter, your digestive system can be as sparkly as your 1990s eye shadow palette. One Tree Hard Cider Snow Globe is a delicious spiced cider with glitter. We recognize the clove and cinnamon, but the glitter seems like a handful rather than a full dance floor dump, which is perfect.
Tieton Cranberry Cider
6.9% ABV
Tieton has been growing apples in the Yakima Valley for three generations. Craig Campbell's grandfather planted apple trees in the 1920s, but it was until 2008 when he and his wife, Sharon, began growing cider apples on their Harmony Orchards in Tieton, Washington. They launched Tieton Cider Works in 2009, with the intent to maintain their practices of being good stewards of the land. The Campbell' Cranberry Cider hits the nose with bright apple and rosé and effervescent white wine tones with a bit of grape and berries. Crisp but sugary on the tongue, it's loaded with apples and cranberry fleshy fruity tartness, fruity sugars and an effervescent wine-y body.
Channel Marker Cran Clove Cyser
8% ABV
Nestled between the lush Cascade Mountains and the salty Puget Sound, the maritime climate and adventurous spirit of Seattle provides the inspiration for Channel Marker Cider recipes. And They source, forage and grow many of our ingredients from around the Sound — their backyard. Their Cran Clove Cyser offers warm and spicy flavor of whole cloves and orange zest in a cranberry and apple cyser. Pacific Northwest honey lends a sweetness.
---