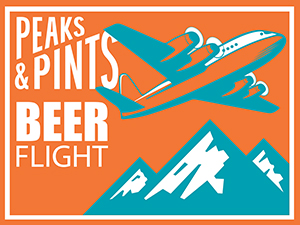 There are lots of reasons to drink ginger beverages. For one thing, they're one of the few drinks that use an actual natural flavor rather than artificial flavor. That's because no one has synthesized a convincing ginger flavor yet. Raw ginger is relatively cheap, and so potent that a little goes a long way. Another reason to drink it is that ginger has medicinal properties; next to cannabis, it's one of the world's great anti-nausea agents, which is why parents give it to children with upset stomachs. A third reason lies in the making of ginger cider — the sweetness of the apple goes well with the bold spicy flavor of ginger. The versatility of apple holds up to the kick to the face ginger can be. Today, Peaks & Pints suggests a to-go flight of cider made with ginger — a flight we're calling Peaks and Pints Monday Cider Flight: Ginger.
Peaks and Pints Monday Cider Flight: Ginger
Channel Marker Cedar Ginger
7% ABV, draft

Few aromas capture the essence of the Northwest like a woodsy, warm scent of Thuja plicata, the Western red cedar. Channel Marker Cider combines these evergreen notes with the pop of exotic, spicy ginger to give this off-dry cider a unique and drinkable flavor.
Superstition Super Station
5.5% ABV
In 2009, husband and wife Jeff and Jen Herbert were planning a Thanksgiving dinner in their Prescott, home when Jeff decided to create a beverage that paid homage to Jen's family's roots in Vermont. He busted open a home brewing kit she gifted him to make an alcoholic beverage made by fermenting honey with water and adding maple — mead. By 2012, the couple turned their hobby into Superstition Meadery, a mead and hard cider company. We currently carry Superstition Super Station, a delicious cherry, ginger, and lime hard cider.
Schilling Chaider Spiced Chai
6.5% ABV
The name "chai" is the Hindi word for "tea," which was derived from "cha," the Chinese word for "tea." The Hindi term chai means a mix of spices steeped into a tea-like beverage. Recipes for chai vary across continents, cultures, towns, and families. But the traditional ingredients of a spiced tea blend usually include black tea mixed with strong spices, like cinnamon, cardamom, cloves, ginger, and black peppercorns. The spiced tea mixture is typically brewed strong with milk and sweetened with sugar or honey. For Chaider, Seattle's Schilling Hard Cider collaborates with Dragonfly Chai, Portland's organic tea microbrewery, mixing Organic Dragonfly Chai Mix with fresh pressed apple juice and yeast. The appearance is hazy — a muted dark yellow. The nose is intense chai spices. The flavor is also fairly dominated by chai spices, however there's a mix of vanilla, and sweet apples in there.
LINK: Peaks & Pints cooler inventory
---