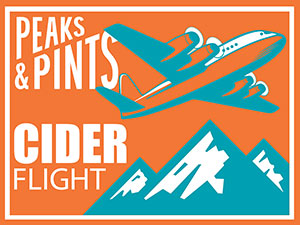 In addition to growing a certified-organic heirloom-variety apple orchard on their historic 50-acre farm in Chimacum, Washington, Finnriver Farm & Cidery co-owners Keith and Crystie Kisler, co-owner Eric Jorgensen, head cidermaker Andrew Byers, and crew farm and ferment on the acreage. They grow organic veggies and fruits, which in turn are sold at local farmer's markets and through Community Supported Agriculture, or CSA. They even operate a grainery — growing and milling their own wheat crops into organic flours, which Port Townsend bakers and restaurants appreciate. Finnriver is also a certified B corporation, meaning that a positive impact on society, workers, the community and the environment are no less important goals than generation of profit. Since it's our weekly Money cider flight, and we received a new shipment of Finnriver cider — welcome to Peaks and Pints Monday Cider Flight: Finnriver.
Peaks and Pints Monday Cider Flight: Finnriver
Finnriver Pear Cider
6.5% ABV, draft
Finnriver's small batch Pear Cider features cider fermented on the farm using 100 percent organic apple juice pressed from Washington apples. Finnriver ferments the apple juice, and then sweetens it with organic pear for additional depth, sweetness, and flavor, although apples rule the nose here. There's a certain bitterness grounding the pear flavor, pulling it out of the realm of single-note sweetness.
Finnriver Black Currant Lavender
6.5% ABV, draft
Finnriver makes small batches of Black Currant cider year-round, featuring cider fermented on the farm using 100 percent organic apple juice pressed from Washington apples. They ferment the apple juice in stainless steel tanks, and then blend with black currant and unrefined organic cane sugar for additional depth, sweetness, and flavor. Add to that the delicate floral notes of organic Sequim lavender, sourced from Purple Haze farm, and you have an aroma of strong lavender, currant, Concord grape, and honey, followed by lavender, tart currant, grape, and apple flavors.
Finnriver Farmstead
6.5% ABV, bottle
Finnriver Farmstead is the result of friends and neighbors bringing their bruised, bitter, and bizarre apples to the farm. The Finnriver cidermakers then press and ferment this medley of fruit adding a bit of sweetness to balance acidity and tannins. They conduct three different ferments with three different yeast strains to harvest subtleties from each and combine for a cloudy yet clean farmhouse cider. Sweetened with organic cane sugar. It hits the nose with warm bread and sweet apple. It offers a rustic taste of the ripe orchard and hearty homestead cider tradition. Nutty with a sharp acidity that balances a gentle tannic finish. Unfiltered lees lend body to this cider.
Finnriver Oak & Apple
6.5% ABV, bottle
A select blend of Certified Organic Washington apples from the Yakima Valley is fermented in stainless steel tanks at low temperatures to capture the full ester profile of the apples. Once fermentation is complete, this cider is then aged for 12 to 16 weeks in rye whiskey barrels from High West Distillery in Park City, Utah. The 2017 Good Food Awards winning Finnriver Oak & Apple has bright citrus with a smooth whiskey depth and spicy rye spirit. Woody astringency balances the acidity, and then finishes with lovely toasted oak and vanilla notes.
Finnriver Dry Hopped Cider
6.5% ABV, bottle
Organic Washington dessert apples — Granny Smith, Pink Lady, Braeburn and Gala — are the base for Finnriver Dry Hopped Cider with Cascade hops adding grapefruit and pine notes. Finnriver ferments the juice to dry, then steeps with organic whole-leaf Cascade hops for up to two weeks, for additional depth and flavor, and to appease the hop-lovers on the crew.
Finnriver Pommeau
18.5% ABV, bottle
Finnriver's Pommeau apple wine goes through all the stages of apple metamorphosis: it begins as apple juice, which the Chimacum, Washington cidery ferments into an apple wine. They then fortify this wine with their 100-proof apple brandy (distilled from their cider made with organic Pacific Northwest apples and aged two months in American oak). The autumn apple harvest comes in and the must, or fresh unfermented juice, is then blended with the brandy in oak barrels. The 18.5 percent ABV mixture continues to mature in the barrel for approximately two years. Bright and clear, with a beautiful amber color and a rich range of aromas, Pommeau delivers notes of bright, fresh apple followed by butterscotch, leather, brown sugar, caramel, and hints of spice, with a deeper hint of vanilla. Anchored by the oak with subtle flavors of stewed apple, dried fruit, and honeyed fullness.
LINK: Peaks & Pints cooler inventory
---