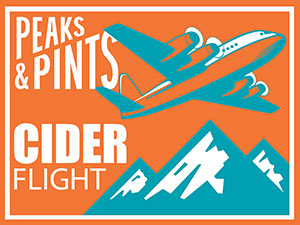 The wine industry is fond of speaking about the individual flavor characteristics that it takes from its environment. This terroir is present in all growing things that are tended with passion and care. The environment that builds flavor is more than simply the soil or the climate: it is also the passion and commitment of the grower. Craft cider believes in the same values. The "estate" cidery concept stems from European beer origin, in which beer was brewed at individual farmhouses with ingredients grown onsite and fermented with naturally occurring, airborne yeast. Many modern-day cideries are trying to return to these roots — they're growing apples and fruit in their own orchards, rather than contracting out or gathering apples from other orchards. Our weekly Monday flight today, Peaks and Pints Monday Cider Flight: Estate Cider, features five cideries that prefer overalls.
Peaks and Pints Monday Cider Flight: Estate Cider
Finnriver Farmstead
6.5% ABV
Inspired by World Apple Day Oct. 21, Finnriver Farm & Cidery invites friends and neighbors to bring their bruised, bitter and bizarre apples to the farm to add to the bins. The cidermakers then press and ferment this medley of fruit, and slightly sweeten to balance acidity and tannins. They conduct three different ferments with three different yeast strains to harvest subtleties from each and combine for a cloudy yet clean farmhouse cider. Sweetened with organic cane sugar. It hits the nose with warm bread and sweet apple. It offers a rustic taste of the ripe orchard and hearty homestead cider tradition. Nutty with a sharp acidity that balances a gentle tannic finish. Unfiltered lees lend body to this cider.
Tieton Blueberry Cider
6.9% ABV
Tieton Cider Works has been growing apples in the Yakima Valley for three generations. Craig Campbell's grandfather planted apple trees in the 1920s, but it was until 2008 when he and his wife, Sharon, began growing cider apples on their Harmony Orchards in Tieton, Washington. They launched Tieton Cider Works in 2009, with the intent to maintain their practices of being good stewards of the land. The Campbells pick blueberries from Washington's rich volcanic soils for their Blueberry Cider. Crisp sweet blueberries upfront balanced with tangy cider apples makes for a thirst-quenching beverage.
Bauman's Fresh Hop Strata
6.9% ABV
In 1895, on the West Coast, between Salem and Portland, Bauman Farms was first homesteaded by Elizabeth Bauman and her teenage sons, Stephen and Leo. Stephen eventually married at the cider apples on their Gervais, Oregon, farm, with the barrels in their barn fermenting the goods into hard cider. When beer production arrived with German immigrants, cider's popularity diminished. But it was 20th century Prohibition that ended most U.S. cider production, including Stephen Bauman's operation. The Bauman's turned to dessert apple growing. His great granddaughter, Christine Walter, armed with a degree in biochemistry from Lewis & Clark University, revived her great grandfather's hard cider operation, taking advantage of the family farm history spanning five generations, her work ethic growing up on the farm and modern-day cidermaking methods. She opened Bauman's Cider Company in 2016, honoring Stephen Bauman on the cider's branding. Bauman's Fresh Hop Strata cider blends apples with freshly harvested Strata hops for a dry, crisp, light cider with a nice apple presence and a touch of hops.
Art+Science Mountain Rose
7.2% ABV
In 2012, Art+Science bought a 50-acre farm located in Western Oregon in the foothills of the Coastal Range between the towns of Sheridan and Willamina. It's a multifaceted farm where they grow an orchard and perennials, raise sheep, alpacas, and an occasional chicken or two, harvest hay, and host a music festival. During their first year as farm owners, they also made their first cider from foraged fruit and have grown their business right along with their trees. Their Mountain Rose is a single varietal of the Mountain Rose apple sourced from Mt Hood Organic Orchards. The pétillant naturel cider uses native yeast and is bottle fermented for tart and juicy rose with high acid, a tiny bit sweet, and a nice twangy finish.
Snowdrift Cliffbreaks Blend
7.8% ABV
The Ringsrud family has grown apples, pears, cherries, and grapes in the Wenatchee Valley since the 1940s. Fredrick Ringsrud rode the freight trains from North Dakota to Cashmere to work in the orchards, eventually bringing his mother out west with him. He met his wife, Norma, while working in the orchard, and they raised their children on a small plot in Cashmere, eventually planting their main orchard in East Wenatchee in the 1960s. One of the Ringsrud kids, Peter, and his wife, Ann, began farming the family orchard in 1974. Between discovering a new world of "lost" apple varieties and some coaching from Peter Mitchell, one of the United Kingdom's premier cidermakers, the Ringsruds found their way into the world of artisan cider apples: Roxbury Russet, Dabinet, Yarlington Mill, Ashmead's Kernel, Foxwhelp, Golden Russet, Brown's, Wickson Crab, and Calville Blanc d'Hiver. In 2008, Peter spent the winter converting part of his shop into a Snowdrift Cider Co. Snowdrift's most popular cider, Cliffbreaks, sports a rich deep golden color with full body. A light sparkle carries classic English cider and bittersweet apple aromas, followed by flavors of melons, tart apple, and dried fruit. Complex tannins and mouth-watering acidity are balanced with just enough sweetness.
LINK: Peaks & Pints cooler inventory
---