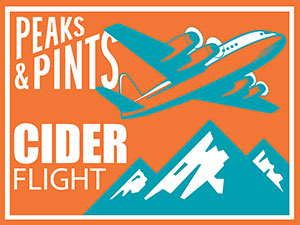 Beginning approximately 15,000 years ago, ice dams on massive Lake Missoula in Montana began to break, sending torrents of deep water rushing through Idaho, Washington and Oregon. The process continued for thousands of years with up to 40 major floods eventually forming what is now the Columbia River Gorge. It's a gorgeous area filled with waterfalls, hiking trails, outdoor recreation galore and craft breweries and ciders in a 40-mile stretch west to east — from Multnomah Falls to The Dalles, with Hood River somewhat in the middle. The ancient floods left Hood River with rich mineral soil. Double Mountain Brewery owner Matt Swihart knew the rich soil was a thing. He has his own orchard in Hood River. He added state of the art cidermaking equipment to his giant warehouse. He added "Cidery" to his business' name. Today, we offer a to-go cider flight from Double Mountain Brewery & Cidery — a flight we call Peaks and Pints Monday Cider Flight: Double Mountain Cidery.
Peaks and Pints Monday Cider Flight: Double Mountain Cidery
Double Mountain Dry Cider
6.7% ABV, bottle
Double Mountain had long toyed with releasing their own hard cider, occasionally featuring housemade cider on at the taproom made from owner Matt Swihart's own apples. The brewery finally releases their own Dry Cider in December 2017, blending freshly harvested heirloom apples from Double Mountain Orchards and Hood River Newtowns, Braeburns, and Hanners for old world complexity. Double Mountain gave it plenty of time to dry out and develop the aromas of juicy pear, lychee, green fruit, and chamomile.  It finishes tart, crisp, dry, and quenching.
Double Mountain Perry
6.3% ABV, bottle

"Passing on the chance to create a cider with pears from our backyard, which are the best pears in the world, was not an option. With this in mind, we created a slightly sweet, yet satisfying perry that is most assuredly not your grandma's pear cider," said Daniel O'Brien, a brewer at Double Mountain. The cidery pressed Starkrimson and Comice pears together for their Perry giving it an aroma of honey, juicy pear, and green apple that ends in a delicately sweet, gracefully tart, and crisp pear cider.
Double Mountain Little Martha
6.4% ABV, bottle

Little Martha features traditional English Perry pears grown in Parkdale, along the Mt. Hood Scenic Byway close to Mount Hood. The pears offer aromas of cherry blossom, wildflower, and fresh applewood. Dry citrus and Meyer lemon aromas round out this bright and clean pear cider. The bottle artwork is by the amazing Audrey Mae. Her work can be seen throughout the Columbia Gorge, such as on Double Mountain's Iris and Little Spy cider bottles, as well as a mural in Parkdale.
Double Mountain Tossed Apples
7.3% ABV, draft

Peaks & Pints traveled to Double Mountain Brewery & Cidery owner Matt Swihart's Double Mountain Orchard located along the Hood River Fruit Loop south of the Double Mountain's brewhouse toward Mount Hood. We spent the day picking apples for our 2021-22 house cider, Double Mountain Tossed Apples. Yes, there are an accidental dumping of the entire picking session, thus the name. Swihart oversees 25 varietals of cider apples, which we picked two of the six varietals in Tossed Apples — Golden Russet and Dabinett. After tasting around 12 varietals we decided on varietals Green Emerald, Golden Russet, Dabinett, Kingston Black, Pink Pearl, Ribston Pippin for our cider. Swihart recommended Enartis ES 181 yeast as it's used to make white wines for strong varietal aroma expression. Tossed Apples hits the nose with snappy apple flesh, dessert apple, honeydew, apple blossom, cardamom, and light vanilla followed by more dessert apple — toward the ripe honey crisp spectrum, crisp but savory — flavor.
Double Mountain Iris
11% ABV, bottle

In the extreme northern latitudes of North America and Europe, traditional ice cider takes either fruit that has frozen on the tree, or freshly pressed juice and freeze crystallized to concentrate the natural sugars in the apples. Double Mountain juiced a blend of 20 Hood River grown heirloom apple varieties and partially froze the press to create a wine strength cider with deepened and intensified flavors. After a long cool fermentation, the ice cider is aged in new Missouri oak barrels for up to a year, giving the cider some natural vanilla notes, light oakiness, and rich with fruit aromas and natural tannins. The resulting cider is akin to a light Riesling or Chardonnay that is packaged still and uncarbonated.
LINK: Peaks & Pints cooler inventory
---