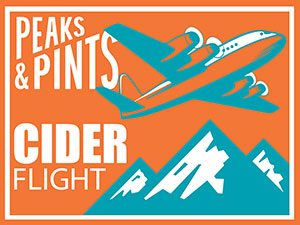 Just as highway signs are vital to safe driving, channel markers exist to help boaters travel the waterways safely. Channel markers indicate the sides of a navigable channel; you can avoid sand bars and other hazards by keeping within the markers. They also show where junctions with other channels occur, as well as forks or splits in a channel. Channel markers can show the safe side to pass a hazard. And on wide bodies of water, they mark the safe centerline. Today's boating safety chat is sponsored by Channel Marker Cider, a Seattle Ballard neighborhood cidery founded in 2016 by Zack Lough, Nicole Lounsberry, and Chris Irish. Lough, a sailor, would ride out a hurricane season in New Zealander by making Sauvignon Blanc at a winery, which sat across the street from a New Zealand cidery. He eventually added cidermaking to his life, which he took pro when he returned to Seattle to open Channel Marker with fellow sailor Lounsberry, and Irish. Today, Peaks & Pints focuses on the small-batch, handcrafted Channel Marker for our Monday to-go cider flight. Stop by our Tacoma Proctor District craft beer bar, bottle shop and restaurant for Peaks and Pints Monday Cider Flight: Channel Marker.
Peaks and Pints Monday Cider Flight: Channel Marker
Channel Marker Surf Session
6.5% ABV
Nestled between the lush Cascade Mountains and the salty Puget Sound, the maritime climate and adventurous spirit of Seattle provides the inspiration for Channel Marker cider recipes. And they source, forage, and grow many of their ingredients from around the Sound — their backyard. Their Surf Session brings beach vibes with its squeeze of fresh lime and sprinkle of San Juan Island sea salt. Enjoy this light, dry cider straight from the can or as a mixer in your favorite margarita recipe. Surf's up!
Channel Marker Spiced Blackberry
7.2% ABV
Everyone knows hot apple cider is a holiday entertaining necessity, but the addition of blackberries takes the beverage into berry pie waters. Warm baking spices such as cinnamon, clove, cardamom, and allspice swirl together with Channel Marker's blackberry-apple cider in this perfect-for-chilly-weather seasonal cider. Adding ripe blackberries is their way of "capturing the last rays of summer."
Channel Marker Elder Cider
8% ABV
Elderberries and elderflower blossoms are the elders in this slightly tart, richly flavorful, and fragrant cider.
LINK: Peaks & Pints cooler inventory
---