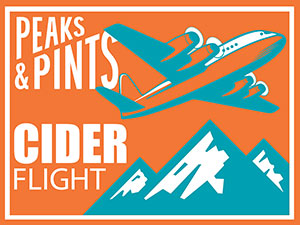 Amid the excess of high-summer produce, nothing screams "GET AT IT" louder than the blackberries cascading into local alleys, roadsides, markets, and farm stands like a great dark waterfall. Yes, blackberries are an invasive species, but they've become as synonymous with the Pacific Northwest as Douglas Firs, crashing rivers and the Cascade Mountains. They grow bountifully throughout summer and ripen to a plump juicy black color in August. They belong to the rose family, as you might expect from their thorny brambles, along with raspberries, strawberries, the stone fruits, and almonds. Peaks & Pints loves blackberries. So do cidermakers. They create delicious blends of crisp apple and juicy blackberries with unimaginable fruit flavors. It's Monday, which means Peaks & Pints suggests a to-go flight of cider. This week, we present Peaks and Pints Monday Cider Flight: Blackberries.
Peaks and Pints Monday Cider Flight: Blackberries
Maeloc Blackberry
4% ABV
Maeloc Blackberry hard cider is made with 100 percent Galician apples sourced from Spanish farmers, with all-natural blackberry puree from the south of Spain, added after the 4 months long spontaneous fermentation occurs before being bottled. It hits the nose with fresh berries and floral aroma, followed by balanced blackberry tartness and apple sweetness, with subtle jammy notes of raspberry and cherry.
Yonder Palisades
6.5% ABV
Did someone say blackberries?! Founded by CEO Caitlin Braam, Head Cidermaker Tim Larsen and Creative Director Maddy Porter, Yonder Cider's taproom is in the heart of Seattle's Ballard neighborhood and a drive from the orchards and pressing facility in Wenatchee. Their Palisades cider is a blend Fuji, Honeycrisp, Roxbury Russet, Dabinett, various red fleshed apples and Pacific Northwest blackberries, all of which is supported by an herbal hint of sage.
Cockrell Blackberry
6.7% ABV
Brothers Richard and John Cockrell have been making cider and beer in their Puyallup homes for more than 27 years, sharing their craft with family and friends, as well as grabbing many local, state, and national awards and accolades. As the brothers began planning for their retirement their fans begged them to go pro. Their hobby became Cockrell Hard Cider. Their crisp, tart and refreshing semi-sweet blackberry cider is made with local fruit for aromas and flavors of blackberry, apple, and baking spice.
Ragged and Right Blackberry Tango
7% ABV
Jacob Mitchell's passion for hard cider started at home, crafting small batches, and sharing his varietals with family and friends. He later honed his skill at the Peter Mitchell Cider School at Oregon State University and continued refining over his time at Eaglemount Cidery in Port Townsend. He later transitioned to Elemental in Woodinville as their head cider maker before finding his new home at Ragged and Right Cider Project to continue his nearly decade-long career in the industry. Starting in 2017 as an offshoot of Farmstrong Brewing, in Mount Vernon, Ragged and Right grabs their juice straight from Skagit Valley juice makers and skips added sugars and substitutes. Ragged and Right Blackberry Tango is a mixture of fresh pressed Sweet Tango apples and Northwest blackberry concentrate for crisp tanginess with just enough sweetness from the blackberry.
Whitewood Mac in Black
7.1% ABV
Collaboration with Oly Taproom for the Olympia craft beer taproom and bottle shop's VII Anniversary in June, Whitewood Cider's mac in Black is a McIntosh heirloom single variety cider with blackberries. It's a delicious, blackberry-forward cider.
LINK: Peaks & Pints cooler inventory
---