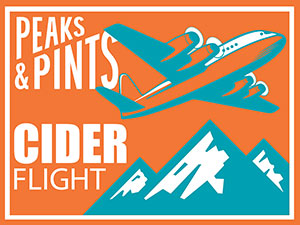 Because cider is delicate, barrel-aged ciders are often either too light on cider flavor, or too light on added flavor. It's been said barrel-aged ciders can taste like a tulip glass of water-down booze or a glass of expensive cider. But oak aging can be a useful technique to create balance in ciders made with more tart apples With oak, cider becomes micro-oxygenated from breathing and playing between the staves and outside air. It's this process that imparts the smooth and rounded-out qualities that are the hallmark of an aged cider. Today, Peaks & Pints presents a to-go flight of barrel-aged cider, a flight we call Peaks and Pints Monday Cider Flight: Barrel-aged Cider.
Peaks and Pints Monday Cider Flight: Barrel-aged Cider
Finnriver Oak & Apple
6.5% ABV

A select blend of Certified Organic Washington apples from the Yakima Valley is fermented in stainless steel tanks at low temperatures to capture the full ester profile of the apples. Once fermentation is complete, Finnriver Farm & Cidery's Oak & Apple is then aged for 12 to 16 weeks in rye whiskey barrels from High West Distillery in Park City, Utah. The 2017 Good Food Awards winning Finnriver Oak & Apple has bright citrus with a smooth whiskey depth and spicy rye spirit. Woody astringency balances the acidity, and then finishes with lovely, toasted oak and vanilla notes.
Tieton Bourbon Barrel Peach
6.9% ABV, can
Tieton Cider Works blends American heritage, English and French cider varietals with dessert apples to capture the best of what each variety brings to the bottle: sweetness, acidity, tannin and aroma. Their popular Bourbon Barrel Peach cider was aged in previously used Dry Fly bourbon barrels. Aging in bourbon barrels gives the cider deep, rich notes of vanilla and spice.
Union Hill Whiskey Business
8.5% ABV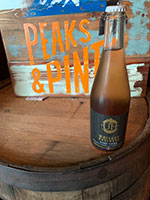 In 1970, Texan farmers Gene and Katie Handley plated Red Delicious and Golden Delicious in their new home of Wenatchee. Times were tough and the Handley children spent summer working the orchards instead of floating on rivers. Gene's father, Harmond Handley, also planted orchards in the Wenatchee Valley, which meant more work for young Andy Handley and his siblings. After Andy graduated from college, he left the corporate world and returned home to help the family plant much needed new varieties Gala, Fuji, and others. In 2012, Andy's son, Andrew, his wife, Katja, and his bandmates, Matthew and David Dobbins, dabbled in cidermaking. Eventually, they dialed in the cider. Four years later, Handley Orchards added 50 acres of heritage varieties — Dabinett, Porters Perfection, Kingston Black, Yarlington Mill, Muscat de Lense, Snowdrift Crab, and Red Fleshed apples — for their Union Hill Cider Company. Their Whiskey Business spends 10 months in red wine barrels and then finished in American whiskey barrels. The acidic cider cuts through the sweet toffee of the whiskey barrels.
Sea Cider Prohibition
12.5% ABV
Sea Cider Farm and Ciderhouse, overlooking the Haro Strait, an important orca whale habitat, is a farm-based cidery in Saanichton, near Victoria on Vancouver Island, British Columbia. Founded by sixth-generation farmer Kristen Needham, Sea Cider uses their own traditional English bittersweets and bittersharps, plus heritage apples from around Victoria. Their Prohibition cider is apple wine flavored and colored with molasses and aged in bourbon barrels for six months. The secret of Prohibition lies in the barrel. Rich, full-bodied and intriguing Newfoundland Screech barrels were the inspiration for Prohibition, which opens up to reveal notes of molasses, apples and sugar cane.
LINK: Peaks & Pints cooler inventory
---