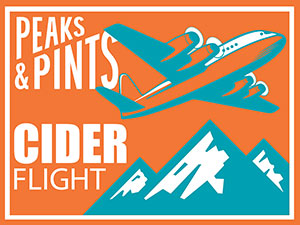 Peaks and Pints argues that autumn is a super season, at least when it comes to food and drink. What we eat and drink this time of year evokes memories more easily than what we consume in other seasons. This is the time of year we dust off crockpots and Dutch ovens for soups and stews, filled — at least right now — with the remaining harvests of our local farms. This is when we flock to orchards for fresh-picked apples, and when we scoop out globs of pumpkin seeds for roasting. We drop cinnamon sticks in hot cider, and warm up chocolate with piquant spices. We're heartened that in these divided times, it seems like we can all at least agree on fall. The cool weather, the smell of crabapples on wet leaves redolent of schooldays past, warm spices baking in the oven, and delicious cider … who could argue with any of that? Peaks and Pints has rounded up five delicious hard ciders for an autumn day that we call Peaks and Pints Monday Cider Flight: Autumn.
Peaks and Pints Monday Cider Flight: Autumn
Portland Cider Pumpkin Spice
6% ABV
Oregonian Jeff and British Lydia launched Portland Cider Company in 2012 with the intent of marrying English cider traditions with the innovative Northwest micro-brewing culture.  It all started from a desire to make the clean, dry cider Lynda grew to love in England, and Jeff yearned to find in Oregon. With their Pumpkin Spice, they take the flavors of cinnamon, nutmeg, cloves, allspice, and ginger and blend them for pumpkin pie flavor.
d's Wicked Baked Apple
6.9% ABV
Let's talk Baked Apple, as in Kennewick-based hard cider maker d's Wicked Cider's 2015 U.S. Open Beer Championship gold medal winning creation. The cider company, which is owned by Daniel and Heidi Washam, owners of Sun River Vintners, also in Kennewick, opened shop with Baked Apple, which uses Washington apples to makes its three cider varieties. This off-dry cider hosts the flavors of Red Delicious, Honey Crisp and Granny Smith apples, finishing with a touch of allspice and cinnamon. Think grandma's apple pie without the crust.
Seattle Cider Pumpkin Spice
6.9% ABV
Joel VandenBrink, the founder of Two Beers Brewing Co., launched the Seattle Cider Company in August 2013, with the help from his Two Beers sales rep and a former farm hand Eric Willard. Diagnosed with Crohn's disease, which makes beer difficult to digest, VandenBrink launched the cider company with only two products: Semi Sweet and Dry. Today, Seattle Cider has many options, including Pumpkin Spice. We'll tell you what we want, what we really really want: a cider spiced with cinnamon, nutmeg, clove and allspice. It's pumpkin pie's long-lost love.
2 Towns Hollow Jack'd Imperial Pumpkin Cider
8.4% ABV
In late 2010, Corvallis homebrewers Aaron Sarnoff-Wood and Lee Larsen filled a gap in the college town's drinking scene — cider. The duo opened 2 Towns Ciderhouse crafting unique ciders brewed with the traditional English and French-style's tannic apples, Oregon grown, of course. Their Hollow Jack'd kicks pumpkin-spiced lattes back into the patch. Made from A brew of fresh-pressed apples, caramelized pumpkins and sweet potatoes, it's basically fall in a glass. The pumpkin flavor isn't overwhelming, which is enjoyable and not too sweet.
Prohibition
12.5% ABV
Sea Cider's Prohibition cider is apple wine flavored and colored with molasses and aged in bourbon barrels for six months. The secret of Prohibition lies in the barrel. Rich, full-bodied, and intriguing Newfoundland Screech barrels were the inspiration for Prohibition, which opens to reveal notes of molasses, apples, and sugar cane.
LINK: Peaks & Pints cooler inventory
---