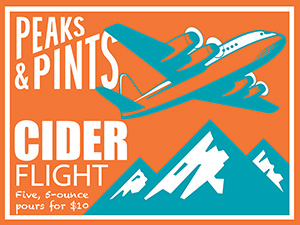 This year's celebration of taking apples and pears and making them alcoholic and drinkable is still called "Washington Cider Week," but for the fruit-flavored purposes of this sprawling festival, "week" has been redefined to encompass 11 days, with a variety of events across the state. The Northwest Cider Association's eighth annual Washington Cider Week kicked off Sept. 6 with 70-plus events in the state through Sept. 16. Visit washingtonciderweek.org to stay updated on the full list of locations and events. In celebration, Peaks and Pints presents an all-day flight of Washington state cider that we call Peaks and Pints Monday Cider Flight 9.10.18: A Flight of Washington Cider Week.
Seattle Cider Dry Cider
6.5% ABV
Made primarily from culinary/table apples modern ciders are generally lower in tannin and higher in acidity. Seattle Cider Company, the city's first post-Prohibition cider producer, delivers delicious modern ciders. With zero percent residual sugar, its Dry is a very dry cider in a classical style. The dryness doesn't equate to a lack of flavor, however, as it still has a refined apple nature underlined by notes of stone fruits and a light tickle of lilac on the nose. It's a cider that can stand alongside one of our roast beef sandwiches without losing the flavor battle.
Tieton Apricot Cider
6.5% ABV
In 2008, Craig Campbell and his wife, Sharon, began experimenting with making cider from dessert apples grown in their 400-acre commercial fruit orchards. Despite naysayers who warned that cider apples required a maritime climate, Craig also planted a two-acre test orchard with 25 varieties of cider apples. Today, their two-acre experiment expanded into Cider View, a 30-acre "high-density" cider orchard. In their commercial cidery, Tieton Cider Works, they blend American heritage, English and French cider varietals with dessert apples to capture the best of what each variety brings to the bottle: sweetness, acidity, tannin and aroma. The results are ciders with body and a depth of finish, including their semi-dry Apricot Cider. When they infuse their crisp apple cider with the tartness of apricot, the apple notes play a supporting role and let the tartness of the apricots shine.
One Tree Hard Cider Huckleberry
6.6% ABV
Grant Barnes and Neal Hennessy started making cider as a hobby, and it turned into a vocation. One Tree Hard Cider started in Barnes' Spokane Valley garage, with exactly one recipe: a relatively straightforward semi-sweet apple cider. They went pro in the summer of 2014. This beauty has One Tree's dessert apple cider base that is blended with fresh-pressed Washington apple juice and locally sourced wild huckleberry for a sweet and tart concoction.
Ole Swede Blend of 9
6.8% ABV
About a 1,000 people live in Tonasket, a city in Okanogan County, Washington. Lucky them to have Ole Swede Cider in their backyard. Tonasket native Casey Oberg launched Ole Swede Cider on his family farm in 2014. Blend of 9 is just that — a blend of nine apples: Kingston Black, Storks Red, Harry Masters Jersey, Dabinett, Rome Beauty, Granny Smith, Honey Crisp, Golden Delicious and Pink Lady apples. Expect notes of honey and citrus, low apple flavor, oak and complexity. 
Finnriver Autumn's Blush
6.9% ABV
When one of Washington's earliest cidermakers, Drew Zimmerman, retired, Finnriver Farm & Cidery owners Keith and Crystie Kisler transplanted 1,000 of his trees from Mount Vernon to Chimacum, a heartwarming, if labor-intensive transition from old guard to new. Finnriver's Autumn's Blush is made with Organic heirloom Washington apples and organic black currants blending the lines between trees and vines. Expect crisp undaunted acidity, layered earth tones and a lighthearted sweetness to bring it all together.
---