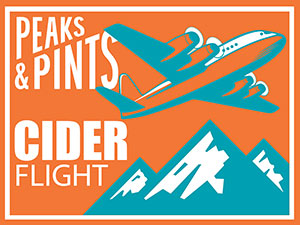 Cider has the alcohol content of a beer, but it's made like a wine. It exists in the in-between of having the carbonation and alcohol by volume of brews but with the essential ingredients and simplicity of wine. But for semantics' sake, categorically and legally, it is a wine. Made only from pressed apples (or pears) and yeast, when the fermentation process of cider is completed, it is usually dry and sits around 6 to 7 percent ABV. Ciders can be back-sweetened after fermenting with more apple juice to yield sweeter results or with other fruit juices to adjust the color and flavor profile of the drink. And ciders are rising in popularity in the Tacoma area. Over the past few years, Tacomans have begun opening their palates to this potion of fermented apples, and breweries and restaurants have taken notice, many of them setting aside a tap or two reserved solely for cider, including Peaks and Pints. We also present a flight of cider every Monday. Enjoy Peaks and Pints Monday Cider Flight 5.13.19: Le Brun and more.
Peaks and Pints Monday Cider Flight 5.13.19: Le Brun and more
Cidre Le Brun de Bretagne Brut Dolium
5.5% ABV
Cidre Le Brun have been produced in Brittany, France since 1955. French cidres are made using the traditional method of natural fermentation of pure pressed juices from handpicked apples, such as Kermerrien, Marie Ménard, Douce Moên, Peau de Chien, and Douce Coëtligné. Le Brun Cidre de Bretagne Brut Dolium pours a golden color with an aroma of horse blanket and funky tart apple. The taste is tart apple, with woody barnyard funk, oak barrel and vanilla notes, plus some tannin. Expect a dry, funky, oaky, tannic finish.
Alter Ego The Guardian Angel
6.5% ABV
Friends and winemakers Anne Hubatch, Nate Wall and Kris Wall decided to partner to craft artisanal ciders utilizing winemaking techniques at an urban ciderhouse, and Alter Ego Cider was born. Anne has been at the forefront of urban winemaking with Helioterra Wines, Whoa Nelly Wines and Guild Winemakers. Nate also has several years of winemaking experience, but additionally has been making cider for the past three years for one of the Northwest's largest cider producers. Anne and Nate bring a winemakers focus on nuance, delicacy, and depth to their small batch production cider. Their blueberry and pomegranate cider, The Guardian Angel, celebrates Northwest summer berries. It offers deep garnet purple color, brambly berry notes and fresh fruit characteristics of both the apple and blueberry, with hints of pomegranate added for a zippy kick. This cider is semi sweet, and perfectly balanced and refreshing.
One Tree Strawberry Rosé
6.8% ABV
Grant Barnes and Neal Hennessy started making cider as a hobby, and it turned into a vocation. One Tree Hard Cider started in Barnes' Spokane Valley garage, with exactly one recipe: a relatively straightforward semi-sweet apple cider. They went pro in the summer of 2014. Their fanciest, most sophisticated cider is the Strawberry Rosé, a blend of Washington's state apples, Oregon strawberries and Columbia Valley Sarah grapes. It's on the sweet side with good strawberry flavor.
Cockrell American Heirloom
6.9% ABV
Brothers Richard and John Cockrell have been making cider and beer in their Puyallup homes for more than 26 years, sharing their craft with family and friends, as well as grabbing many local, state and national awards and accolades. As the brothers began planning for their retirement their fans begged them to go pro. Their hobby became Cockrell Hard Cider. Their Heirloom cider is made exclusively with apples from their own farm. Reminiscent of a Champagne to the nose, it has a sweet backbone and a lovely balanced tart finish.
Alpenfire Spark!
8.9% ABV
Port Townsend cidery Alpenfire creates Spark, a sparkling cider with an unique blend of organic heirloom apples. Varietals grown in Sequim, Washington, such as Melrose and Winter Banana make up 80 percent of the blend while Alpenfire's estate Brown Snouts, Foxwhelp and Vilberie apples round out the last percent and help give this cider a nice astringent finish.
---