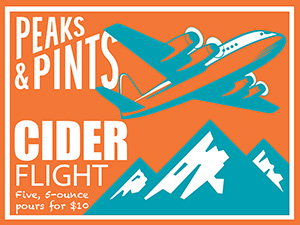 Apples were among some of the first crops grown in colonial America. Potted seedlings and bags of apple seeds were brought over on the Mayflower. The Bible-thumping Puritans were not teetotalers. Apple orchards in colonial America usually meant one thing: hard cider. Apples flourished in the fertile soil and friendly climate, and soon apples were a key part of most colonial farms and menus. When a young George Washington ran for Virginia's House of Burgesses in 1755, he didn't shell out for drinks — and lost the election in a 271-to-40 landslide. Undeterred, Washington ran again in 1758. And this time, the cider was flowing. Washington's campaign served up 144 gallons of hard cider and other libations, and Washington cruised into office. Without hard cider, who knows whose face would be on the $1 bill? John Adams was strict about having an apple a day, and cider was his preferred way to get it. Before he settled in to work on running the country or helping gain independence, Adams kick-started each day by draining a tankard of hard cider. Thomas Jefferson was a proponent of cider and devoted a large portion of the South Orchard at Monticello to cultivating cider apples. Jefferson called his Taliaferro cultivar "the best cyder apple existing" and dismissed European apples with "They have no apple to compare with our Newtown Pippin." Today is President's Day when the United States recognizes the birthday of our first president, George Washington. It's also Monday, the day Peaks and Pints offers a flight of hard cider. Therefore, considering how cider shaped Colonial America, enjoy Peaks and Pints Monday Cider Flight 2.18.19: President's Day.
Peaks and Pints Monday Cider Flight 2.18.19: President's Day
Portland Cider Concord Grape
5.5% ABV
Although commercial grape production dates back to the year 1000 B.C., it was not until President Franklin Pierce's term that the Concord grape variety made its debut, appropriately named after the Massachusetts village of Concord where the first of its variety was grown.  The Concord grape is a robust and aromatic grape whose ancestors were wild native species found growing in the rugged New England soil. The reigning purple jewel of Portland Cider Co.'s seasonal cider releases, Concord Grape is a deliciously tart blend of 100 percent Northwest apple cider and fresh pressed concord grapes. It's on the sweeter side of semi-dry with a light body, and low to moderate tartness. We get notes of tart green apple, purple grape juice, lemon, and pomegranate.
Alpenfire Foxwhelp
6.9% ABV
In Colonial America, cider was the most common beverage. In many places, the water was not safe to drink and most homesteads had an apple orchard. Pressing and fermenting fresh apple juice was the easiest way to preserve the large fruit harvest. Pressed in the winter from 2016, fermented slow with champagne yeast then left to mature in stainless for 12 months, Alpenfire Cider's Foxwhelp is made with the Port Townsend cidery's organic homestead bittersharp Foxwhelp trees, which were planted in 2003. These beautiful apples are the size of soft balls, great for blending and making this spectacular single varietal. It's on the sweeter side of dry with moderate tartness and a hint of bitterness and funk. The taste is acidic heirloom apple, wood, nut, lemon and yeast.
Reverend Nat's Abbey Spice
7.5% ABV
Reverend Nat's Hard Cider's Providence Traditional New England cider receives an added fresh burst of appley-ness while still maintaining a vinous and spicy flavor made by fermenting with thousands of pounds of raisins, cinnamon, nutmeg and dark muscovado sugar — sourced from the tiny island of Maritius off Africa — followed by a three months been sit on toasted American oak. This medium bodied cider with mild carbonation tastes like an apple pie — rich, brown sugar, caramel and green apples.
Seattle Cider New England Style
9.5% ABV
Strong hard cider helped the first American settlers face cold winters, a hazardous new world, and a life void of Presidential twitters and Kim Kardashian "new look" updates. New England Style cider was a bit more brazen than its British counterpart, born out of both necessity and availability. Essentially, New England style cider is barrel aged, strong cider that is fermented to 8 to 12 percent alcohol and undergoes a secondary fermentation with additional sugars and raisins. Seattle Cider's version follows the style with a high ABV plus additions of brown sugar and raisins. It's semi-sweet to semi-dry, sharp and acidic, with caramel notes and a boozy finish.
Cockrell Colonial Winter
9.5% ABV
Cockrell Hard Cider in Puyallup's Colonial Winter is a New England Style cider produced with brown sugar and raisins for a medium-bodied winter warmer on the sweeter side of semi-dry. The carbonation is low to style with notes of caramel, brown sugar, baked apple, raisins, orange, a hint of oak, tannins and bitterness. Expect a long, warming acidic finish.
---