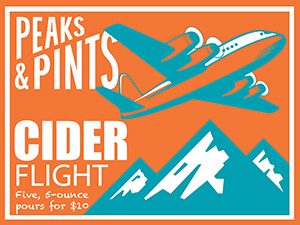 You wake in the same way have awoken every morning for the past three weeks: freezing cold and depressed. You moved to Washington state to take an awful job pushing paperwork in the bowels of a drab federal building, leaving behind family and friends in Maui. Some acquaintances have been kind enough to let you crash on an air mattress in their drafty apartment — a nice gesture, save the lack of blankets and the hour and a half commute to and from said federal building, which makes seeing the sun a novelty. You miss Maui — the warm sun, spectacular beaches, sweet smell of tropical flowers, the aloha spirit. Most of all you miss the fruit, picked from your former backyard. Peaks and Pints hears you. While we can't send you back, we can offer you a day of tropical flavors. It's Monday, which means we present a flight of cider. We place a pretend lei around your neck and a real Peaks and Pints Monday Cider Flight 1.7.19: Tropical Flavors.
Peaks and Pints Monday Cider Flight 1.7.19: Tropical Flavors
Reverend Nat's Viva La Pineapple
6% ABV
When his North Portland neighbor begged him to take his backyard apples off his hand in 2004, Nat West began experimenting with fermentation, turning the small green apples into hard cider. His friends went nuts. West would go on to hold weekly free cider parties at his house, experimenting on his friends, which ended up at 50 or so people. In the summer of 2011, West launched Reverend Nat's Hard Cider, most likely the only cidery in Portland. This cider is a blend of fermented fresh apple juice sourced from Eastern Washington and unfermented fresh pineapple juice. A touch of cinnamon, cloves and allspice is added. The spice and pineapple hit the nose and tongue with notes of green apples and pear. Delicious.
Schilling Passport Pineapple Passionfruit
6.7% ABV
In 1881, Colin Schilling's great-great-grandfather, August, founded the Schilling Spice Company in San Francisco, with a goal of bringing pure, natural spices to everyone at a fair price. Today, at Schilling Hard Cider, August's core values are carried forward and paired with innovative cider-making techniques to produce quality and complex hard ciders that, according to media hype, is the number on selling craft cider with three taprooms — Auburn, Seattle and a 50-tap cider house in Portland — and retail in 20 states. Think about all that plus the fact that Schilling uses only 100 percent fresh pressed apples, locally sourced non-GMO ingredients, and individually hand-selected yeast strains with beer yeast rather than wine yeast (Schilling likes beer yeast rather than wine yeast for the malt flavor) as you enjoy this unfiltered cider made with juices of fresh pressed apple, pineapple and passionfruit. The nose arrives with huge pineapple and apple — granny smith and pink lady jump — with some lavender, rose petal, ginger, lemon zest and passionfruit. On the tongue, expect ample apple, passionfruit and pineapple sweetness as well as a touch of citrus and sour bite.
Fierce County Mango
6.8% ABV
John and Tolena Thorburn adore craft beer. For 15 years they traveled the world drinking it. But, an oversaturated market lead them to cider. Learning and enjoying the varying styles and flavors unique to each brewer and set of ingredients, the Thorburns applied that experience to years of homebrewing and cidermaking. In 2017, Fierce County Cider launched its first commercial operating space in a 97-square foot ciderhouse in Puyallup. The ciderhouse is built for efficiency, utilizing the latest brewing technology and equipment to allow lead cidermaker Tolena to create "fiercely" ciders, including Mango. The nano cidery's Mango cider blends the crispness of Washington apples with sweet mangoes for big juice flavor of Alphonso mango nectar without being overly sweet.
Seattle Cider Tropical Cascara
6.9% ABV
Seattle Cider collaborated with neighboring Fulcrum Coffee to produce Tropical Cascara cider. Cascara is basically the discarded skins of coffee cherries that are leftovers from the coffee de-pulping process that happens in production. Co-fermented with Washington apples in the tank for two weeks, the cascara adds aroma of cherry and earthy fig. It tastes like tropical fruit — almost like a tropical IPA but finishes with a little bitter coffee note.
d's Wicked Troppi Poppi
6.9% ABV
Sun River Vintners co-owner Daniel Washam homebrewed a hard cider after his wife, Heidi, discovered she enjoyed the beverage. Washam eventually brought the homebrew project to his Kennewick, Washington winery and d's Wicked Cider Co. was born. d's tropical season, Troppi Poppi, is a blend of mango, banana, pineapple, passion fruit, orange and of course, apples. Expect a big fruity aroma and sweet juicy flavor that reminds of Juicy Fruit gum.
---