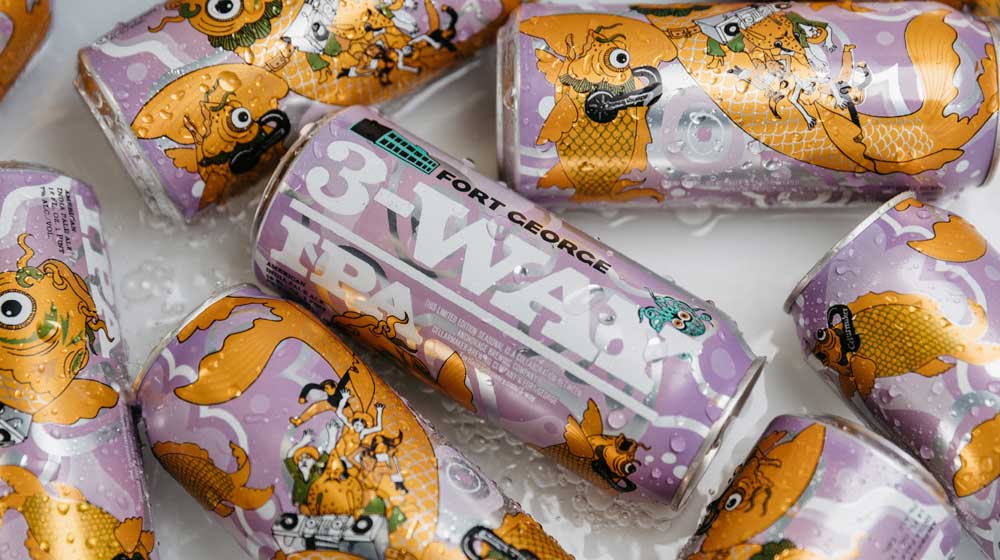 Fort George hosts Fort George Brewery 3-Way IPA v2 Party
"It's not a Kölsch," says Fort George Brewery in an Arnold Schwarzenegger voice from the movie, Kindergarten Cop, which was filmed in Fort George's hometown of Astoria, Oregon. We'll be back to address that statement. …
Peaks & Pints will host a release party for Fort George's second 2023 3-Way IPA release Friday, June 9. This year, Fort George offers three unique versions, each brewed with a distinct yeast. The first version brewed with London Tropics yeast from Berkeley Yeast in green cans landed at Peaks May 20, the same day the brewery hosted their annual 3-Way release party, Lupulin Ecstasy Festival. The second version, brewed with Kölsch yeast (Kaiser German Ale yeast from Imperial Yeast) in purple-ish cans, will hit Peaks' Western red cedar tap log Friday for the release party. The final version brewed with Hazy Chico DF yeast from Berkeley Yeast will arrive later this month. Again, the 3-Way Version 2 is a West Coast style IPA brewed with Kölsch yeast.
Fort George has brewed 3-Way IPA since 2013, featuring two different craft brewery collaborators every year. This year, Anchorage Brewing from Anchorage, Alaska, and Cellarmaker Brewing from San Francisco, California, shared ideas and techniques with Fort George founder Chris Nemlowill, and after many beta test batches, blind tastings, lab tests, aroma analysis, color checks, and long conversations.
This Friday, June 9, Peaks & Pints will tap Fort George's first and second 3-Way IPA versions, plus Beta 33 (FOCUS, a fall seasonal IPA featuring hops from Crosby Hop Farms), Cathedral tree Pilsner, Spruce Budd Ale, City of Dreams Pale, Java The Hop Coffee IPA, Fancy Raygun IPA, Barrel-Aged Barleywine, and Cavatica Imperial Stout.
"Rubber baby buggy bumpers. Ha! You didn't know I was going to say that!" That's a Schwarzenegger quote from Last Action Hero, not filmed in Astoria.
"It's turbo time."
Never mind. See you at Peaks Friday with all the Fort George swag and such. Cheers!
FORT GEORGE 2023 3-WAY IPA VERSION 2 RELEASE PARTY, 5-7 p.m., Friday, June 9, Peaks & Pints, 3816 N. 26th St., Basecamp Proctor, Tacoma, no cover
LINK: Peaks & Pints cooler inventory
---