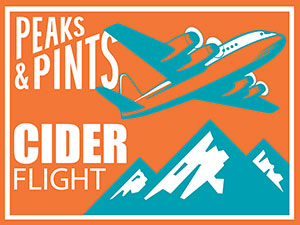 Call us a Winesap, but Peaks & Pints is ready for the Bittersharp. We're down with the Pink Lady. And, we have our eye on the Northern Spy. Yes, indeed, you guessed it. Peaks & Pints has brought back our Cider Invitational to anchor the 2023 Tacoma Beer Week. Peaks and Pints 2023 Pacific Northwest Cider Invitational will consume our Western red cedar tap today with 20 craft ciders whose flavor profiles extend from barnyard funk to pleasantly fruity. Representing Washington and Oregon, the Pacific Northwest Cider Invitational showcases regional variations and plucky endeavors. We chose to highlight five South Sound cider for our Sunday in-house flight — a flight we're calling Peaks and Pints Cider Flight: South Puget Sound.
Peaks and Pints Cider Flight: South Puget Sound
Dragon's Head Kingston Black
7.9% ABV, draft, bottle

Dragon's Head Cider's Kingston Black takes its name from the town of Kingston near Taunton in Somerset, England — the heart of cider in the UK. The name comes from the apples' dark red or purplish skin, though despite the name, the fruit does not have a black hue. Kingston Black apples are often considered the epitome of cider apples. They produce a cider rich in dried apple, clementine, and hint of honey, slightly bitter, and medium bodied. Dragon's Head medal-winning Kingston Black hits the nose with dried apricot, clover, and resinous cedar. The apricot carries over to the taste with clementine, hints of honey, and slight bitterness.
Fierce County Patio Heater
7.2% ABV, draft, bottle

Pineapple and habanero peppers are a match made in heaven. These two ingredients complement each other perfectly. Fierce County Cider's Patio Heater pineapple habanero semi-sweet cider is apple-based, but co-fermented with pineapple and infused with habaneros.
Incline Marionberry
6.5% ABV, draft, can

It's a cross between the Chehalem and Olallie blackberries. It has a dark red to black color, has medium-sized seeds and weighs 5 grams on average. The flavor is richer than a regular blackberry, which is why the fruit has been dubbed "the Cabernet of blackberries." It's the marionberry. Incline Cider's most popular cider, Marionberry pours a dark purple with an inviting dark fruit nose. The fruit forward cider has a tart finish that keeps it balanced.
Cockrell Strawberry Rhubarb
6.2% ABV, draft

Brothers Richard and John Cockrell have been making cider and beer in their Puyallup homes for more than 26 years, sharing their craft with family and friends, as well as grabbing many local, state, and national awards and accolades. As the brothers began planning for their retirement their fans begged them to go pro. Their hobby became Cockrell Hard Cider. Their Strawberry Rhubarb cider is a blend of apples age on whole sweet juicy strawberries and tart rhubarb. It's a refreshing summery twist on a strawberry rhubarb pie.
Whitewood Throwing Heat Hot Honey Peach
6.5% ABV
David White started his production-only Olympia cidery in 2011 with business partner Heather Wingwood, with their first cider release in 2012. In May 2013, Whitewood Cider Company opened for business in Olympia, the then only craft cidery between Seattle and Portland.  Their Throwing Heat Hot Honey Peach cider features Washington grown apples blended with luscious ripe peach flavors and Splat Hot Sauce's Hot Honey for a rich robust sweetness and a touch of heat from habanero peppers.
LINK: Peaks and Pints 2023 Tacoma Beer Week events
LINK: Peaks & Pints beer and cider cooler inventory
---
Category:
Beer Line Blog
,
Craft Cider
,
Critical Drinking
,
Crosscut Flight
,
Events and Festivals
,
In The Cooler
,
News and Updates
,
On Tap Today
,
Peaks and Pints Prefunk
,
Proctor District
,
Shop
,
South Sound
,
Specials
,
Taps Takeovers