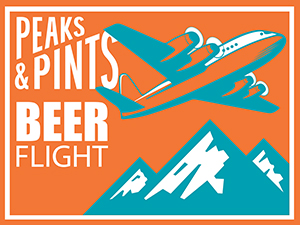 We received a bunch of Fort George Brewery beer; let's pour another in-house flight of the Astoria, Oregon, brewery's beer. Founded by brewers Jack Harris and Chris Nemlowill, the two combined their brewing expertise from previous Oregon coast gigs at Bill's Tavern and Astoria Brewing Company to open Fort George Brewery in March 2007. Harris and Nemlowill drove their first 8.5-barrel brewhouse — nicknamed "Sweet Virginia" —from the East Coast and through a tornado to open a small pub in the Fort George Building on Duane Street in Astoria. In 2009, they bought almost the entire city block, including the Lovell Building, where they installed a 20-barrel commercial brewhouse — "Little Miss Texas" — followed by a neighboring $12.5 million production facility. Stop by Peaks & Pints for an in-house flight of Fort George beer – a flight we're calling Peaks and Pints Beer Flight: Fort George Beer.
Peaks and Pints Beer Flight: Fort George Beer
Fort George Phantasy League
5.3% ABV, draft – can in our cooler

A collaboration with Shane Johns and his E9 Brewing team in Tacoma, Fort George's Phantasy League is a rye saison brewed with Phantasm powder, an extraction made from Marlborough Sauvignon Blanc grapes. They are incredibly rich in Thiol precursors, which when added correctly to a fermenting beer can unlock into strong tropical fruit aromas, which Fort George and E9 have done. Expect bready, savory rye flavor with the sweet fruit candy aroma of the Phantasm powder.
Fort George Subterranean Nectaron
5.9% ABV, bottle

This annual Fort George mixed culture saison is fermented and aged in oak puncheons beneath the bustling streets of Astoria. Subterranean Nectaron is fermented with a blend of 10 different yeast strains during a long fermentation process bolstered and balanced by bright, fresh stone fruit from a Nectaron dry hop.
Fort George Topaz Pumpkin Ale
6.7% ABV, draft – can in our cooler

This is no mere pumpkin-spiced thing. Topaz Pumpkin Ale contains more than 200 pounds of fresh, organic Topaz Farm pumpkins, harvested in 2022 and frozen specifically for this beer by the brewers at Fort George and dumped directly into the mash. If you are looking for a cozy, mildly roasty, exquisitely malty, amber colored seasonal beverage made from hand-roasted pumpkins from a three-generation family owned and run farm 20 minutes outside of Portland, sip on this beauty.
Fort George Hello, Buddy
6.5% ABV, draft – can in our cooler

An IPA collaboration with de Garde Brewing … yes, you read that correctly.  After making world class, spontaneous fermented wild ales, saisons, and sours in Tillamook, Oregon, for more than 10 years, de Garde knows it's possible to make almost anything with a bunch of quality wort and a coolship open to the elements — especially when you're surrounded by coastal breezes, abundant agriculture, and lots of cows. But one thing that's hard to make? A nice, tropical IPA. Fort George is pleased to present this snappy, zesty, lightly sweet IPA collaboration with their buddies from down the coast using Strata. Strata Goo, YCH Mosaic, and Riwaka hops
Fort George Focus IPA
6.5% ABV, draft – can in our cooler

After debuting their first Focus IPA recipe at Craft Brewers Conference in 2022, Crosby Farms sent Fort George more CGX hops for another round. For this Focus, they feature Comet, Strata Goo, Simcoe, Motueka, Amarillo, and Comet CGX hops for bright fruit flavor and a hint of honey sweetness balance the zesty tropical flavor of Comet CGX, Amarillo and Motueka hops.
LINK: Peaks & Pints beer and cider cooler inventory
---