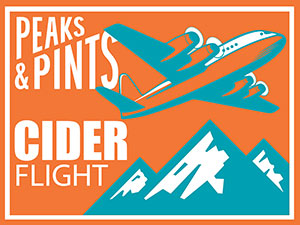 The Northwest Cider Association's 10th annual Washington Cider Week, an 11-day craft cider celebration, kicks off today. The 2020 version has a much smaller list of events, but they're all awesome, including, if we must say, Peaks & Pints Washington Cider Week to-go cider flights. Like our Washington Cider Week socials last year, we will keep it apple based for the entire 11-day run, Sept. 10-20, kicking it all off with a to-go flight of Finnriver Farm & Cidery. In addition to growing a certified-organic heirloom-variety orchard on their historic 50-acre farm, Finnriver co-owners Keith and Crystie Kisler, co-owner Eric Jorgensen, head cidermaker Andrew Byers and crew farm and ferment on 50 acres of organic fields and orchard. While their farm is remote, they are honored to be on the forefront of the Pacific Northwest cider revival. Finnriver is also a certified B corporation, meaning that a positive impact on society, workers, the community and the environment are no less important goals than generation of profit. Stop by Peaks & Pints for to-go flight of Finnriver cider that we call Peaks and Pints 2020 Washington Cider Week Flight: Finnriver.
Peaks and Pints 2020 Washington Cider Week Flight: Finnriver
Finnriver Saffron Cream
6.5% ABV, Campfire Crowler fill or bottle
Andrew Byers, a botanist, wordsmith and Le Cordon Bleu chef turned cidermaker, has been managing microbial populations at Finnriver Farm & Cidery for almost four years; before that he helped produce estate-grown sparkling cider in cider orchards of upstate New York.  He brings an academic emphasis in fungal ecology and systems thinking/design to the forefront of home cider production, as well as a deep knowledge of tree fruit. Bring your dictionary on Byers-led tours of the farm. His Saffron Cream is made with a selected blend of organic Washington apples, Golden Farms saffron, wild fennel seed, organic star anise, and lactose sugar, and then finished on French oak. The absinthe-inspired Saffron Cream is heavy on the anise profile with saffron to bring depth, and lactose for a creamy but clean finish.
Finnriver Winter Ruby
6.8% ABV, Campfire Crowler fill or bottle
The cider in this year's batch of Winter Ruby is a blend of high acid golden russet cider grown in an Ashland Oregon orchard, blended with a gentle balance of local Chimacum fruit, aged together with organic Starvation Alley cranberries, a stave or two of toasted oak, and just the lightest touch of organic Mexican vanilla extract. Expect vanilla wood notes with clear fruited undertones on the nose. Brightly tart, cranberry straight away, vanilla to wrap all the senses and the woody astringent oak to keep it all grounded.
Finnriver Sojourn
9% ABV, bottle
Sojourn is the first of Finnriver's "travelling" estate-based bottles that feature cider apples grown at their friends' orchards. Made with a robust list of traditional cider apples — Ellis Bitter, Amere de Berthcort, Reine des Pommes — grown at Vista Ridge Orchard in Quilcene, Washington, this fermentation features Vista's first significant harvest of bittersweet and bittersharps. With indigenous yeast naturally present in the fruit, and bottle conditioned, Sojourn offers a deep sense of leather and apples, with baking spice, warm fruit, tannic chewiness and dry finish.
Finnriver Blue Hewe 2018
9.5% ABV, bottle
Byers' estate organic Hewe's Virginia Crab and William's Pride apples, as well as estate organic blueberries, are the magic behind Finnriver's Blue Hewe 2018, which hits the nose with leather and tart fruit, hay bales and wine. Roving acids carry notes of sweet pear and caramel. Expect a strikingly sharp, creamy texture and a long finish.
---