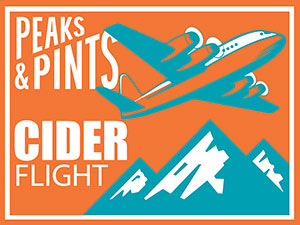 At age 19, Nancy and Steve "Bear" Bishop would go on dates to Canada. They fell in love with cider. After making cider as hobbyists for many years, in 2001 they took a trip to the cider making regions of Spain, France, and England to observe commercial operations. When they returned home, Steve and Nancy took a class at WSU from an English cider master, and ordered 900 French and English cider trees, which started their journey into commercial cider making and the founding of Alpenfire Cider (previously named Wildfire Cider). Located in Port Townsend, the Bishops, including their son and sales director, Philippe, can't wait to show people around their orchard again, where they grow three French and five English cider apple varieties as well as many heritage and dessert apples. As a continuation of our 11-day Washington Cider Week celebration we present a to-go flight of Alpenfire cider that we call Peaks and Pints 2020 Washington Cider Week: Alpenfire.
Peaks and Pints 2020 Washington Cider Week: Alpenfire
Alpenfire Calypso
6.9% ABV
Alpenfire Calypso is made with Pippin apples grown in Hood River co-fermented with fresh blackberries in stainless, then aged in Bull Run Distilling rum barrels for notes of tart apple reminiscent of granny smith, complex berry, and a hint of oak.
Alpenfire Pirate's Plank Bone Dry Cider
6.9% ABV
Made with primary native yeast ferment, Champagne yeast finish, stainless maturation, and 4 months neutral oak maturing, then bottle conditioned, Alpenfire's bone dry cider's name is a nod to the rich maritime history of Port Townsend. This Old World bitter sharp cider is a blend of early season, organically grown, estate Kingston Black, Yarlington Mill and Foxwhelp apples for fruity apple pie notes in the aroma with a bit of puckering acidity peaking through at the finish. Expect a tart and earthy taste.
Alpenfire Glow Rosé Hard Cider
6.8% ABV
Alpenfire created this a single varietal rosé cider with Hidden Rose apples, a rare, dessert apple variety. The aroma is composed primarily of a really luscious, ripe apple character. Amazing! On the palate expect a robustly built cider, sporting rich tannin, notes of caramel and a rich weightiness that is tamed by the sparkle. Not atypical cider by any means.
Alpenfire Spark!
8.9% ABV
Alpenfire creates Spark, a sparkling cider with an unique blend of organic heirloom apples. Varietals grown in Sequim, Washington, such as Melrose and Winter Banana make up 80 percent of the blend while Alpenfire's estate Brown Snouts, Foxwhelp and Vilberie apples round out the last percent and help give this cider a nice astringent finish.
---