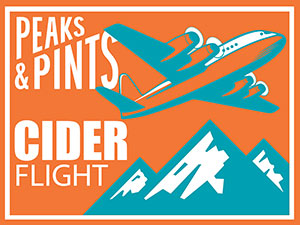 Apples were among some of the first crops grown in colonial America. Potted seedlings and bags of apple seeds were brought over on the Mayflower. The Bible-thumping Puritans were not teetotalers. Apple orchards in colonial America usually meant one thing: hard cider. Apples flourished in the fertile soil and friendly climate, and soon apples were a key part of most colonial farms and menus. A thirst for beer and the introduction of prohibition laws meant hard cider became an almost forgotten beverage, but it is currently undergoing a revival with small producers and large booze brands all getting in on the act. While boozy, apple-based beverages might seem like an all-American tradition, Spain, France, Germany, Canada, the United Kingdom, and beyond also have long traditions of cider production in unique regional styles. Today's Monday cider to-go flight is all about foreign ciders. Stop by our craft beer bar, bottle shop and restaurant for Peak and Pints Pilot Program: International Cider On The Fly.
Peak and Pints Pilot Program: International Cider On The Fly
Samuel Smith Organic Cider
5% ABV
This is a medium dry cider straight outta the oldest brewery in Yorkshire, England. Samuel Smith's Organic Cider hits the nose with a big blend of red and green apples with light sugar, a bit of alcohol, and low spicy yeast elements. On the tongue, expect super clean fermentation characteristics and big apple flavors leading to a medium-dry slightly tannic finish with lingering tart notes.
Riestra Good Clean Funk
6.5% ABV
In 1906, Robustiano Riestra cut down a large eucalyptus tree to build a beam press and immediately began producing cider, establishing Riestra Natural Sidra. The only way to get good, clean, funky sidra is to just let the natural yeasts living on the apples and ancient walls of the cidery do their dance in the juice. Sampling his batches throughout the winter, cidermaker Raul Riestra's Good Clean Funk has a tart and phenolic nose, followed by a straw/hay apple character, medium acidity, lightly tannic, and a dry finish. Expect a light body and no carbonation.
Sea Cider Prohibition
12.5% ABV
Sea Cider Farm and Ciderhouse, overlooking the Haro Strait, an important orca whale habitat, is a farm-based cidery in Saanichton, near Victoria on Vancouver Island, British Columbia. Founded by sixth-generation farmer Kristen Needham, Sea Cider uses their own traditional English bittersweets and bittersharps, plus heritage apples from around Victoria. Their Prohibition cider is apple wine flavored and colored with molasses and aged in bourbon barrels for six months. The secret of Prohibition lies in the barrel. Rich, full-bodied and intriguing Newfoundland Screech barrels were the inspiration for Prohibition, which opens up to reveal notes of molasses, apples and sugar cane.
---