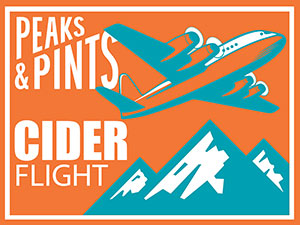 When one of Washington's earliest cidermakers, Drew Zimmerman, retired, Finnriver farm owners Keith and Crystie Kisler transplanted 1,000 of his trees from Mount Vernon to their Chimacum farm, a heartwarming, if labor-intensive transition from old guard to new. A working farm, Finnriver houses rows of espaliered apple trees, fields of flowers, grazing animals, and on weekend nights, bands add to the merriment — that is until the virus shut down all social elements of the cidery, including the Cider Garden walk up window and to-go program. Peaks & Pints has plenty of Finnriver Farm & Cidery cider because, well, it's outstanding. Stop by today and create a to-go flight of two growlers and three bottles of Finnriver, a to-go flight we Peak and Pints Pilot Program: Finnriver On The Fly.
Peak and Pints Pilot Program: Finnriver On The Fly
Finnriver Honey Meadow
6.5% ABV, growler or bottle
Finnriver Farm & Cidery produces a line of botanical ciders that share the earthly essence of life in the fields and forests of the Olympic Peninsula. They feature local ingredients that are iconic or flourishing in that region and each seeks to capture the essence of the season. Honey Meadow speaks directly to the roots, shoots, and blooms of spring on the Olympic Peninsula. Locally harvested burdock and dandelion roots are dried and roasted in the farm's wood-fired oven and then boiled into a house-made syrup. The roots balance the acidity of certified organic Washington apples with their earthy depth and nutty notes and then the cidery adds Sequim Bee Farm blackberry honey to add the floral and herbs to honor the season.
Finnriver Solstice Saffron
6.5% ABV, bottle
Finnriver Solstice Saffron is created with locally produced saffron, anise and fennel seeds for aroma of dry apples with subdued saffron. Flavor is medium sweet with green apples, with only subdued saffron notes. It's an unusual adjunct for a cider, but it works really well.
Finnriver Black Currant
6.5% ABV, bottle
Finnriver makes small batches of Black Currant cider year-round, featuring cider fermented on the farm using 100 percent organic apple juice pressed from Washington apples. They ferment the apple juice in stainless steel tanks, then blend with black currant and unrefined organic cane sugar for additional depth, sweetness and flavor. Expect bright apple fruit balanced by berry complexity; sweet and sour notes, with a light sparkle and purple blush.
Finnriver Dry Hopped Cider
6.5% ABV, growler or bottle
Organic Washington dessert apples — Granny Smith, Pink Lady, Braeburn and Gala — are the base for Finnriver Dry Hopped Cider with Cascade hops adding grapefruit and pine notes. Finnriver ferments the juice to dry, then steeps with organic whole-leaf Cascade hops for up to two weeks, for additional depth and flavor, and to appease the hop-lovers on the crew.
Finnriver Pommeau
18.5% ABV, bottle
Finnriver's Pommeau apple wine goes through all of the stages of apple metamorphosis: it begins as apple juice, which the Chimacum, Washington cidery ferments into an apple wine. They then fortify this wine with their 100 proof apple brandy (distilled from their cider made with organic Pacific Northwest apples and aged two months in American oak). The autumn apple harvest comes in and the must, or fresh unfermented juice, is then blended with the brandy in oak barrels. The 18.5 percent ABV mixture continues to mature in the barrel for approximately two years. Bright and clear, with a beautiful amber color and a rich range of aromas, Pommeau delivers notes of bright, fresh apple followed by butterscotch, leather, brown sugar, caramel and hints of spice, with a deeper hint of vanilla. Anchored by the oak with subtle flavors of stewed apple, dried fruit and honeyed fullness.
---