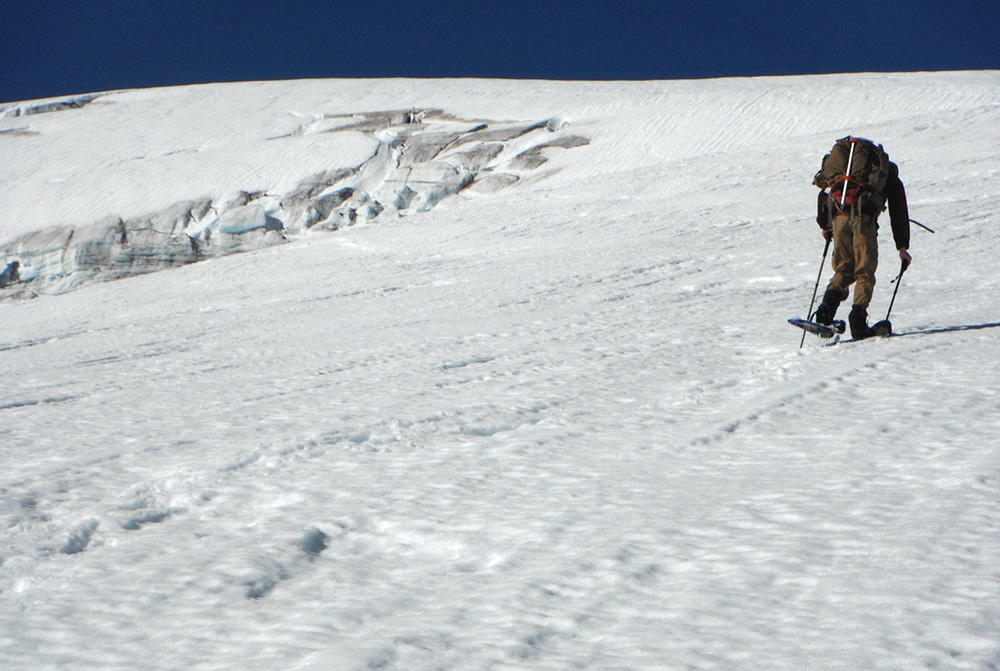 Seeker Vulture skirts a crevasse on the Paradise Glacier.
Peaks and Pints receives after-action reports from Them Vultures with photographs of trail scenery and, of course, a Peaks and Pints shirt-wearing shot. Seeker Vulture and Chatter Vulture of Them Vultures have submitted a report on what they call "The Paradise Glacier Loop."
Oct. 28, the two Vultures pushed off from the Mount Rainier Paradise Inn parking lot headed on the lower portion of The Skyline Trail to Mazama Ridge.  Heading north, they hiked the Paradise Glacier Trail (more or less, since a lot of it was obliterated by snow) for a little over a mile to its endpoint, then continued northeast another mile or so to a long, low col that overlooks the confluence of The Cowlitz and Ingraham glaciers.
"This area is generally referred to as the Cowlitz Rocks," says Chatter Vulture.
From there, they headed due west; up, over and across the Paradise Glacier to the Muir Snowfield.
"In so crossing, we skirted three major crevasses — winding our way past and around them in the safest manner possible to avoid anything that might smack of trouble," he adds. "The snow was softening, so we made good use of our snowshoes; never having to resort to crampons or the use of our ice axes."
From the Muir Snowfield, it was a two-hour hike down Pebble Creek for a six-hour, 20 minute hike that covered right around seven miles.
"This was one of the most beautiful late October days I can remember on Tahoma," says Seeker Vulture. "Shirt-sleeve weather almost all the way around on a loop that took us close to 8,000 feet in elevation."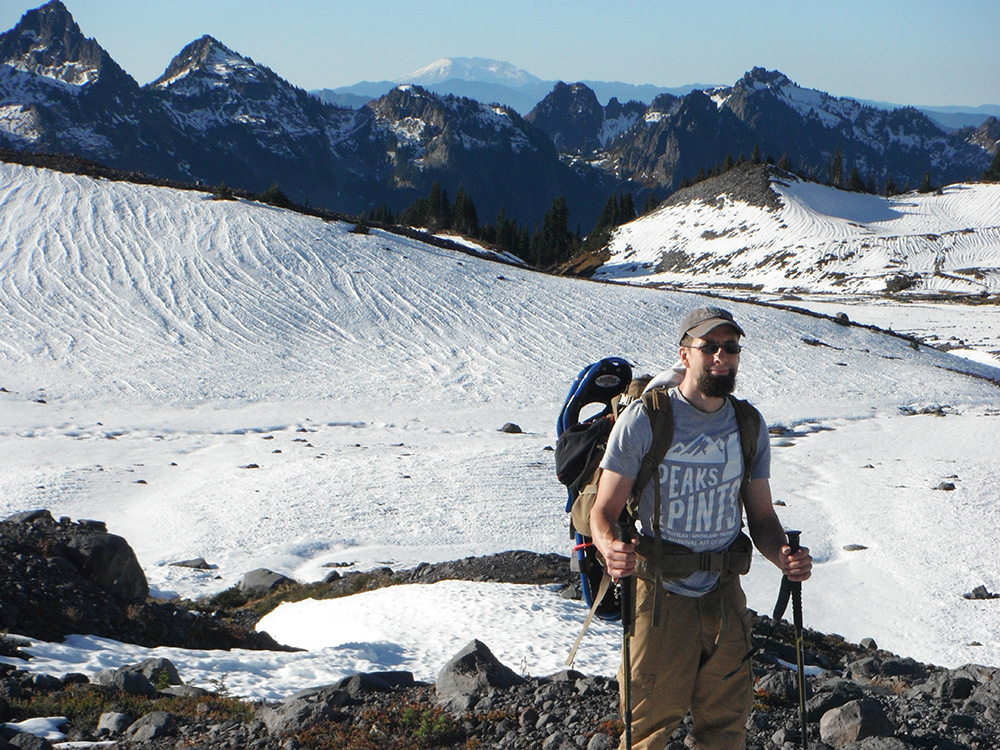 Seeker Vulture stands before the Tatoosh Range and further Lawalaclough (St. Helens).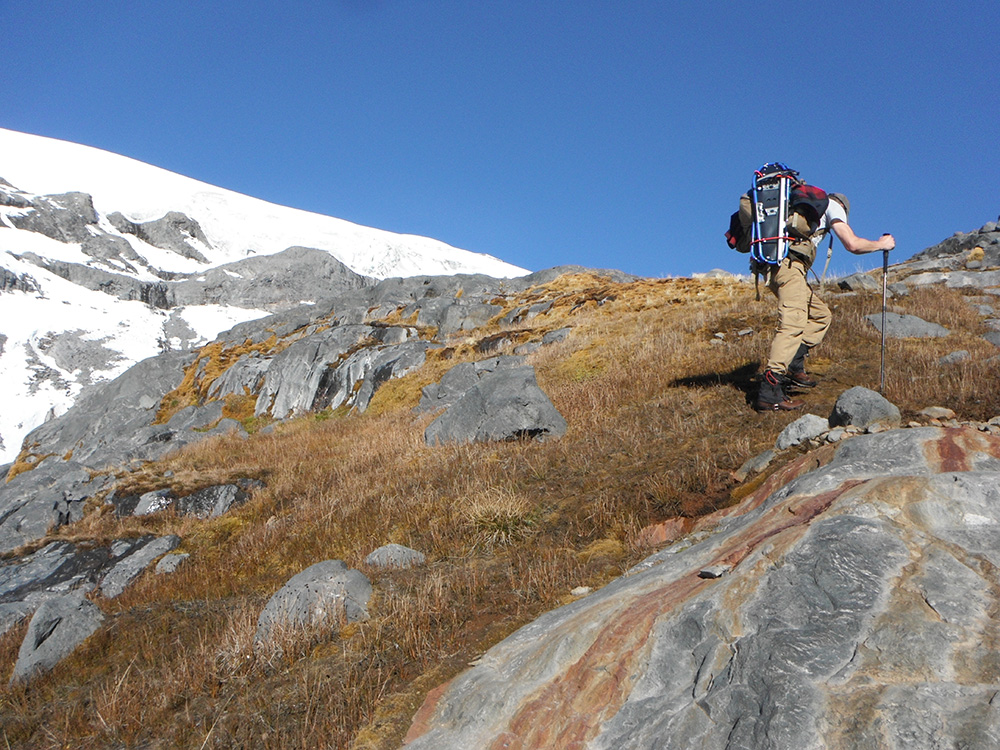 Seeker Vulture treks through a snowless patch along the upper reaches of the Paradise River.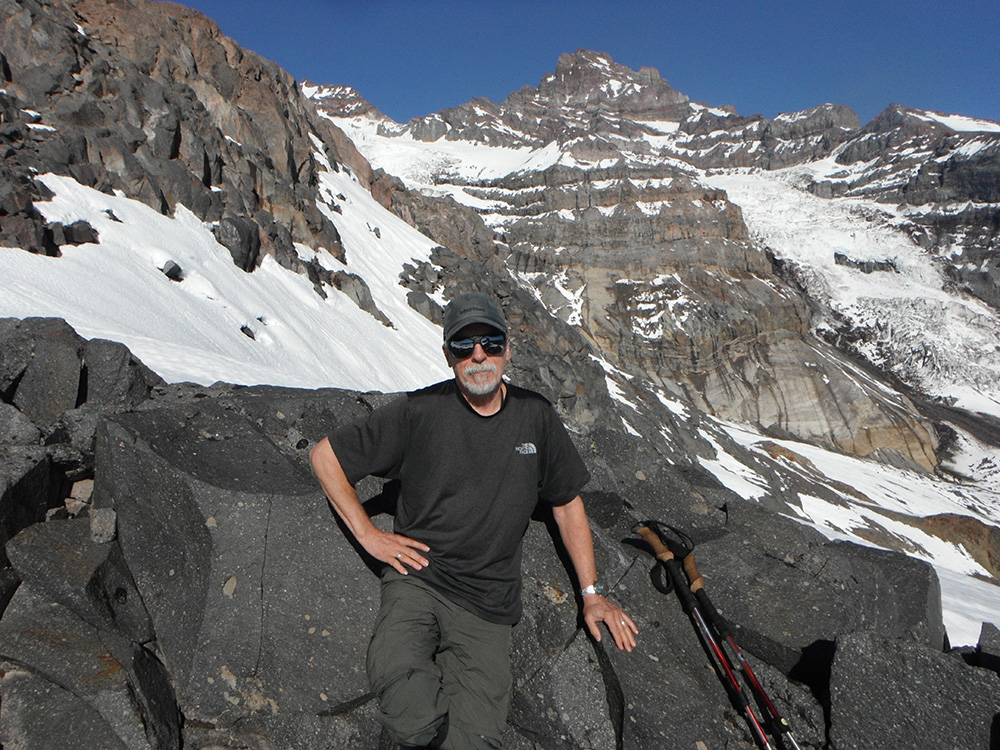 Chatter Vulture breaking for lunch at The Cowlitz Rocks with Little Tahoma in the background.
---