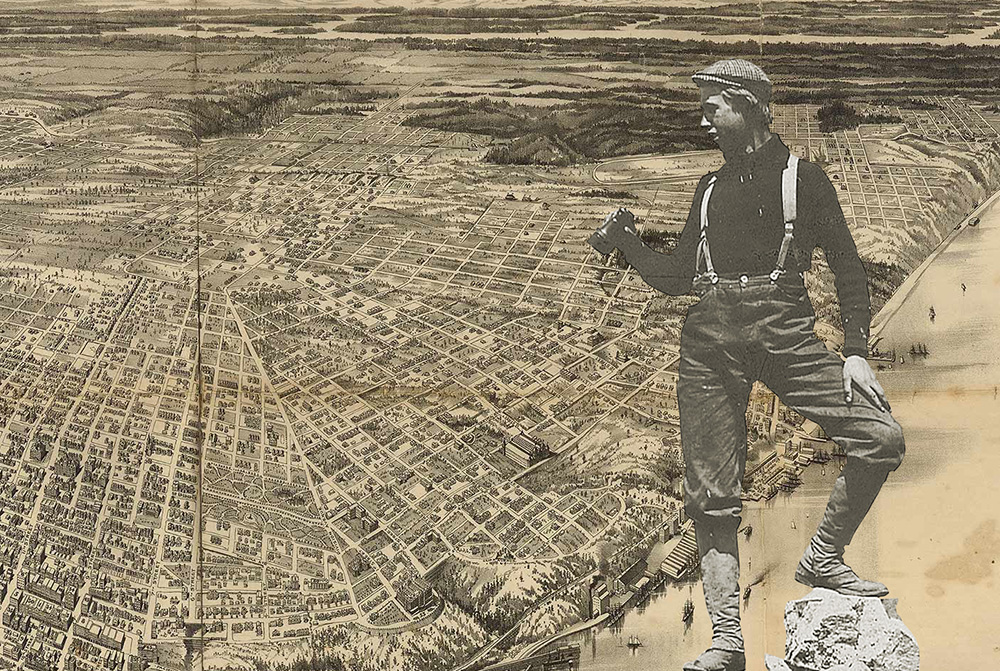 To celebrate its first year in business, Peaks and Pints is excited to announce its special India Pale Ale release in collaboration with Two Beers Brewing Co. Proctor Peaks IPA will be released at Peaks and Pints Thursday, Jan. 11, along with other Two Beers and Seattle Cider draft delights. The Peaks' ownership brewed the pine and dank IPA at South Seattle brewery naming it after the peak in which the Tacoma bottle shop, taproom and restaurant sits atop.
Proctor Peaks was so designated in 1883 by Tacoma founding father Allen C. Mason, who named it after topping the 370-foot peak [might be fake news]. Earlier that year, Mason left the Illinois Supreme Court to settle in Tacoma, Washington. One Sunday morning — after tossing a few back at the Old Tacoma Saloon (the tavern that eventually became The Spar in Old Town Tacoma) — he took a bet that launched his first climbing adventure. He trudged up the hill in less than the challenged hour [still fact-checking this]. At the top he discovered a remote, unsettled region that soon would host the city's horseracing track, as well as Mason's beloved residential neighborhood, Proctor, complete with a streetcar stop at the intersection of North Twenty-sixth and Proctor streets, where Mason planted his summit flag. Today, many outdoor enthusiasts attempt to climb Proctor Peaks, from North 30th and McCarver up to North 26th and Proctor.
Have you climbed Proctor Peaks?
There are several questions you need to ask yourself before attempting the climb from Old Town Tacoma up to Peaks and Pints.
Do you own a four-season goose down -20º sleeping bag or does a Sasquatch graphic don your artificial down bag that actually zips into feet so you can scare neighborhood kids?
Do you run 10 miles four times a week with Nepalese prayer flags dangling from your CamelBak or do climb a ladder four times a week to make yarn beards in your attic?
Are you climbing Proctor Peaks as a training climb for Mount Rainier this summer or does your Aunt Matilda live halfway up on North Cedar Street and she makes killer baklava?
Will your backpack will be loaded with Clif Bars, dehydrated lentils, the 10 essentials and two Nalgene bottles full of water and electrolytes or just an empty (clean!) growler for the Proctor Peaks IPA at Peaks and Pints?
If you run into traffic on Union Street do you grab a utility post for quad stretches or collapse into a utility post panting with one thumb extended?
You have arrived at the Proctor Peaks summit. Do you head back down and try another summit push or head inside Peaks and Pints for a pint of Proctor Peaks IPA paired with a pastrami sandwich?
If you answered "Yes" to any of the previous questions then we'll most likely see you at 6 p.m. Thursday, Jan. 11 for Two Beers Brewing Proctor Peaks IPA release party at Peaks and Pints bottle shop, taproom and restaurant in Tacoma's Proctor District.
"We dropped our carabiner bottle openers with glee when Two Beers founder Joel VandenBrink asked if they could brew us a house IPA," says Peaks and Pints co-owner Ron Swarner as he typed this event announcement. "They're the 15th largest brewery in the state with awesome beer and pine needles stuck to their clothing. We're huge fans."
Coming in at 6.7 percent ABV and 60 IBUs, Proctor Peaks IPA will be pine and dank on the nose and palate featuring Warrior, Chinook, Columbus and Simcoe hops with kettle and dry hop additions.
"And, it has clear, copper coloring," adds Swarner, because that's a thing.
Proctor Peaks IPA will be released at Peaks and Pints June 11, along with other Two Beers and Seattle Cider draft delights. In addition, expect mountain-themed music, movies and raffle prizes.
The night will also serve as a benefit for Citizens For A Healthy Bay, thanks to Drinking for Conservation's endeavor to raise funds for the Tacoma organization's efforts to keep Commencement Bay clean and healthy.
PROCTOR PEAKS IPA RELEASE PARTY, 6-9 p.m. Thursday, Jan. 11, Peaks and Pints, 3816 N. 26th St., BasecampProctor, Tacoma, no cover
---