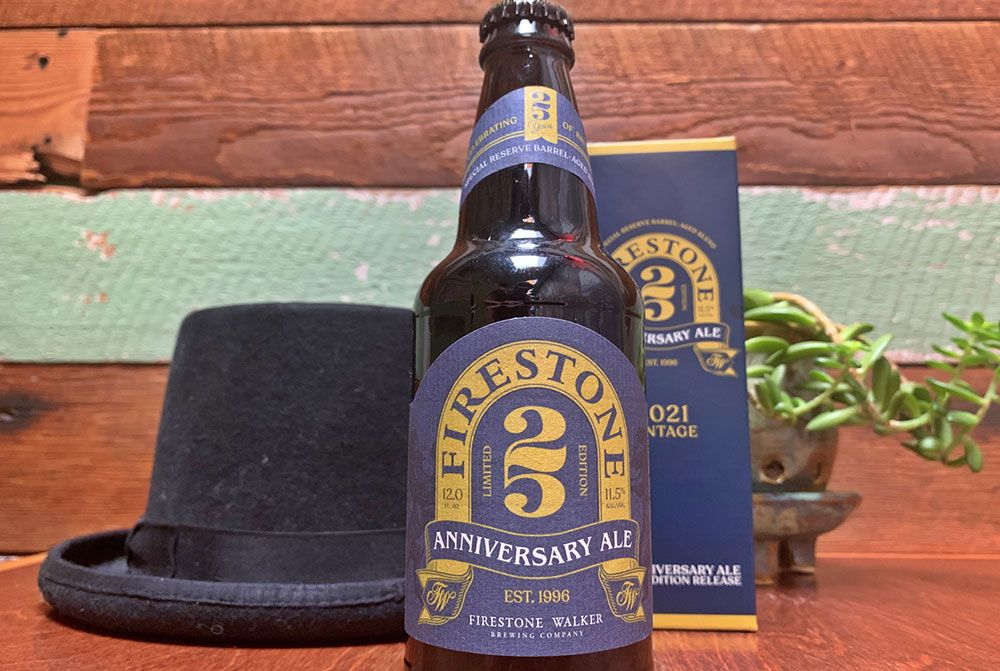 Fancy Pants Sunday: Firestone Walker XXV Anniversary Ale
Founded in 1996, Adam Firestone, along with his brother-in-law David Walker, launched Firestone Walker Brewing Company quite humbly, inside a nondescript shed on the family's Santa Ynez Valley vineyard. This year, the California Central Coast brewery celebrates their 25th anniversary the same way they celebrated past anniversaries by releasing an Anniversary Ale. The two founders and their brewmaster, Matt Brynildson, managed to stay the course during the pandemic and continue the annual rite — the creation of XXV Anniversary Ale, blended with the help of local winemakers. Today, Peaks & Pints presents Fancy Pants Sunday: Firestone Walker XXV Anniversary Ale.
Every late summer since 2006, right before the wine harvest gets rolling, Firestone Walker invites their local winemaker friends to their Barrelworks brewery to help blend the annual Anniversary Ale. Winemakers are practicing experts in the art of blending, and Firestone and Walker realized early on that they could provide invaluable input for creating a seamless beer from numerous barrel-aged component ales. The winemakers come for both the challenge and the camaraderie. They split up into small teams and create their own preferred blends from the provided components. Each of the resulting trials is then blind tasted by the entire group, and votes are cast for the winning blend. For XXV Anniversary Ale, the winning blend is 41 percent Parabola Russian Imperial Stout Aged in Bourbon Barrels, 10 percent Stickee Monkee Central Coast Quad Aged in Bourbon Barrels, 28 percent Tequila Barrel Merkin Aged in Tequila Barrels, 13 percent Brandy Barrel Barley Wine Aged in Brandy Barrels, and 8 percent Whiskey Barrell Wheat Wine Aged in Bourbon Barrels. The victorious wine team walks away with bragging rights — and with a set of coveted cardboard crowns.
Firestone Walker XXV Anniversary Ale, labeled a strong ale at 12 percent ABV, pours dark and rich hitting the nose with bourbon-soaked coconut, tequila barrel spice, roasted pecans, and brandy-filled chocolates. On the tongue, expect dark chocolate, black cherry, vanilla, and caramel.
You fancy, Firestone Walker XXV Anniversary Ale with your blend of rich stout and refined barleywines.
LINK: Peaks & Pints cooler inventory
---