Wet Coast Can-Can Release Speakeasy
May 30, 2019 @ 6:00 pm

-

9:00 pm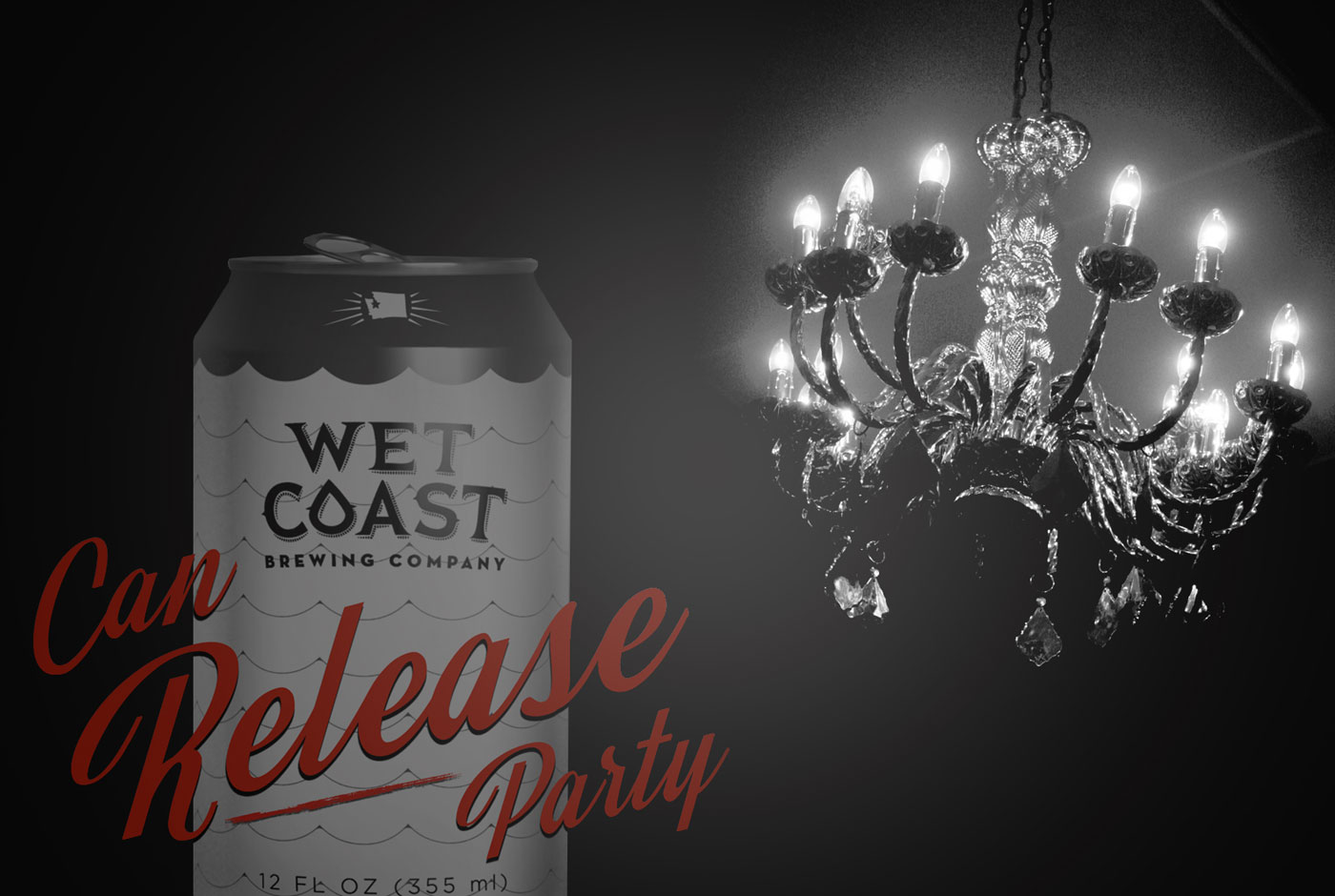 Wet Coast Can-Can Release Speakeasy
Tacoma's newest so-called "speakeasy" doesn't have any stupid rules. At the Wet Coast Can-Can Release Speakeasy — opening and closing Thursday, May 30 inside Peaks and Pints — there is no secret phone number. No one will ask you for a password. And photos, mercifully, aren't banned. Wet Coast Brewing will, thankfully, have cans of their Whisper Sister Hazy Pale, Moving Day IPA and Wet Coast Cream Ale for sale in the Peaks and Pints Speakeasy in Tacoma's Proctor District.
Indeed. The Gig Harbor brewery — named after the Prohibition days where citizens voted wet or dry — has finally released can versions of their delicious craft beer, and Peaks and Pints will host the Can-Can release party, beginning at 6 p.m. Thursday, May 30.
West Pierce Fire and Rescue firefighters Bryan Copeland and Aaron Johnson are the brewers and co-owners behind the business, along with their wives Molly Copeland and April Johnson. They started planning their brewery for years, but didn't get serious until 2012. They opened in Gig Harbor in 2015 on a 3.5-barrel brewing system, with three 7-barrel bright tanks and four 7-barrel fermenters, which has been replaced by a much larger system.
The love affair with the Prohibition era is particularly evident at Wet Coast Brewing. In the 1932 presidential election, King, Pierce, and Spokane counties voted "wet," meaning those citizens voted for Democrat Franklin D. Roosevelt and his desire to bring back the drinkies, instead of Republican Pres. Herbert Hoover's desire to keep "the noble experiment," Prohibition. In addition, Wet Coast beers give a nod to Prohibition days, for instance "Hi Jack!" was used in speakeasies as a code word for law enforcement.
As you enjoy music from the Prohibition years, you may sip Wet Coast treasure tapped on our Western red cedar tap log, or have a bartender pop open West Coast cans. …
WHISPER SISTER HAZY PALE: An easy drinking pale brewed with a hefty dose of oats. Vermont IPA yeast brings the haze and bolsters the tropical and citrus notes of El Dorado and Falconer's Flight hops. 5.5%
MOVING DAY IPA: Packed with resinous/citrus/tropical flavors and aromas thanks to four different hop varieties, this IPA is balanced by its solid malt bill featuring Munich and Crystal malts. 6.4%
WET COAST CREAM ALE: This cream ale is smooth on the palate thanks to a malt bill featuring flaked corn and Honey malt. This quaffable ale is then finished with Willamette hops. 5%
The Peaks speak opens at 6 p.m. Thursday, May 30. It will be the bee's knees.
WET COAST CAN-CAN RELEASE SPEAKEASY, 6-9 p.m. Thursday, May 30, Peaks and Pints, 3816 N. 26th St., Basecamp Proctor, Tacoma, no cover, no password