South Sound by Southwest Double IPA Release Parties
May 10, 2019 @ 5:00 pm

-

10:00 pm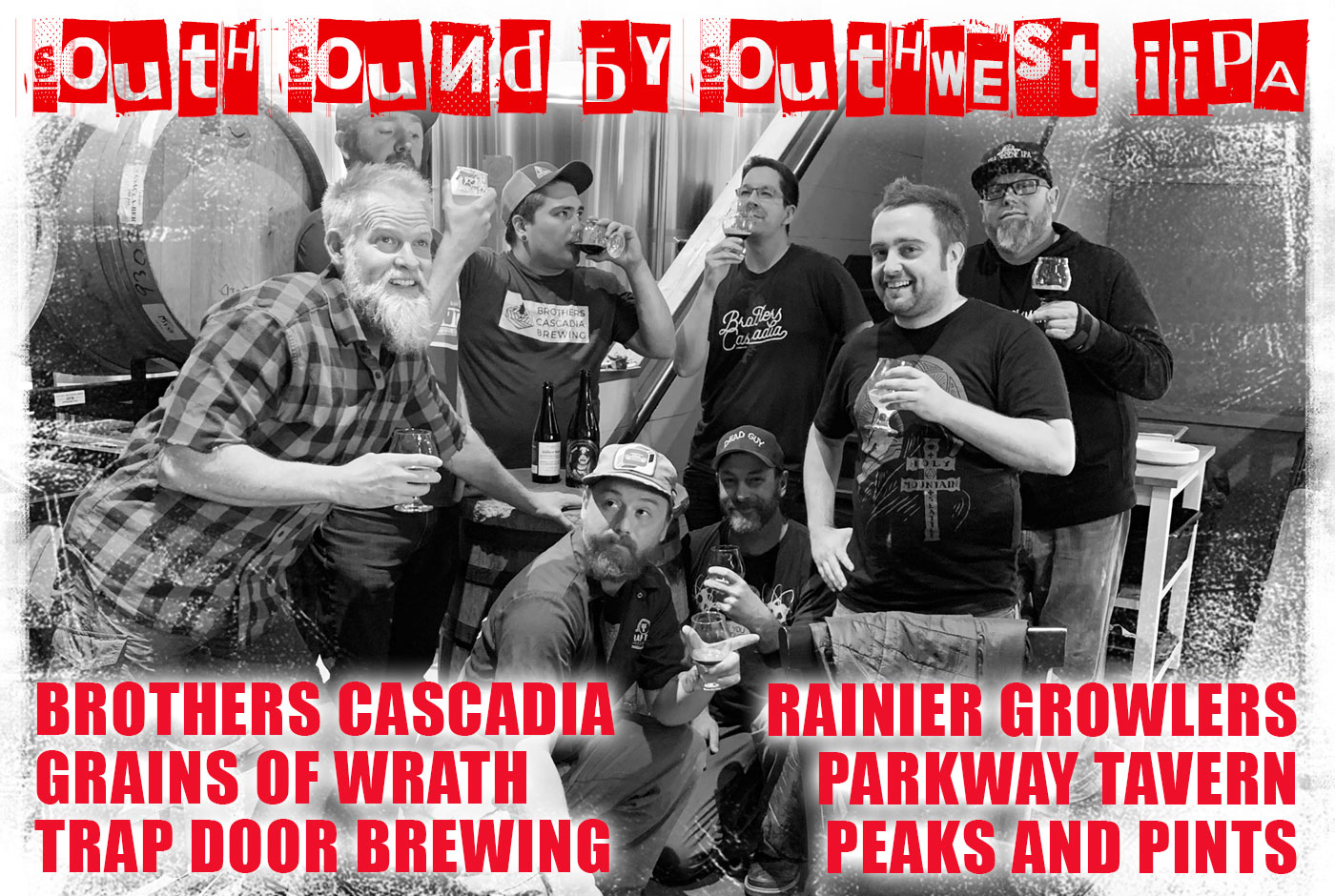 South Sound by Southwest Double IPA Release Parties
South Sound by Southwest mania is upon us, and chances are your social-media channels are already being inundated with chatter about Southwest Washington breweries rocking Pierce County craft beer bars Friday, May 10. "On behalf of the Pierce County craft beer scene (myself included), I'd like to apologize for just how obnoxious Friday, May 10 will be during SSXSW," says Ben Chase, manager at Rainier Growlers on South Hill, Puyallup. "Extra apologies for any and all usage of the term 'killing it,' gratuitous name-dropping ('Oh, hey, [insert celebrity here]'), photos of long lines waiting for the official roving SSXSW Van, and whining about how tired we are. That said, our collaboration double IPA will rock, and it deserves the extra attention."
Indeed. Chase, Parkway Tavern manager Sean Jackson and Peaks and Pints co-owner Ron Swarner jumped in the touring van to Vancouver, Washington and brewed a double IPA at Brothers Cascadia Brewing with Grains of Wraith Brewing and Trap Door Brewing on April 3, 2019. Brewer Matt Fields of Brothers Cascadia grabbed the lead during the brewing day with Grains of Wrath Head Brewer Mike Hunsaker, Trap Door Head Brewer Zane Singleton and Brothers Cascadia Head Brewer Jason Bos singing backup while making sure the Pierce County craft beer bar folks kept full glasses of their cellared craft beer. As metal filled the Vancouver brewery, the group realized music was a common bond, therefore South Sound by Southwest Double IPA, a play off the famous Austin, Texas music festival, seemed a logically name. The after party was ridiculous.
Playing off the three-breweries/three-venues theme, South Sound by Southwest IIPA rocks three hops — Amarillo, Strata and El Dorado, including a roadie bringing in a bunch of Amarillo Cryo hops. All aboard! This I…I…I…IPA will also be a hazy train thanks to flaked oats and wheat. Strata and El Dorado shred dueling lead guitars with tropical aromas and flavors fronting Amarillo plucking a ruby red grapefruit and orange bass. The flavors will jump on your palate like they're taking stage at the Tacoma Dome.
Beginning at 5 p.m. Friday, May 10, Rainier Growlers, Parkway Tavern and Peaks and Pints will tap South Sound by Southwest IIPA, as well as different beers from the three collaborating breweries. A van will circulate between the three craft beer bars from 6-10 p.m. Uber is also encouraged as a way to taste all the beers.
"South Sound by Southwest isn't a beer festival, a music festival or a fashion festival — it's a big bundle of everything rolled into one spring, Pierce County night," adds Chase. "You'll drink delicious beer that you're unlikely to see in your own backyard, find something thrilling, meet some cool people, listen to some rocking recorded music, and perhaps even plan a day touring Southwest Washington breweries. SSXSW has an array of options available that are sure to knock your glasses off."
The South Sound by Southwest folks suggest beginning at 5 p.m. inside Rainier Growlers, but you may go your own way.
SOUTH SOUND BY SOUTHWEST DOUBLE IPA RELEASE PARTIES, 5-10 p.m. Friday, May 10, Rainier Growlers (13105 Meridian E., Puyallup), Parkway Tavern (313 N. I St., Tacoma), Peaks and Pints (3816 N. 26th St., Tacoma), no cover charge