Double Mountain Music To Their Beers
July 17, 2018 @ 6:00 pm

-

10:00 pm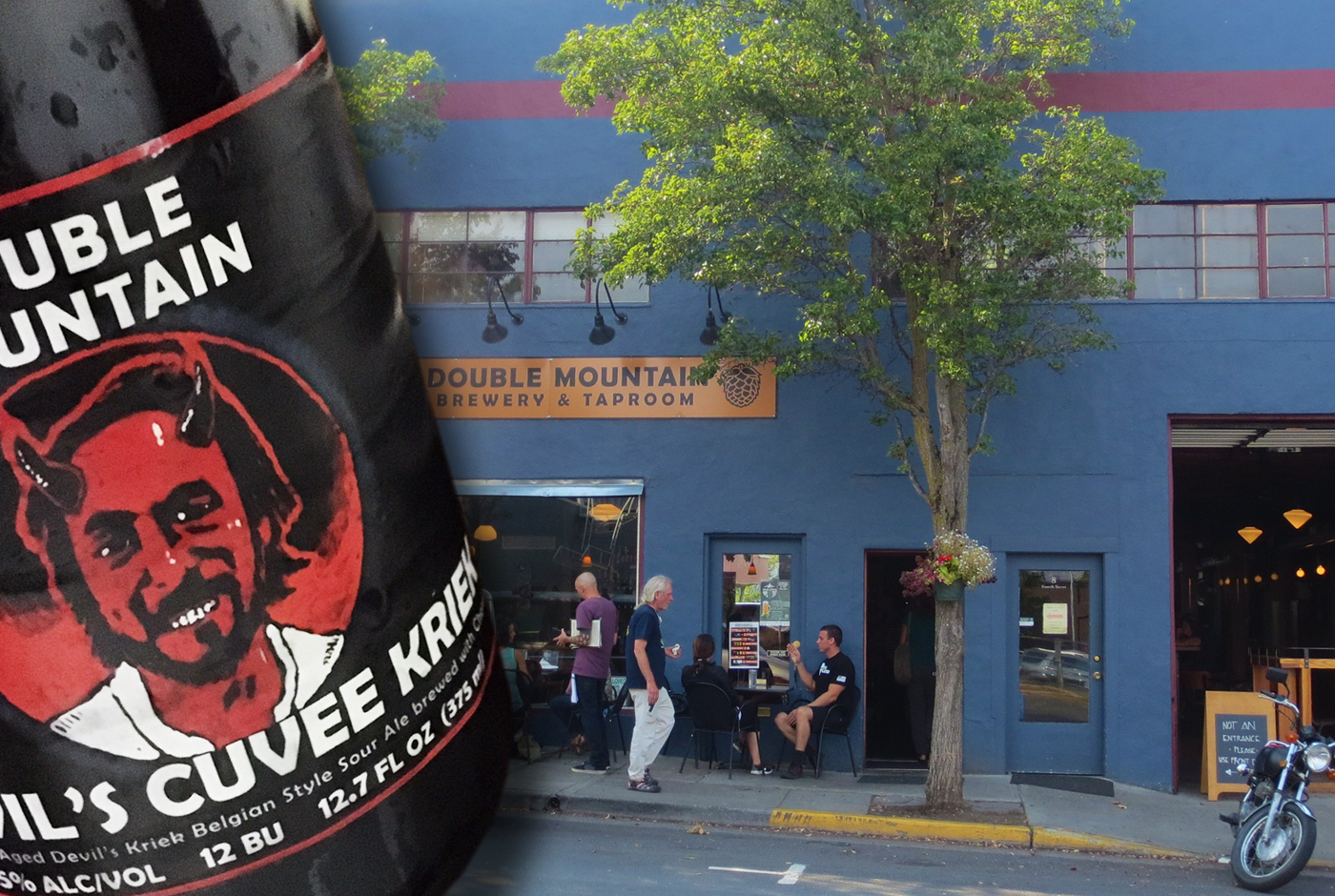 Double Mountain Music To Their Beers
Matt Swihart and Charlie Devereaux crossed paths while working at Full Sail Brewing in Hood River, Oregon. They became instant friends, chatting up food, beer and music while starring out Full Sail's window at the beautiful Columbia Gorge. Devereaux didn't see Swihart climb to assistant brewery as he followed his dreams in 1995. They'd reunited here and there, spit-balling future project over beers and music. In February 2006, Swihart caught glimpse of a "For Lease" sign in one of the few light-industrial-zoned storefronts in downtown Hood River. St. Patrick's Day 2007, Swihart and Devereaux opened Double Mountain Brewery & Taproom in said spot, named after the orchard they owned, Double Mountain Orchards — where one can look in one direction and see Mt. Adams and then look in the other direction and see Mt. Hood. With a mash tun paddle and one hand and a banjo in the other, Swihart ran the brewery while Devereaux ran the pub, creating a pizza that draws as well as their, Belgian inspired yet Northwest centric craft beer.
Swihart's love for music transgressed into his craft, naming his craft beer after songs and artists with the chalk beer nameplates to prove it. In fact, Swihart's band, The Greenneck Daredevils, formed when his buddies decided to jam at the brewery's anniversary party in March 2013. Swihart is the band's wild card. Not only does he rip on the banjo with fantastic harmonies, his charisma and sense of humor come through at the live performances.
While Swihart can't make Peaks and Pints' Double Mountain Music To Their Beers night Tuesday, July 17, like he did in December 2016 when he released the brewery's first cider, his inspiration will ring through our lodge. We'll tap a firkin of Sweet Jane IPA, a nod to the hit song on Velvet Underground's fourth album, as well as a keg of the brewery's Timbeer! Pale ale brewed for the Timber! Outdoor Music Festival in Carnation, Washington last weekend. Double Mountain's Devil's Cuvee Kriek will be on tap, a French Oak barrel-aged kriek that bears Swihart's devil horned mug on the bottle a la Angus Young on AC/DC's Highway To Hell album. We even booked two honky-tonk Americana bands to perform the same night, Lorin Walker Madsen and The Hustlers, and Abraham and the Old Gods, performing before our huge open windows around 8 p.m.
We'll also tap Double Mountain's Dry Cider, Kolsch and Black Irish Stout on nitro.
Peaks and Pints has a soft spot for this amazing brewery in Hood River. Come share our love for their craft beer, and cheers with music-inspired beers to some amazing music, too.
DOUBLE MOUNTAIN MUSIC TO THEIR BEERS, 6 p.m. Thursday, July 17, Peaks and Pints, 3816 N. 26th St., Basecamp Proctor, Tacoma, no cover
Related Events