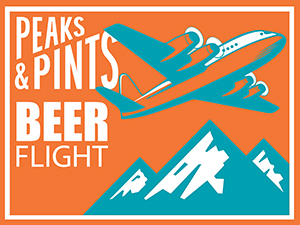 Like "It's Beginning to Look a Lot Like Christmas" at Forever 21 and candy corn at 7-Eleven, pumpkin beer arrives earlier and earlier every year. Before the leaves turn yellow and it's time to start wearing grey socks with Birkenstocks again, many of the most sought-after brands' pumpkin beers will be long gone. That means restaurants and bars that don't have a place to store extra kegs for a month or two are out of luck if they want to serve this seasonal specialty in the proper season. Breweries would also much rather roll out their seasonal beers too early and run out than be left with extra product after the season is over. Come Nov. 1, nobody wants a pumpkin beer. Peaks and Pints currently has several pumpkin beers in our lodge, which means we can offer the flight Craft Beer Crosscut 9.3.19: Flight of Pumpkin.
Craft Beer Crosscut 9.3.19: Flight of Pumpkin
Shipyard Pumpkinhead Ale
4.5% ABV, 18 IBU
Shipyard Brewing Co.'s Pumpkinhead, which of all the pumpkin beers released in August seems to garner the most love and derision for its early arrival. First released in 1997, Pumpkinhead has become the primary villain in the minds of those who ridicule the pumpkin creep. As always, the Maine brewery enhances the pumpkin flavor with a proprietary blend of spices including cinnamon and nutmeg for flavors similar to pumpkin pie, but gradually fades to some light hops influences on the back of the tongue.
Elysian Night Owl Pumpkin Ale
5.9% ABV
While most breweries have one or two pumpkin beers in the portfolio, Elysian Brewing Co. brews more than a dozen, including Dark O' the Moon, Night Owl, The Gourdfather and Blight. Night Owl, brewed with more than 7 pounds of pumpkin per barrel, seven different malt varieties, green and roasted pumpkin seeds, bittered with Magnum hops and spiced in conditioning with nutmeg, clove, cinnamon, ginger and allspice, is their most lauded. It leans more toward Christmas than Halloween. Maraschino, banana-nut, cinnamon, pecan and graham cracker hit the tongue. Cinnamon dominates with some caramel and a touch of biscuit malt sweetness to support. The pumpkin love doesn't end there — every year, Elysian also holds the 15th annual Great Pumpkin Beer Festival (Oc.t 4-5 at the Seattle Center), a celebration of 80-plus different gourd grogs, some of which are even served from giant pumpkin kegs with taps hammered right in the side.
Elysian Punkuccino Coffee Pumpkin Ale
5% ABV
Elysian introduced its Punkuccino Coffee Pumpkin Ale at the brewery's annual Great Pumpkin Festival in 2013. The beer's a pumpkin milk stout loaded with Stumptown's cold-pressed coffee with just a shake of cinnamon and nutmeg, plus, of course, pumpkin added into the mash, kettle and fermenter. Pale, brown, biscuit, C-77 crystal, chocolate and kiln-coffee malts provide the body, German Northern Brewer lends a touch of bitterness, and lactose sweetens the beer just a touch. The java turns the beer roast-forward; the lactose and pumpkin smooth out the sip.
Reuben's Autumn Harvest Imperial Pumpkin Ale
8.7% ABV, 22 IBU
The great Autumn Harvest Imperial Pumpkin Ale has re-risen from Reuben's Brews' pumpkin patch with everything pumpkin beer lovers enjoy: A sweet, chewy, delightful ode to the sensation of being warm and cozy in the fall. Spice notes compliment the rich, pumpkin mouthfeel. Reuben's is a true friend to fans of the style, and is clearly committed to brewing with class and creativity.
Rogue Pumpkin Patch Ale
6.1% ABV, 25 IBU
Pumpkin were planted in late spring alongside the Rogue Farms hops, jalapeños, marionberries and buzzing honey bees. As soon as they were picked, the pumpkins were driven to the Rogue Brewery in Newport, Oregon just 77 miles away. The pumpkins were hand-chopped and seeded, roasted in pizza ovens, and pitched fresh into the brew kettle along with vanilla bean, ginger, cardamom, cloves, cinnamon, nutmeg, orange peel and Rogue Farms Independent hops to create flavors of caramel, burnt brown sugar, dry floral spices, cinnamon stick, and some tang. It's heavy on spice, but whatever.
---