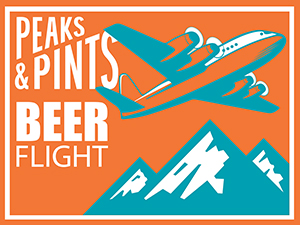 On sprawling farms clustered around Yakima and Willamette valleys, thousands of green Humulus lupulus vines snake vigorously skyward. A relative of marijuana, these hop plants produce resiny, cone-shaped flowers prized for their use as a bittering agent in beer. October is the traditional time for end-of-the-season harvesting and hops are no exception. That's good news for beer lovers, as many breweries take advantage of the numerous Pacific Northwest hop farms, creating beers flavored by hops sourced 3-5 hours from the kettle boil. These beers typically have an aroma akin to that of a freshly-mowed lawn and the resinous and deep floral notes that hop heads love. Since Sept. 1, Peaks and Pints has tapped two to three fresh hop beers daily. It's time to create a flight centered on fresh hop. Enjoy Craft Beer Crosscut 9.14.18: A Flight of Fresh Hops.
Two Beers What A Time To Be Alive Fresh Hop Hazy
6.5% ABV, 35 IBU
Two Beers Brewing released a new fresh hop beer as part of its "Unbrand" series. On the label, an astronaut stares at the can, with "What A Time To Be Alive!" floating just below Saturn. The Seattle brewery brewed with 5-pounds of fresh, 100-percent Cascade hops per barrel. A light citrus and grass nose leads into a smooth hoppy launch from Earth. Pepper hits just past Mars. A light bitterness of a mild hop flow lands on Saturn. It's definitely hazy. It's definitely fresh. It's definitely delicious,
Top Rung Wet Line Fresh Hop Pale Ale
5.5% ABV, 40 IBU
Top Rung Brewing founders Casey Sobol and Jason Stoltz are career firefighters (46 years for Sobol and 12 for Stoltz). They began brewing in a garage between shifts at the McLane/Black Lake Fire Department. In firemen speak, a wet line is a line of water, or water and chemical retardant, sprayed along the ground, that serves as a temporary control line from which to ignite or stop a low-intensity fire. Whether a brewery defines its fresh or wet hops beers using the Brewers Association's definition varies by brewery. Top Rung incorporates both terms in this pale ale, using fresh or wet Centennial hops. The nose is pine, lemon, lemongrass and melon followed by a light sweet, medium bitter flavor.
HUB Fresh Hop Totally Chill Hazy IPA
6% ABV
Hopworks Urban Brewery's Totally Chill comes loaded with a bouquet of pineapple and ripe mango from Azacca, Mosaic, and El Dorado hops. Brewed with generous amounts of oats, wheat and barley, Totally Chill has a thick and cloudy appearance, fluffy mouthfeel, and a blast of refreshing, juicy and tropical tasting hops. Since it's fresh hop season, the brewery created a fresh hop version of Totally Chill, adding floral notes to the fruity concoction.
Fremont Field to Ferment Fresh Hop Pale Ale: Centennial
6% ABV, 50 IBU
Fremont Brewing Co.'s "Field to Ferment" beer series and its fresh-hop brew from Cowiche Canyon are a big draw again this fall. It's easier to find this year, since the brewery increased production from 1,200 barrels to 1,921 barrels for its "Field to Ferment" fresh-hop beers. Fresh, spring-like forest, this batch highlights Centennial fresh hops with bright, resinous, leafy hop aroma followed by fresh lupulin and light citrus kisses. Brisk semi-dry flavor that's leafy and fresh hoppy, lingering low earthy bitterness and a gently sweet pale malt undertone.
Two Beers Fresh Hop IPA
6.2% ABV, 70 IBU
Two Beers Brewing Co. continues its tradition of releasing the first Fresh Hop IPA of the season, with draft arriving at peaks and Pints Aug. 3. First brewed in 2009, Fresh Hop IPA enters its ninth season on the Two Beers lineup, remaining one of the Seattle-based brewery's most popular releases. A true labor of love, Fresh Hop IPA is made with fresh Centennial and Cluster hops from fifth generation hop farmers, Puterbaugh Farm in Yakima Valley. The hops are handpicked by dozens of staff and volunteers on the brewery dock; the process allows Two Beers to go from hop bine to brew in less than 24 hours for an exceptional finished product. "This year's Fresh Hop IPA will feature Centennial hops, giving the brew a juicy citrus aroma with hints of grapefruit and passion fruit, and Cluster hops, which tend more towards bitter and earthy. Fresh Hop IPA (6.2% ABV/70 IBU) is dark straw in color with light caramel malt tones, and resembles an aggressively dry-hopped IPA, but packs the punch and flavor only fresh hops can deliver. In addition to the fresh picked Centennial and Cluster hops, this beer features locally grown Amarillo, Cascade, and Citra hops, helping this popular seasonal achieve its bright and delightfully bitter flavor," states founder and CEO Joel VandenBrink in a media release.
---