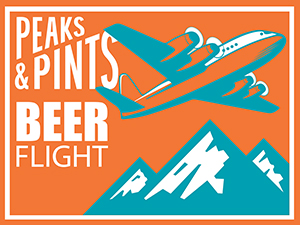 Summer is in its twilight stage. It starts off gradual, the shifting of sunlight throughout Peaks and Pints' wall of windows, until one day we realize we have to close the retractable windows. Summer days, as we're aware, began growing shorter after the solstice on June 21.  As June went to July, we barely noticed the sun coming up a bit later and going down earlier.  To know that we've actually lost about an hour of daylight seems impossible, but there's no ignoring that the sun is gone by eight p.m. and not up until almost seven a.m. There are a lot of other signs summer is winding down and coming to an end.  You can smell pumpkin spice lattes in the air. Target puts their swimsuits on sale. You can't find a twin sheet set anywhere because the college freshmen have already bought them all. And, Peaks and Pints offers a flight of summer ales. Enjoy Craft Beer Crosscut 9.12.18: A Flight of Summer Twilight.
Sierra Nevada Summerfest
5% ABV, 28 IBU
The Sierra Nevada Summerfest is made with 2-row Pale and Munich malts and Perle, Spalter Select and Saaz hops. A crisp summer lager that has been around for more than 15 years, the Sierra Nevada Summerfest also lets you know that you're drinking a real beer. With a full flavored tang hop kick, this pilsner style lager is another classic from Sierra Nevada. With light malts and light hops and spice, the crisp big bubbles make an excellent refreshing summertime lager. The lemon and malt aftertaste are very well balanced making this one of our favorite summer beers. Less-experienced drinkers may find the hoppy finish a tad too bitter, but they'll come around.
Deschutes Twilight Summer Ale
5% ABV, 35 IBU
Deschutes Brewery's Twilight Summer Ale has a softer feel and a smoother taste than its Mirror Pond Pale. While Deschutes brews it as a summer seasonal, Twilight almost fits in better with early fall brews. This clever golden-hued ale pours remarkably crisp and clean. A bright malt body complements a refreshing hop profile led by bold additions of Amarillo hops. It definitely retains the refreshing lightness that the straw-colored ale would imply, feels more substantial than most summer brews.
Silver City Ziggy Zoggy
5% ABV, 40 IBU
Restaurateurs and brothers Steve and Scott Houmes added craft beer to their lives when they teamed up with brewmaster "Big Daddy" Don Spencer and opened Silver City Brewery in Silverdale, Washington, in September 1996. In May of 2010, the brothers moved their brewery operations to a new, 7,600 square foot production facility and taproom in Bremerton. This year marks the 20th anniversary of Silver City Brewery. Ziggy Zoggy is such an easy-drinking, tasty beer for warm weather. Brewed in the Bavarian tradition of kellerbier or zwickelbier, it's unfiltered and has great malt flavor but enough bitter hop character to satisfy a Northwest palate.
Fremont Summer Ale
5.2% ABV, 45 IBU
If it were socially acceptable to drink beer in the morning, one with Amarillo hops would be the perfect way to start the day. Amarillo provides a super-citrusy aroma verging on oranges, lively tangerine flavor and a medium-high bitterness, that is sure to wake the taste buds. A staple at the brewery since 2010, Fremont Brewing's Summer Ale has just four ingredients: water, grain, yeast, and Amarillo hops. It tastes like tangerine flowers in a glass — refreshing, crisp, full of flavor that won't weigh you down on a warm day.
Reuben's Summer IPA
6.8% ABV, 50 IBU
Adam Robbings' beer recipes had much success at homebrew competitions, including winning the silver medal at the National Homebrewing Competition in 2012, and his talent, along with a Kickstarter campaign that raised close to $11,000, eventually earned him his own brewery — Reuben's Brews officially opened in Seattle's Ballard district in August 2012. Since then, the team has accrued an astounding amount of accolades, including 15 World Beer Cup medals over the past three years. Dip your nose into Robbings' seasonal Summer IPA for the tropics. The taste follows suite with pineapple, grapefruit, grass, green onion and little dank weed. Bitter and fruity, it's a lovely summer brew.
---