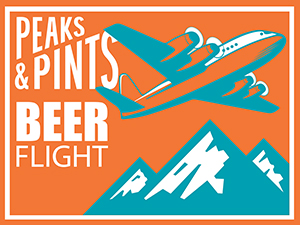 Sours get their trademark tartness and sourness from bacteria and wild yeasts — Lactobacillus, Acetobacter, Brettanomyces and other critters — which you wouldn't find in other styles of beer. Each type of bacteria gives its own trademark flavor and aroma: Lactobacillus has a yogurt tang, Acetobacter has the sourness of vinegar, and Brettanomyces has a barnyard, earthy, or farmhouse aroma. For some of the sour styles, the wild bacteria and yeast come into the beer during an open or spontaneous fermentation, with open vats of wort exposed to the natural air. Other sour styles don't use open fermentation, but they do rely on the bacteria and yeast in barrels to do a similar job. As the barrels get older, the more sour the beer gets, which leads to the common practice of blending beer from several different barrels, young and old, to get a consistent beer. Peaks and Pints offers a flight of five sour beers from Portland, Oregon, in what we call Craft Beer Crosscut 8.9.19: Flight of Portland Sours.
Craft Beer Crosscut 8.9.19: Flight of Portland Sours
Little Beast Hot Break
4.8% ABV
Two years before Little Beast Brewing opened in Beaverton, Oregon, co-founder Charles Porter was brewing at Logsdon Farmhouse Ales in Hood River. The histories state such a fact, but Peaks and Pints meet Porter in April 2015 while on a tour with the Craft Brewers Conference held down the highway in Portland. Porter, along with Dave Logsdon, showed us the archaic but highly functional brewing systems Logsdon used to craft their famous wild ales. Porter left Logsdon and opened Little Beast Brewing with his business and life partner, Brenda Crow, a cheesemaker, in April 1017. Little Beast Hot Break is an easy drinking ale for sour beer lovers. A combination of two distinct fermentations, Hot Break is brewed with American Pilsner malt, German pale wheat, and oats. The first base beer is naturally soured during fermentation with Lactobacillus, while the second base beer begins fermentation with Saccharomyces and is racked into the first beer during high krausen. The beer is unfiltered and unpasteurized when it is canned. The result is a thirst-quenching, clean, and crushable tart ale with a bright, lemony and passion fruit character, with distinct notes of mandarin zest and lime from dry hopping with Mandarina Bavaria hops.
Ecliptic Tucana Tangerine Sour Ale
4.8% ABV
John Harris' background in one steeped in Oregon's rich craft brewing history. After beginning as a brewer at McMenamins' breweries, he moved to Deschutes where he created the recipes for Mirror Pond, Black Butte Porter, Jubelale and Obsidian Stout. He spent the next 20 years of his career as a brewmaster at Full Sail in charge of creating the Brewmaster Reserve line of beers. In 2013, Harris founded Ecliptic Brewing purchasing the brewhouse from friend and Dogfish Head founder Sam Calagione. A play on Ecliptic's fan-favorite, year-round Carina Peach Sour Ale, Tucana Tangerine Sour Ale is a light and refreshing option brewed with tangerines from Oregon Fruit Products — a twist of tangerine plays with the balanced tartness of this sunset-hued sour ale. Pale and wheat malts help create a crisp, tart beer, while Cascade hops complement the citrus notes and burst of tangerine flavor.
Culmination Sunday Night In Florida
5.4% ABV
In 1994, Tomas and April Sluiter left their bakery jobs in Grand Rapids, Michigan, and hit the road. They traveled extensively. Then, in the summer of 2000, they discovered Portland, Oregon. Thomas took an assistant brewer job at the Old Market Pub in Southwest Portland. Within two weeks of his hire, the head brewer quit and Tomas was thrown into that role. He dismantled the old, tired brewing system and refurbished a 15-barrel system. In January 2017, seven years after Tomas left Old Market and almost two years after attempting to open his brewery in Portland's Goose Hollow neighborhood, he and April opened Culmination Brewing in Northeast Portland's Bindery Annex building. Tomas, now a certified Master Brewer, built his dream brewery in the 7,000-square-foot space kitted out with gravity-fed tanks. Four their fourth anniversary, Culmination invited Baerlic Brewing over to brew a Piña Colada flavored sour called Sunday Night In Florida. The kettle sour is fermented with pineapple and conditioned on coconut.
Cascade The Rainbow Project
6.7% ABV
Art Larrance was no stranger to the Oregon craft beer scene when he established Cascade Brewing in 1998. He partnered with Brewmaster Ron Gansberg, who oversaw the design and installation of the Portland brewhouse. Together, they took their more than 40 years of combined brewing experience to create fantastic sour beers inspired by an abundance of Oregon fruit. Cascade Brewing's The Rainbow Project is a blend of sour wheat and blond ales aged in oak wine barrels for up to 18 months with orange, lime and lemon zest as well as whole Northwest-grown strawberries. Offering a colorful combination of fruit varieties, this seasonal draft-only release delivers a brilliant polychromatic spectrum of citrus and berry flavor. The acidity on this thing is through the roof.
Upright Hearts' Beat
6.8% ABV
Upright Brewing owner and Brewmaster Alex Ganum opened his brewery in the basement of Portland's Leftbank building in 2009. Since then, Upright has made a name for itself brewing Belgian-style saisons, sours and fruit beers, as well as pushing outside the boundaries of what a standard Pacific Northwest beer tastes like. Ganum's Hearts' Beat is an American wild ale that is a wine barrel-fermented cherry beer made with Oregon Brooks cherries that are bolder and darker, akin to Bing cherries. The cherry boldness shares the profile with soft esters and light oak spiciness, while the acids are a balance of acetic and lactic, a nod to the beers of Flanders.
Drop by Peaks and Pints today for Craft Beer Crosscut 8.9.19: Flight of Portland Sours.
---