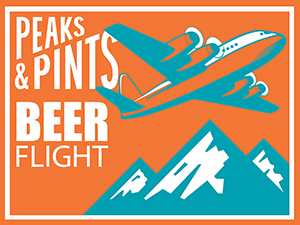 On a rainy day, there's nothing Peaks and Pints loves more than to spend a night with a great book and craft beer. OK, maybe we also enjoy a little company, but where to find someone with the same weaknesses? Peaks and Pints will host Friends of Friends of Tacoma Public Library at 6 p.m. tonight. Friends of Tacoma Public Library is a non-profit organization dedicated to the active promotion, welfare, and support of the Tacoma Public Library through advocacy, funding, and volunteer support. Peaks and Pints digs their mission, "to foster wider awareness of Library services and to build a strong relationship between the Library and the community which it serves." Therefore, we'll donate proceeds from all draft sales, 6-9 p.m., to the Friends' efforts to support children's literacy programs. In conjunction, Peaks and Pints presents an all-day book theme beer flight, Craft Beer Crosscut 8.21.19: Flight of Beer Books.
Craft Beer Crosscut 8.21.19: Flight of Beer Books
Everybody's Green Ice Pacific Pilsner
5.2% ABV
New York Times–bestselling author Gerald A. Brown's first novel, It's All Zoo, was written while he was living in Paris and working as a fashion photographer, but his Green Ice is often considered his best novel. The riveting thriller is about a down-on-his-luck American making one last gamble to reap a fortune in the Colombian emerald business. Everybody's Brewing's Green Ice is a crisp and light pilsner with a touch of Northwest hops on top of Weyermann Premium malt.
Pelican Queen of Hearts
6.5% ABV, 30 IBU
Pelican Brewing's Saison du Pélican is exceptional on its own; when aged in Ransom Distillery gin barrel, it takes on a whole other dimension of flavor. The fruity and spicy aroma of the farmhouse Belgian yeast, herbaceous Goldings hops and the well rounded malt character of Saison du Pélican pairs exquisitely with the huge botanical infusions imparted by Ransom Distillery's Old Tom gin barrels. The name? It has been mentioned that the distillers only bottle the "heart of the hearts" (best portion of distillate), which is why the Oregon coast brewery dubbed its barrel-aged saison, "The Queen of Hearts." Of course, The Queen of Hearts is a fictional character from Lewis Carroll's Alice's Adventures in Wonderland. Known for her cruelty and short temper, one of her most enduring lines from the book is, "Off with their heads!"
Gigantic Hellboy (Abe Sapien Indigo Pale)
6.66% ABV
To commemorate the 25th anniversary of the publication of Hellboy: Seed of Destruction, Gigantic Brewing and Dark Horse Comics collaborated on a series of Hellboy craft beers, all ringing in at 6.66%. The latest, Abe Sapien Indigo Pale, named after "Ichthyo sapien," the fanciful species designation chosen for him by his colleagues in the 19th-century Oannes Club, and from Abraham Lincoln, on whose assassination date the Oannes Club abandoned Abe's body, leaving only a cryptic note as explanation, in a suspended animation tank beneath a Washington D.C. hospital. He is occasionally referred to as an "amphibious man." We know. Anyhoo, Abe Sapien is a bicoastal beer that is inspired by both, East and West Coast styles of IPA but with its very own twist. From its first pour, Abe Sapien is an indigo hued beer that is full of citrus and berry hop flavors from its use of Citra, Mosaic and Nugget hops. The beer is also infused with natural indigo to create this one of a kind vivid, blue beer.
Jolly Pumpkin Ale Absurd
8.3% ABV
Jolly Pumpkin's Baudelaire Bière Series is based on the poetic works of Charles Baudelaire, a French poet who also produced notable work as an essayist, art critic, and pioneering translator of Edgar Allan Poe. Baudelaire Bière Ale Absurd is a medium-bodied, copper sour rye tripel ale with a hint of mild spiciness. Barrel aged in fresh California Chardonnay barrels for 17 months, the oak notes blend well with hints of pear and a light buttery tinge.
7 Seas Great Maker Imperial Hazy IPA
8% ABV
7 Seas Brewing searched as deep as oceans dive. Peaks and Pints probed as high as mountains climb. The nautical-themed craft brewery and mountain-themed craft beer bar, respectively, found the answer in the middle: a collaboration hazy imperial IPA inspired by Tacoma-born author Frank Herbert's Dune novel and recently opened Dune Peninsula along Tacoma's waterfront. Named after the sandworms in the novel, the Great Maker hazy double IPA is heavily hopped with Magnum and Amarillo in the kettle, Citra and Mosaic in the whirlpool and dry hopped with Idaho 7 and Amarillo. Add imperial juice yeast and 7 Seas' brewer Salmon Joe's magic and this easy-drinking, colossal collaboration has a full and supple mouthfeel with juicy orange and citrus flavor.
---