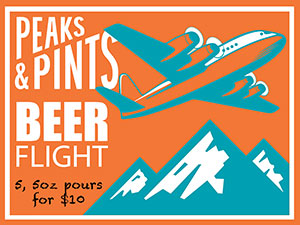 Anxious to start a business venture in the growing craft beer industry, homebrewer Ken Thoburn didn't have to look far for inspiration for his brand, Wingman Brewers. With a grandfather who painted various nose art designs on a variety of World War II airplanes, Thoburn fell in love with the 1930-40s-era vintage military theme. Combine that with an area that has a large saturation of active-duty and retired Air Force and military members and Tacoma's Wingman Brewers was born. Head Brewer Thoburn, including Derrick Moyer and Daniel Heath, started Wingman Brewers in April 2011, brewing beer to sell to local bars, restaurants and grocery stores out of a small storefront in Tacoma. Wingman Brewers took off in a big way, with a constant eye on their vintage military theme. In honor of our SudsPop night with Wingman Brewers tonight we present Craft Beer Crosscut 8.15.18: A Flight of Wingman Brewers.
Wingman/Klamath Basin Mojito Gose
4% ABV
Gose is a 1000-year-old beer style that almost disappeared in the 20th century. This sour and salty wheat ale has now made a comeback. Wingman Brewers and Klamath Basin Brewing collaborated on a sour rebel inspired by the Mojito drink and the warm beaches of Cuba. Aroma recalls a mojito, bright mint and lime, tart and lactic, crackery wheat, a bit of residual sweetness recalls the raw sugar in the cocktail, lightly salty, zippy overall. Flavor is lean, crisp and refreshing mint, some lime, decently salty, semi-dry in the finish as the tartness fades a bit and leaves lime zest, subtle mint and salt in its wake. Light bodied, average carbonation. Not overly complex but definitely fun to drink, Wingman knows its stuff when it comes to adjuncts.
Wingman/Brothers Cascadia One Night In Tacoma
6.5% ABV
"Brut," a term coined by the French near the turn of the 20th century, is typically reserved for describing an extra dry version of Champagne originally created for wealthy Englishmen at the time. With the addition of a specific enzyme, brut IPAs replicate a similar dry taste on the palate, paying homage to an age-old tradition but with some added modern flare. These brews are noted for their effervescent character and are often sparkling clear. They contain no juicy sweetness, just hoppy goodness. Brothers Cascadia Brewing traveled up to Tacoma to brew and brut IPA in Wingman's brewhouse — a pink-tinged, raspberry brut IPA, One Night In Tacoma. Bubbly yet unpretentious, the raspberry balances the hops for a dry, bright, pink and a little fruity IPA.
Wingman Ace IPA
7.1% ABV, 83 IBU
Flagship craft beer Ace IPA began as a Belgian meets American-style IPA with Belgian malts that complement a healthy portioning of Citra, Centennial and Cascade hops. Today, the IPA still carries a Belgian malt flavor but Wingman drops a hop bomb of grapefruit and herb flavor — thanks to the Simcoe, Citra, Centennial, Cascade and Bravo hops — for a well-balanced IPA.
Wingman P-51 Coconut Porter
8% ABV, 31 IBU
The P-51 Porter was Wingman's first real beer recipe. "It goes back to 2008 when Derrick (Moyer) and I were home brewing," explains Thoburn. "At the time, Lazy Boy Porter from Everett was my favorite beer around, so we tried to emulate that. The beer was initially made for a friend's birthday and called Nalty's Tall Order Porter since he's a tall dude and asked us to make a Porter for his birthday party. The beer went over so well with our friends that it remains the only recipe we've never changed since Wingman started … with Washington-grown barley and Moxie valley hops." Wingman Brewers introduced a peanut butter and coconut porter to the Port Townsend Strange Brewfest several years ago. It was a huge hit. Wingman went on to separate the two flavors and release both as seasonals. The coconut version hits the nose with coconut chocolate and molasses. The flavor follows with loads of coconut, finishing with a medium bitterness and chocolate.
Wingman S'mores Porter
8% ABV
Peter Brown, Wingman Brewers lead brewer on the S'mores Porter sang campfire songs as he stirred Pale, Chocolate, Victory, Black and Carafa Type 2 malts in the mash tun. As Cascade and Saaz hops boiled he tossed in an endless stream of marshmallows and Honey Maid Graham Crackers. This s'mores version of the Tacoma brewery's award-winning P-51 porter sports a tingly, medium mouthfeel, followed by roasted malt, graham cracker, cocoa and marshmallow with long chocolate finish.
---