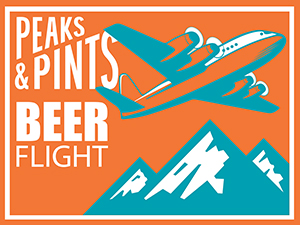 7 Seas Brewing searched as deep as oceans dive. Peaks and Pints probed as high as mountains climb. The nautical-themed craft brewery and mountain-themed craft beer bar, respectively, found the answer in the middle: a collaboration hazy double IPA inspired by Tacoma-born author Frank Herbert's "Dune" novel and recently opened Dune Peninsula along Tacoma's waterfront. Join the two staffs as they toast Tacoma Beer Week's launch with their delicious collaboration beer, Great Maker hazy double IPA at 5 p.m. today. In celebration, Peaks and Pints offers an all-day beer flight of 7 Seas craft beer that we call Craft Beer Crosscut 8.11.19: Flight of 7 Seas Brewing.
Craft Beer Crosscut 8.11.19: Flight of 7 Seas Brewing
7 Seas Water Chopper Gose
4.8% ABV
Gose. It's an old style of beer, somewhat overlooked. It originated along the river Gose, which flows through the town of Goslar in the German state of Lower Saxony. Traditional versions are quite sour and salty. The saltiness in particular likely came from the naturally saline, mineral-rich water from around Goslar and Leipzig that was used for brewing. The style is similar to a hefeweizen, in that it's made with high amounts of malted wheat. It has very low hop bitterness. However, this beer can have some dryness and spice from additions of coriander and salt. 7 Seas brews one of the better goses, fermented with Lactobacillus in conjunction with the brewery's house ale strain, and brewed with 35 percent malted white wheat and German Pilsner malt. For local flavor, 7 Seas Brewing added San Juan Island sea salt, and a pinch of coriander as the gose-style dictates.
7 Seas Cutt's NW Amber Ale
6.15% ABV, 44 IBU
You can't talk South Sound beer without mentioning 7 Seas Brew ing. Founders Mike Runion and Travis Guterson opened 7 Seas Brewing in 2008, but a fire in January 2009 at the original downtown Gig Harbor address meant the two young beer makers and co-owners had to relocate. Popularity and growth forced them to move to a larger location back in downtown Gig Harbor. 7 Seas Brewing Co. now occupies the 11,000 sq. ft. former QFC grocery store with an 8,600 sq. ft. production facility and 2,400 sq. ft. taproom with long tables and outdoor seating in Gig Harbor AND an 80,000-square-foot expansive taproom, marketplace and production facility with 10,000 sq. ft. basement for barrel program in downtown Tacoma at a site that once held part of the Heidelberg Brewery. This Northwest style amber ale, named in honor of our local Cutt's Island, aka "Dead Man's" Island, displays a brilliantly clear reddish hue, an intense nose of bready malt, little toasted caramel, pine and tart berry fruitness, a medium body, malt notes of fresh toasted bread, toasted caramel and red berries with a pleasant lingering hop bitterness.
7 Seas Rainbow Brite Jammy Rosé Brut IPA
6.2% ABV, 45 IBU
Release last month as part of 7 Seas 10th anniversary bash, Rainbow Brite Jammy Rosé Brut IPA is the latest in the brewery's Bridge Series. Rainbow Brite is a "Jammy Rose Brut IPA" sports jammy peach and tropical notes up front with the crisp and dry finish you expect from a brut.
7 Seas Willie Maize Haze
6.2% ABV, 55 IBU
Hot off its first place win at the Parkway Tavern's IPA Challenge, 7 Seas Willie Maize Haze is brewed with flaked oats and maize for a soft, silky mouthfeel. Loaded with newfangled hops El Dorado, Mosaic, Idaho 7, and Meridian, this hazy IPA sports a big, grainy fresh hop nose, followed by juicy orange, toast, and wheat.

7 Seas Never Say Die Nomadic IPA
6.3% ABV, 72 IBU
A simple base of Pilsner and 2-row malts, 7 Seas' Never Say Die Nomadic golden hued IPA delivers drifting hop aromas of fresh mango and tangerine. Hopped with Amarillo, Idaho 7, and Mosaic, this IPA has a bitter kick with a dank hop quaff and slight grass finish.
---