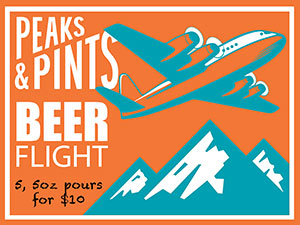 Look at the flavor and aroma descriptors of many new-wave hops: oranges and grapefruit, papaya and peaches, tangerines and lychee. By doctoring India pale ales with honest-to-goodness produce, brewers can crank up the inherent fruity characteristics, flavors and fragrances that people already love, amped up to 11. It's also a style that can act as a welcome mat for those less familiar with craft beer's particularities. Fruited IPAs can help folks understand the liquid waiting inside the keg, can or bottle. Not every drinker understands the difference between Citra and Cascade hops, but slapping "grapefruit" or "orange" on a label can be a safeguard against uncertainty. Today, Peaks and Pints presents a flight of fruity IPAs we call Craft Beer Crosscut 7.22.18: A Flight of Fruity IPAs.
Puyallup River From Kihei With Love
6% ABV, 20 IBU
While Puyallup River Brewing founder and head brewer Eric Akeson stared out to the Pacific Ocean from his beach chair on the shores of Kihei, Maui, the recipe popped into his head. "If I create a hazy IPA with Galaxy and Motueka hops — two-and-a-half-pounds of hops per barrel, make is an extremely low IBU number and shoot for pineapple, orange and passionfruit flavors with a huge dry hop I think people could mentally escape to Kihei where I'm finding complete and absolute bliss." Goal reached. From Kihei With Love is a crushable, sweet, smooth and fruity IPA. Mahalo, Eric!
Bainbridge Windfall Grapefruit IPA
7.7% ABV, 60 IBU
The Pacific Northwest is known for its craft beer, and there's plenty of the good stuff to be found on Bainbridge. Father and son Chuck and Russell Everett launched Bainbridge Island Brewing in 2012 excelling at IPAs. In the winter of 2015 their little island was struck by a furious windstorm, which knocked out our chiller while a tank of IPA was freshly fermenting. They couldn't release it as the original beer, but it was delicious. So they hit the beer with pink grapefruit and figured they'd save the batch by releasing it as a special one-of in their taproom. But some escaped. Then a lot of people started asking for it. Now it's their best selling beer. Windfall hits the tongue with grapefruit, grassy hops and malt. The finish is moderately bitter with a fruity hops aftertaste. Refreshing.
21st Amendment Brew Free! Or Die IPA (Blood Orange)
7% ABV, 70 IBU
In 2000, Nico Freccia and Shaun O'Sullivan founded 21st Amendment Brewing in the South Park neighborhood of San Francisco, California. As avid beer enthusiasts, Freccia and O'Sullivan were determined to establish an ongoing celebration of the overturned 21st Amendment to the Constitution (that's the one that repealed Prohibition) and gave their brewery the amendment's namesake to commemorate it. Celebrate freedom in America with their beer that's name says it all (as well as New Hampshire's state motto): Brew Free! Or Die (Blood Orange). From the animated Mount Rushmore artwork — with Abraham Lincoln busting free and ready to kick butt — to the classic floral hops and citrus flavors, the folks at 21st Amendment truly made an all-American IPA with Brew Free! or Die — then add blood oranges. Aroma is fresh citrus rinds, bright orange and tangerine, which carries over to the tongue — juicy fresh oranges, some smooth malt and a citrus peel finish.
Stone Tangerine Express IPA
6.7% ABV, 75 IBU
Stone Brewing's Tangerine Express IPA blazes forward with whole tangerine and pineapple for big, bold and not for kids craft beer. It's really hoppy but at the same time has incredible fruit flavor, which was achieved by using high-quality, whole fruit. Stone's brewers use whole tangerine puree to capture the essence of the bright flavors of the fruit with the addition of whole pineapple for a subtle, yet lingering back note. Neither the hops nor the fruit dominate, yet together they create several complex fruit layers, which can only be achieved by brewing with the entire fruit. Eight different hops give this beer its marked dankness overtones and refreshing bitterness.
Hop Valley Citrus Mistress
6.5% ABV, 80 IBU
Hop Valley's Citrus Mistress rules Washington state, outselling the Eugene brewery's top seller in Oregon, Alphadelic IPA. If you dig grapefruit, the lady plays nice. The peel is very much forward. Hops are present, but not overwhelming. Orange, pine and tropical fruit are behind the yellow and orange curtain. It has a juicy finish, of course.
---