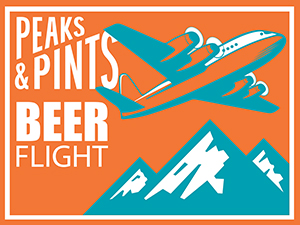 The metal movement has an outsider ethos and no-holds-barred authenticity that appeals to many brewers, including Grains of Wrath Brewery co-owner and brewmaster Mike Hunsaker. The metal- and punk-loving 48-year-old cut his teeth as a homebrewer and by working for breweries in Chicago and Cleveland, before relocating to Portland in 2014 to become the head brewer at Fat Head's Brewery, where he became known for original West Coast IPA recipes such as SemperFiPA, GABF gold medal-winning Blitzkrieg Bock and GABF bronze medalist Vienna Lager. Fat Head's closed, which lead to Hunsaker opening his new punk and metal inspired brewery Grains of Wrath in Camas, Washington, with backers Brendan Greenen, Shawn Parker, and Brendan Ford. Today, Peaks and Pints presents a flight of GoW that we call Craft Beer Crosscut 7.11.19: Flight of Grains of Wrath.
Craft Beer Crosscut 7.11.19: Flight of Grains of Wrath
Grains of Wrath Dive Bar Lager
4% ABV
Grains of Wrath Dive Bar Lager would have been perfect the perfect beer for the former The Friendly Duck's Decoy Room dive bar on South Tacoma Way. We would have planted out face inside a Dive Bar Lager while listening to the South Tacoma street creatures play therapist on each other beneath the duck decoys. One lone female bartender, three guys trying to deliberately sit apart (yet still talking to each other), pull tabs, a TV that everyone stares at but doesn't watch, and a clean, lightly sweet, highly refreshing Dive Bar Lager. Perfect.
Grains of Wrath Wrath of Chuck
5% ABV
Oklahoma-born, Professional World Middleweight Karate Champion Chuck Norris is now best-known as the star, executive producer and title-song vocalist of the long-running CBS action drama Walker, Texas Ranger; the subject of prototypical Internet meme "Chuck Norris Facts" ("There is no chin under Chuck Norris' beard. There is only another fist"); and chief beatdown administrator of gangbusters '80s movies like Code of Silence, Delta Force and Lone Wolf McQuade. ("MacGyver can build an airplane out of gum and paper clips. Chuck Norris can kill him and take it.") Camas, Washington brewery Grains of Wrath brewed an India pale lager with a Chuck Norris look-alike on the can and "Wrath of Chuck" above the image. Wrath of Chuck is a Nelson Sauvin dry-hopped India pale lager with flavors and aromas of resin, gooseberry, white grape and a roundhouse kick to the face.
Grains of Wrath Sin Fronteras Mexican Lager
4.5% ABV
Modern Mexican lagers find their origin in the late 19th century when German and Austrian brewers began to settle in upper parts of Mexico and what is Texas today, where they brewed their homeland favorite Vienna-style lagers. When Austria's Maximilian I declared himself emperor of Mexico in 1864, he brought his nation's newly beloved Vienna lager with him. The beer proved more popular in Mexico than Maximilian, who was executed just a few years later. The Vienna lager became the dominant beer in Mexico entering the 20th century. It's too easy to say, though, that contemporary American-made, Mexican-style lagers are Vienna lagers. No, brewers are interpreting this cultural inspiration in different ways, including Mike Hunsaker of Grains of Wrath. His Sin Fronteras Mexican Lager is light and crisp with hints of lime zest from Motueka hops.
Grains of Wrath Forbidden Fruit IPA
6.6% ABV
"Taste that which has been forbidden," states Grains of Wrath Forbidden Fruit IPA hype. Grains of Wrath teamed with Reuben's Brews to deliver a new IPA that's "fruited to biblical proportions." Guava and Apricot are added during fermentation for a burst of tropical flavor — more apricot than guava. It's dry-hopped with Nelson Sauvin, Motueka, and Citra for a tropical and citrus nose.
Grains of Wrath Dystopia
6.8% ABV
Assertive West Coast India Pale Ales still have their place, despite the growing popularity of the juicy tropical New England-style IPAs. India Pale Ales are medium-bodied, golden- to copper-colored beers that emphasize hops. Depending on the intent of the brewer and the variety of hops used, these beers can have herbal, piney, citrus or other tropical fruit accents, or some combination thereof. The American West Coast IPA tends to focus on grapefruit/citrus and pine/resin bitterness that falls between 50-70 IBUs (International Bitterness Units) with a strength of 6.3-7.5 percent ABV, the style Grains of Wrath Dystopia embraces. Simcoe, Citra and Mosaic hops combine for a sweet citrus nose, followed by solid citrus/tropical and pine, but it's not over the top in bitterness. We appreciate its assertiveness — yet it's not palate-wrecking.
---