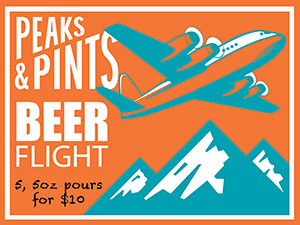 Plunking a slice of orange on the side of a glass of beer is a distinctly American tradition — one Peaks and Pints wishes would kindly die. Not only do oils found in the peels of these fruits hinder head formation and rob you of precious aroma; they're unnecessary. Brewers are already skilled at incorporating orange flavors right into a beer, using the fruit to harmonize with similar notes found in hops or to spice up smooth wheat. Tired of all that peeling? Get your daily dose of Vitamin C with five orange-y craft beers in our flight today, Craft Beer Crosscut 5.30.18: A Flight of Orange.
Lost Coast Tangerine Wheat
5.5% ABV, 15 IBU
"Tangerine, Tangerine, living reflection from a dream" so says Led Zeppelin. We have no idea what that means, but we do know this: for those of you who want a light and cheerful beer, Lost Coast Brewery's Tangerine Wheat is your best bet — even though it's not technically an orange. The Eureka, California brewery combines its Lost Coast Harvest Wheat — a combination of wheat and crystal malts and finished with Perle hops — with natural tangerine flavors. This candy-scented wheat beer is crisp, clean and refreshing.
Dogfish Head Namaste
4.8% ABV, 20 IBU
Dogfish Head's Namaste is a refreshing Belgian witbier, brewed with coriander and peppercorn, perfect for quenching your thirst after a night of overindulgence. It smells like a bowl of fresh cut lemons and oranges, with some slight spiciness from the coriander and just a touch of malt. This is a very light and smooth beer with quite a bit of carbonation, but packed with character. Upfront it is very much lemongrass with a touch of orange, followed by some spiciness and grains.
No-Li March Forth IPA
7.2% ABV, 36 IBU
What began as Northern Lights Brewing back in 1993 is now the multiple award-winning No-Li Brewhouse on the banks of the Spokane River in downtown Spokane. The brewery that created "Spokane Style" beers has a mantle full of craft beer awards such as Great American Beer Festival and five medals at the 2016 Washington Beer Awards including Large Brewery of the Year. Its March Forth IPA is all about the orange — thanks to orange peel and hops Amarillo and Comet. The aroma is orange. Taste is sweet and orange, with minimal bitterness. Think more of a pale ale with a healthy dose of orange peel.
Elysian Superfuzz
6.4% ABV, 45 IBU
In 1996, the SuperSonics reached the NBA Finals, Nirvana released "From the Muddy Banks of the Wishkah," and Elysian Brewing Company poured its first beer in Seattle's Capitol Hill. A lot has changed since, but the beer is still flowing from Elysian, 21 years later. Four years ago this month, Elysian took an easygoing blend of Northwest Pale, Munich and Dextri-pils malts, Citra and Amarillo hop cones, Northern Brewer for bittering and a dusting of blood orange peel, called it Superfuzz Blood Orange Pale Ale and all was groovy.
Matchless Champion Juicer
9.3% ABV
Though no fruit was harmed in the making Matchless Brewing's' Champion Juicer double IPA, a bounty of Citra and Amarillo were dumped in for an aroma of floral fresh orange juice. Big and bright with a soft, pillowy, almost pulp free mouthfeel thanks to a small amount of flaked corn and wheat, Champion Juicer tastes of juicy orange with a touch of mango and pineapple. The finish is dry with light bitter and a surprising minimal alcohol burn. It's pretty much straight juice.
---