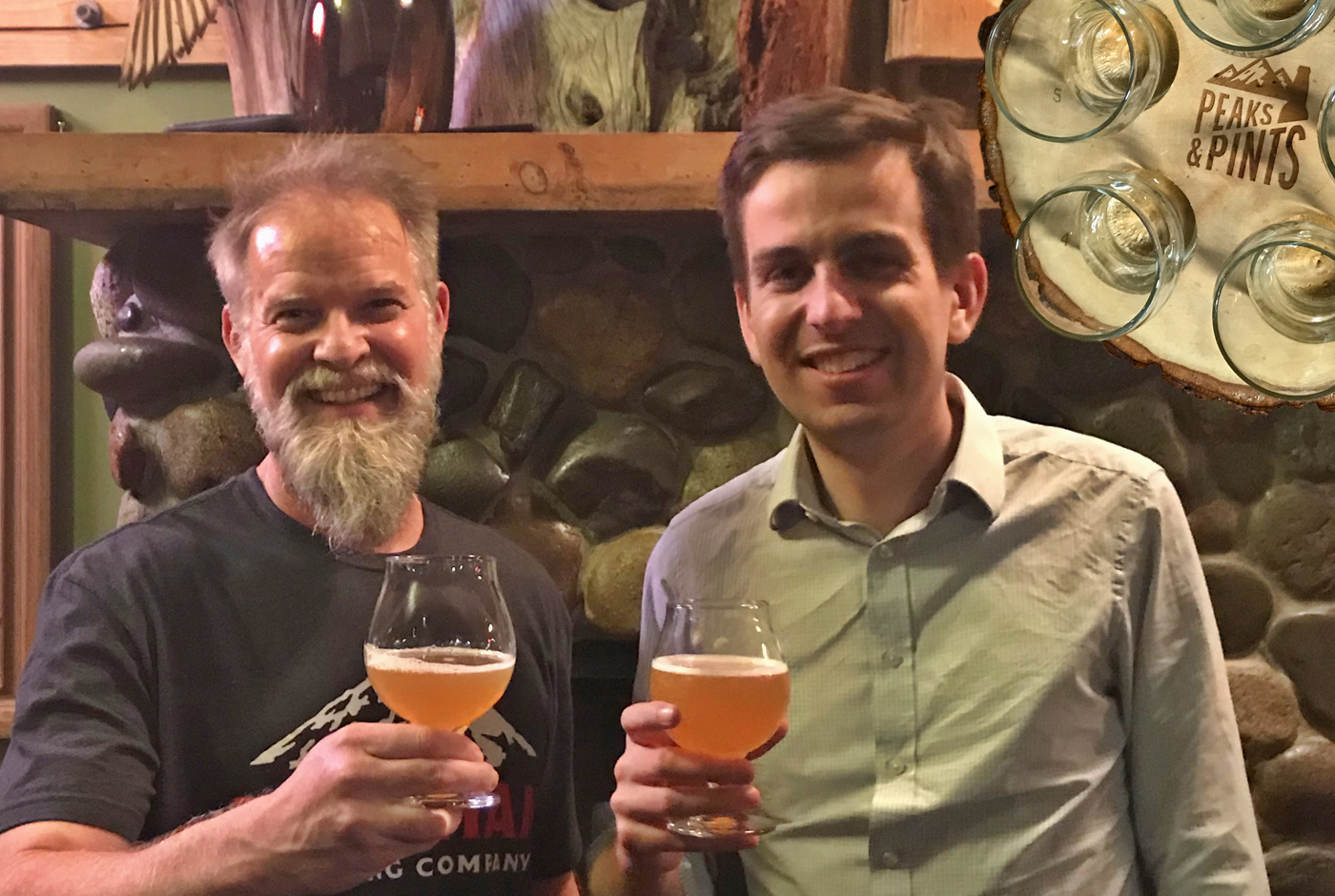 Remember — or imagine — what beer drinking was like in America in 1978. There were about 85 breweries in the United States and only one was a craft brewery. Imports were few, and almost all were pale lagers. Today, the American beer scene is the most dynamic on the planet. That same year Merchant du Vin introduced Samuel Smith Brewery to the U.S. market. Samuel Smith's beers quickly became the benchmark ales for the emerging craft beer movement. Now eight years strong, the "Samuel Smith Salute" returns to the U.S. this weekend with Samuel Smith III touring Western Washington, including Peaks and Pints last night. This annual event celebrates that legacy of Yorkshire, England's oldest brewery, Samuel Smith's Brewery. Founded in 1758, The Old Brewery at Tadcaster is one of the last remaining independent breweries in England. Samuel Smith is the last to utilize the classic Yorkshire Square system of fermentation solely in stone squares. In celebration, Peaks and Pints presents a Sam and Sammy special, one of our Peaks and Pints sandwiches and a 10-ounce pour of Samuel Smiths Nut Brown Ale (on draft!) for $13. In addition, we present an all-day flight of Samuel Smith beers we call Craft Beer Crosscut 5.19.18: A Flight of Samuel Smith.
Samuel Smith Organic Strawberry Fruit Beer
5.1% ABV, 16 IBU
One of the oldest operating breweries in the world, Samuel Smith's Old Brewery has been brewing with the same derivative yeast strain in the same stone vats for the last 255 years. They even keep a small team of Shire horses — a breed that traditionally pulled brewery wagons — to deliver beer around its hometown of Tadcaster. But for all this tradition, Samuel Smith is remarkably modern. All but one of its beers are vegan and the brewery has an entire line of organic ales, including its Strawberry Fruit Beer. According to Samuel Smith's, it's brewed at All Saints Brewery in Stamford, England using all manually operated equipment. Barley and wheat are combined to make an ale, fermented and aged for an extended period, then taken to Samuel Smith's brewery in Tadcaster, England. It is at this stage where they blend in pure strawberry juice to create a fruit-forward ale with malt and some bittering hops on the back.
Samuel Smith Organic Cherry Fruit Beer
5.1% ABV, 16 IBU
With a sweet fruity aroma dominated by cherries and slightly hazy red hue, the cherry beer evokes images of a hot summer's day in the countryside sun before you've even taken a sip. It's lightly sparkling, and the sweet taste of real cherry juice gives way to a slightly more bitter edge a moment after your sip. On the tongue, expect sweet fruity flavor of cherry, wheat malt, bread and earthy yeast with a dry, tart finish. Both the barley and the fruit juice are organic.
Samuel Smith's Organic Chocolate Stout
5% ABV, 28 IBU
OK, it's chocolate time. Samuel Smith's has always brewed the old-fashioned way and the British operation still pulls water from its original well dug in 1758. Its Organic Chocolate Stout pours dark brown with a thin, khaki head. Breathe in the sweet milk chocolate, roasted malts, chocolate malt balls and a touch of vanilla. It's velvety and delicious, with creamy chocolate milk, chocolate syrup and cocoa powder dancing on the tongue. Caramel, whipped cream, marshmallows and vanilla try to cut in.
Samuel Smith's Nut Brown Ale
5% ABV, 31 IBU
Truly one of the best brown ales in the world; this is the cast and mold for lots of brewers trying to come up with a nut brown ale. Samuel Smith's Nut Brown Ale's aroma is subdued overall, showing only malted barley-related aromas of light caramel, soft red apple and a gentle walnut component. The flavor is a study in drinkability, as nothing about it dominates the palate. Toasty and robust, hints of almond and cocoa powder overwhelm the palate and a touch of burnt coffee lingers after every sip. By the way, nothing goes better with this brew than one of Peaks and Pints' warm chocolate chip cookies.
Samuel Smith Oatmeal Stout
5% ABV, 32 IBU
Popular in the late 1800s, the last oatmeal stout was brewed before the First World War until Samuel Smith reintroduced this style in 1980. Oatmeal conjures stick-to-your-ribs fullness, but Samuel Smith's Oatmeal Stout is incredibly easy to drink. It hits the nose with sweet and roasted malt. The taste follows the nose with a big abundance of roasted malt with some sweet tones followed by a nice oatmeal flavor. It's creamy and full with just a hint of graininess — and it just nails that almost-coffee, almost-chocolate flavor profile.
---