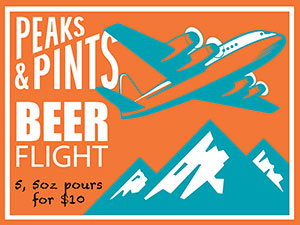 Friday, April 6, is the day we all celebrate New Beers Eve. This is a real thing. New Beer's Eve was the night before the first alcoholic beer became legally available after 13 years of prohibition. From 1920 to 1933, no alcoholic beverages were legal in the United States. Franklin Delano Roosevelt had barely been president for a month when he and a new anti-prohibition majority in Congress known as "The Wets" brought back beer. The Cullen-Harrison Act increased allowable alcohol in beer from 0.5% to 3.2%. Prohibition would be completely reversed later that year with ratification of the 21st amendment to the constitution. The 21st Amendment repealed the 18th Amendment. It took effect at 12:01a.m on April 7, 1933. On the evening of April 6th, anxious Americans lined up at breweries and distilleries to purchase legal beer and alcohol at the stroke of midnight. That night, someone coined the term "New Beer's Eve," " and a new annual holiday was born. Peaks and Pints offers cheers to FDA and "The Wets" with a beer flight of new craft beers we call Craft Beer Crosscut 4.6.18: A Flight of New Beer's Eve.
Pike Hoppy Pils
4% ABV, 25 IBU
Lagers often get a bad rap: Too subtle, too pedestrian, not hoppy enough. But an increasing number of interestingly hopped lagers are popping up, merging the style's classic grainy malts and snappy finish with a wider range of hop flavors, including Pike Brewing Co. It's new Hoppy Piles adds a healthy does of Mosaic hops, which threads lemony hop flavors through a soft, malty base; the hop bitterness and crisp, dry lager finish combine for an ultra refreshing swallow.
Bainbridge #5 Vertical Ibex
7.7% ABV, 25 IBU
Vertical Ibex, number five in Bainbridge Island Brewing Co.'s Sandbox Series, is head brewer Russell Everett's take on a German bock. It's brewed cold with the brewery's house Kolsch strain and lagered for several weeks for extra malty smoothness, compliments of Skagit Copeland and German malts. Therefore, it's bock/Kolsch hybrid. The name? Bock beers are associated with rams, hence the Alpine Ibex, a species that can climb pretty much anything.
Three Magnets Sasquatch Snax
7.1% ABV, 40 IBU
Infused with stinging nettles and fir needles, Three Magnets Brewing's Sasquatch Snax is a collaboration with Adam's Mushrooms, Skagit Valley Malting, Krist Novoselic and Dr. Pyle from the band Butterfly Launches from Spar Pole, and the Washington State History Museum to promote their upcoming History After Hours event Bigfoot Night on May 10. It is made with 100 percent Northwest ingredients featuring malt from Skagit Valley Malting, locally foraged nettles and Douglas fir needles, and hopped with Sorachi Ace, Calypso and Simcoe to accentuate the earthy, pine, and herbal characters of the foraged ingredients. Part of the proceeds from this beer is going directly to the Washington State Historical Society.
Gigantic Piña Coolada IPA
6.3% ABV
Combining beer and cocktails, this hazy IPA is heaped with American hops and then layered with a truckload of limes and a lovely bunch of coconuts. It's brewed so you feel like you're in Caribbean wherever you are.
Mirage Candy Toys
8% ABV
Former Wingman Brewers and Buoy Beer Co. brewer Mike Dempster opened farmhouse-focused Mirage Beer Company late last year in Seattle. But, the dude can make an IPA, too. His Candy Toys New England style double IPA is double dry-hopped with Motueka, Ekuanot and massive amounts of Mosaic. The glowing golden orange juice offers earthy flavors leaning toward the grassy side. Just a touch of citrus like fruit character battles a malt lingering finish.
---