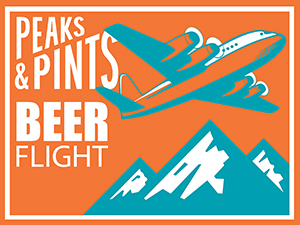 April 20 is a day to toast and get toasted. There's no shortage of things you can do to celebrate 4/20, like, say, visiting numerous dispensaries and buying copious amounts of deeply discounted cannabis and cannabis products, and then, you know, consuming them, perhaps in a Mrs. Butterworth's bong or Cheech & Chong joint. Hey, so long as you consume responsibly and don't drive afterward, of course. But there are things happening on 4/20 that are a bit more, shall we craft beer oriented, like drinking beers that are dank and resinous. Brewers honor the date — which is known as 420, the high holiday for marijuana users — with pot-punny beer names, especially for IPAs. But, more importantly, hops and marijuana both contain terpenoids, compounds that give the plants similar characteristics. In fact, both fall into the taxonomic family Cannabaceae, so it follows that you could create a fairly stinky beer with the right treatment of the right hops. Hops don't get you high, but in smell, taste and appearance, they often feel just about as … dank. Enjoy our Craft Beer Crosscut 4.20.19: A Flight For 4-20-19.
Craft Beer Crosscut 4.20.19: A Flight For 4-20-19
Oskar Blues Pinner Throwback IPA
4.9% ABV, 35 IBU
Urban Dictionary defines "pinner" as, "a small marijuana cigarette rolled tightly, and lacking in marijuana content," which makes sense for Oskar Blues Pinner Throwback IPA, as its scent isn't as cannabinoid as some other dank beers on this flight, but its widespread availability makes it one of the easiest weed-teasing beers to get your hands on. The Longmont, Colorado brewery tosses in six to eight different hops per batch — including an experimental variety — then dry-hopped with Mosaic, Citra, Eldorado and Azacca hops, for tropical fruits, citrus juices, pineapple and spice berry up front, balanced with biscuit and toasted bread in the back.
Knee Deep Brewing Breaking Bud Imperial Pale Ale
6.7% ABV, 50 IBU
When you snap, you snap ugly. When you break, you break bad. Your rapacious dark side is ever just millimeters from the surface and it's only the thinnest membrane of social mores and fortuitous brain chemicals that keeps it all in check. You need to Break Bud. Knee Deep Brewing dubs this "dank," and we concur. Said dankness is well balanced by a saccharine peach aroma more explosive than Hector's wheelchair. On the tongue, the earthiness and minerality comes through, with a stronger grapefruit presence than even the Citra. This beer helps.
Revision Leafy Greens Dab-alicious IPA
7.25% ABV, 55 IBU
In 2015, Jeremy Warren left everyone knee deep in tears when he departed the brewery he founded, Knee Deep Brewing Co. In March 2017, he opened Revision Brewing Company in Sparks, Nevada, laving everyone knee deep in hops. He began pounding taste buds with his lupulin-laden creations once again, including his Leafy Greens Dab-alicious IPA. "Dig the dank.  Savor the stank. Leafy Greens presents an increase by orders of magnitude in dankness. The aroma of certain hops, particularly CTZ, has long been described as similar to marijuana. Scientific examination has indeed proven that Humulus Lupulus and Cannabis Sativa are relatives, both members of the Cannabinaceae family. Ponder these branches of the family tree while enjoying this mellow IPA with friends, music, solid visuals and readily available munchies." So reads Leafy Greens' description on Revision Brewing's website. Cool.
Everybody's Cryo-Chronic IPA
6.9% ABV, 80 IBU
Remember when Austin Powers came out of the cryogenic process, which took a while to comp … compl… complete, the International Man of Mystery underwent laser cutting, the warm liquid goo phase, reanimation, cleansing and evacuation — all in that order. That last one just took a long time. Yakima Chief Hop Union's innovative cryogenic process doesn't take as long, and there isn't a warm liquid goo phase, but the results are delicious craft beers. Using YCH Hops' innovative cryogenic process, lupulin glands are separated from the hop cone, leaving behind a "hop powder" containing all the flavor and aroma oils. "Cryo Hops" showcase pronounced juicy and resinous flavors with greatly reduced grassy characteristics. Everybody's Brewing's Cryo-Chronic IPA is brewed with Cryo hops, Cryo-Chronic is an experimental IPA using cryogenic technology, which means very low temperatures. Through a cryogenic separation process, pure lupulin powder is extracted from any hop, leaving behind a "hop powder" that contains the desired flavor.  Enjoy the huge dank and earthy aroma and juicy flavor, with a bit of sweetness, from the pounds of Mosaic powder.
Block 15 Sticky Hands
8.1% ABV, 100 IBU
Block 15 Brewing sits heart of downtown Corvallis, only a few blocks from Oregon State University. The brewery's name hails from Corvallis' previous incarnation as Marysville and the old plat map location from the old town. In late 2011, homebrewers Nick and Kristen Arzner opened the brewery and restaurant serving beers true-to-style with ingredients imported from different parts of the world, along with all the Willamette Valley produced grains, hops, fruits, herbs and yeast. Its Sticky Hands double IPA is a "Hop Experience Ale" featuring ample additions of sticky, resinous, lupulin packed hop buds grown in the Pacific Northwest. Sticky Hands begins with an aromatic blast of tropical fruits, citrus and dank herb; transitions into luscious hop flavor; and ends with a balanced bitter finish, gently propped up by pale malted barley and fermented with Block 15's privately banked Brewers yeast.
---