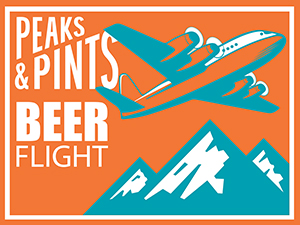 Craft beer labels put all other alcohol labels to shame. From aliens to psychedelic landscapes, breweries and their designers dream up the most colorful labels in all of the alcohol kingdom. Amidst the tattooesque cartoons of buxom women and questionable puns, Peaks and Pints noticed a theme repeatedly popping up on several craft beer labels: birds. It seems that craft beer aficionados love feathered (and not so feathered) creatures as much as wine lovers adore cats. Just which birds are featured on craft beer labels? Peaks and Pints is so glad you asked. Get out your National Audubon Field Guide and start practicing your bird calls — Peaks and Pints presents a flock of bird-themed beers on today's beer flight, Craft Beer Crosscut 3.5.19: A Flight of Birds. These five definitely are worth tweeting about.
Craft Beer Crosscut 3.5.19: A Flight of Birds
Hitachino Nest Espresso Stout
7% ABV, 36 IBU
Kiuchi Brewery started brewing sake back in the 1820s. In the late 1990s, the company introduced a line of beer called Hitachino Nest. The iconic label image — a cute, colorful owl — has become a favorite in the craft beer world. The label boasts a line-up of highly sessionable and tasty beers — the Kiuchi version of Belgian "White Ale" is a witbier that has won numerous awards and ranks highly in the wheat beer category. There's no mistaking coffee's role in Hitachino Nest Espresso Stout's rise-and-shine aroma: Oily, roasted whole coffee bean scents penetrate the nose. On the tongue, light caramel sweetness paves the way for intense roasted notes and deep coffee bitterness that lasts deep into the swallow.
Skookum Murder of Crows
9% ABV, 70 IBU
Murder of Crows is Skookum Brewery's roasty and complex imperial stout brewed with a plethora of specialty malts and finished on Old Crow Whiskey oak cubes. So many birds. It's an interesting moderately strong mix of familiar yet novel imperial stout aspects. Flavor is a light, cola black syrup malt with a smooth "wet" roast, a little bitter chocolate, subtle smoky char and wood. The aftertaste, though, has a slightly fruity and fumy black malt flavor. Yes, it's big and bold, but never too abrasive. Sip after sip it becomes more silky.
7 Seas Rude Parrot IPA
5.9% ABV, 75 IBU
7 Seas Brewing originally brewed their flagship Rude Parrot IPA in their Gig Harbor facility, but the well-balanced IPA is now brewed in their new facility in Tacoma's Brewery District. This IPA squawks with Vienna, light Crystal, and a touch of Honey malt, this golden hued IPA is aggressively hopped with Simcoe and Citra hops. Checks all the boxes you'd expect from an IPA with pine and citrus notes in both the smell and taste. Taste is rich and full with sharp orange rind and grapefruit followed by a minty coolness and an off dry, pleasantly bitter finish. It's an everyday IPA.
Icicle Ill Eagle
8.5% ABV, 90 IBU
Icicle Brewing Co. sits in the Bavarian theme park known as the city of Leavenworth, which seems perhaps the most appropriate place for a brewery. Owner Oliver Brulotte, who has deep family roots in Washington's hop farming history, basically launch the Wenatchee Valley's craft-beer boom. The brewery draws their water from nearby Icicle Creek, a run-off from surrounded by numerous mountain ranges including the Stuart Range and Wenatchee Mountains. And, Icicle Brewing makes a double IPA with hops from Carpenter Ranch in Yakima. Ill Eagle soars with floral hops and some cereal malts on the nose. The flavor is more of the floral notes with some earth tones and a grapefruit pithy bitterness finish.
Counterbalance Flight Risk Barleywine
11% ABV, 90 IBU
Counterbalance Brewing Company, started by two former homebrewers Jeff Howell and Frank Lawrence who met while working at Seattle coffee company Caffe Ladro, opened its doors and launched wholesale distribution in February 2015. Named after a nod to the balanced formulation of the beers, the complementary professional skill sets of the two owner-operators, as well as the Queen Anne neighborhood in which they worked together previously, Counterbalance labels carries an image of a one-legged duck that just showed up one day and wouldn't leave. The Seattle's historic Georgetown neighborhood brewery celebrated its third anniversary releasing Flight Risk Barleywine 3rd Anniversary 2018 from its 10-barrel system. The American-style barleywine lands with flavors of pineapple, stone fruit and caramel. It finishes dry.
---