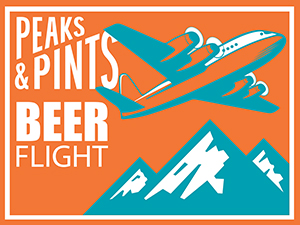 In the Georgian-era, stout meant simply that: strong. Stouts were more potent versions of porter. Made with an extra helping of dark grains for added booze and body, stout quickly caught on, most famously in Ireland and Russia where the style received an extra punch for the journey. Today, those so-called imperial stouts reign stateside. Imperial stouts spell comfort, warming us on a cold, windy day. Before even taking our first sip, we can smell the roasted malt. Depending on the variety, we may get a touch of chocolate; maybe even vanilla or bourbon. The first sip steals our soul. It's sweet as chocolate. Sometimes bitter, too, like a Fernet Branca. It's a warm blanket. It's fuzzy slippers. It's our flight of the day. Push your way past the stacks of toilet paper and head to Peaks & Pints for Craft Beer Crosscut 3.14.20: Flight of Imperial Stouts.
Craft Beer Crosscut 3.14.20: Flight of Imperial Stouts
Dugges Peanut Butter
10% ABV
In 2005, Mikael Dugge Engström opened Dugges Ale & Porterbryggeri (Porter Brewery) in Landvetter outside Gothenburg, Sweden. Today, Dugges Bryggeri is on the top one hundred brewers in the world list, which isn't a surprise since they brew some absolutely phenomenal, world-class beers. Their Peanut Butter imperial stout hits the not with peanut butter, which transfers to the tongue but with underlying notes of chocolate. It's all about the peanut butter and does a remarkable job at hiding any traces of alcohol from the taste.
Decadent Snowball
12.3% ABV
In 2016, mad scientist brewer Paul Pignataro founded Decadent Ales, a nanobrewery located in Mamaroneck, New York, pumping our velvety smooth dessert-inspired brews, including Snowball, an imperial milk stout with coconut, chocolate fudge and Madagascar vanilla bean. The coconut and chocolate are extreme, like a candy bar in a glass, and the addition of vanilla makes its ridiculous.
Pelican Father Of All Tsunamis
11.2% ABV, 55 IBU
When is a dad beer a father beer? When it's an imperial stout aged in rye whiskey barrels. "Father [Of All Tsunamis] was initially born when we imagined how fantastic it would be to age an imperial version of Tsunami Export Stout in whiskey barrels to create an incredible Imperial Stout," says Darron Welch, founding Pelican Brewing brewmaster, in pre-Father release hype. "Father offers a stout black color, dark chocolate, coffee-like roastiness combined with the inherent spiciness of the rye to make a pretty darn special beer." Indeed. Rich roasted malt aroma with notes of dark chocolate, vanilla, earthy rye, caramel, oak and whiskey hits before a wave of rich roasted malt, caramel, dark chocolate and vanilla. The Father storms until smooth and decadent earthy rye, oak and whiskey flavors go to bed.
Fort George The Devil Is In the Details
11.6% ABV
So many details to cover in the making of this Fort George Brewery imperial spiced stout. First is a very rich recipe with flaked wheat, chocolate malts, and lots of roasted barleys. Maple syrup was added to the whirlpool. This stout was then aged in bourbon barrels, with additions of ají panca and chipotle peppers strategically added throughout the year. Add in vanilla beans and a short stint with fenugreek seeds, and the result is a layered stout with details of bourbon, oak, malt, spice, and sweetness.
Evil Twin Oh My God, He's A Bozo
17.2% ABV
Evil Twin Brewing brewed Bozo Beer to make fun of the kind of overkill deployed by craft brewers such as Mikkeller. They added cocoa, chocolate, coconut, cinnamon, oak chips, chili, coffee, vanilla, hazelnut, chestnut, and marshmallows to make a crazy high alcohol by volume imperial stout that he wouldn't necessarily drink, but received crazy high ratings. It pours thick and dense, hitting the nose with coffee, chocolate, marshmallow, nuts, creamy vanilla, molasses, cinnamon, chili peppers, and cinnamon. It's not a hot mess, but rather offers roastiness, marshmallow, vanilla, coffee, chocolate and molasses initially, with the almonds and hazelnuts checking in next. With their Oh My God, He's A Bozo, Evil Twin aged it in BIiS Gourmet maple syrup barrels for 18 months, balancing out the spice, but leaving in all the booze.
---